Yeasted Blueberry Scones are cousin to Angel Biscuits, which are biscuits made with yeast. They have a crumbly and rich crust surrounding a crumb that's lighter than a typical biscuit and more like a roll or muffin. So basically, you get the best of both worlds!  Plus the scones are a little puffier and bigger. You might feel like you're getting more scone for the calories.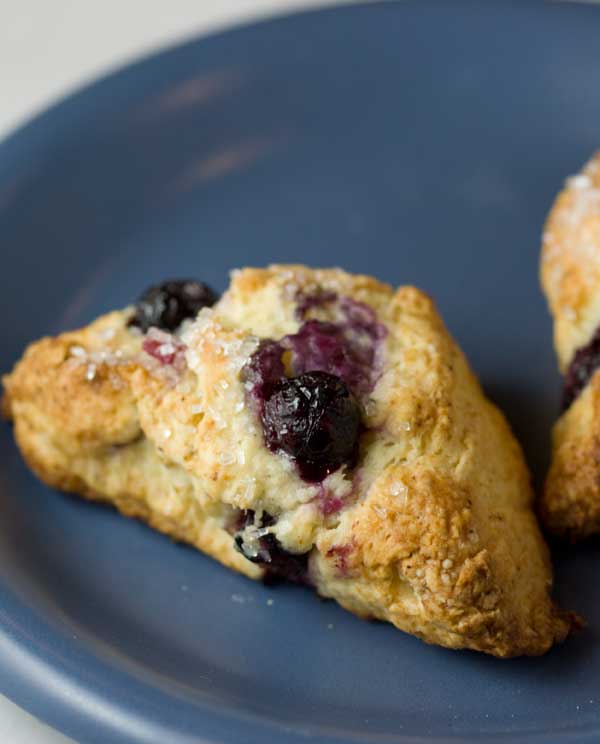 Make Ahead Yeasted Blueberry Scones
Another benefit is that the scones are perfect for making ahead because you assemble the scones, let them rise, freeze, and bake straight out of the freezer —  a trick I learned from King Arthur Flour.  Their theory is that putting the risen dough in the freezer for an hour will re-solidify the bits of butter that are known for making biscuit and pie dough flaky. I'd say it works!
Update
I still like Yeasted Blueberry Scones, but may need to change the name because more often than not I use chocolate chips instead of blueberries.
Recipe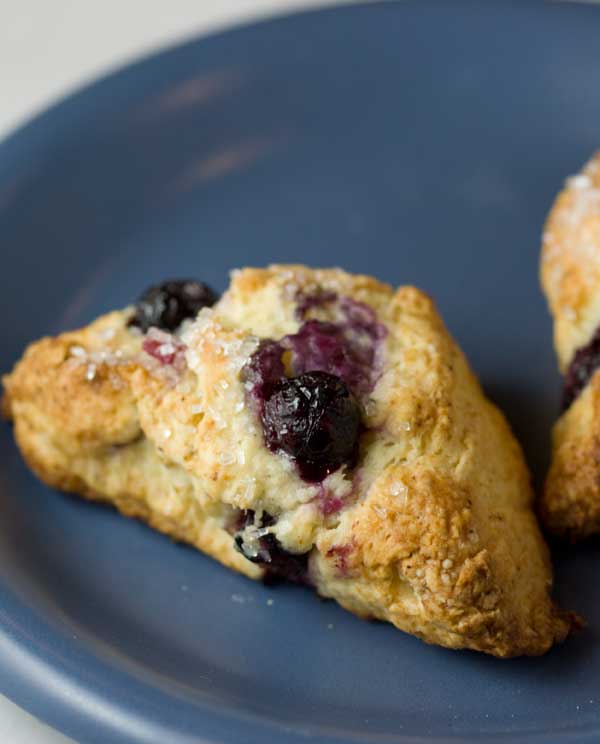 Freeze and Bake Yeasted Blueberry Scones
Blueberry scones made with yeast.
Ingredients 
1 3/4

cups

7 oz/196 grams cake flour**

1

cup

4.5 oz/126 grams well stirred and aerated all-purpose flour**

6

tablespoons

2.6 oz/73 grams granulated sugar

1

teaspoon

baking powder

1/2

teaspoon

baking soda

3/4

teaspoon

salt

4

tablespoons

48 grams shortening

1/4

cup

56 grams cold unsalted butter, cut into pieces

2

teaspoons

of quick rising yeast

1

teaspoon

vanilla extract or 1/2 teaspoon of Imitation Vanilla Butter & Nut by McCormick**

3/4

cup

plus 2 tablespoons buttermilk at room temperature

not ice cold, but not warm

1

cup

frozen blueberries
Instructions 
Thoroughly mix the flour, sugar, baking powder, baking soda and salt in a large mixing bowl.

Add the shortening and butter to the dry mixture, and with a pastry cutter or your fingers, work the fat into the flour mixture until crumbly. Add the yeast and stir well.

Add the vanilla to 3/4 cup of the buttermilk, then pour and stir to make soft dough. Add the other 2 tablespoons of milk only if the dough seems very dry.

Add ½ cup of the frozen berries and carefully stir them into the dough.

Turn mixture onto a floured surface and shape into two 6×3 inch rectangles.

With a floured knife, cut each rectangle into 8 small triangles.

Arrange scone triangles on a nonstick or parchment lined baking sheet and poke the remaining blueberries into the scones. Cover loosely with parchment or nonstick foil and let sit for 1 hour to rise. After one hour, put the risen triangles (they won't rise dramatically, but they will lighten) in the freezer for another hour or until you are ready to bake them.

Preheat oven to 400 degrees F.

Arrange as many triangles as you want to serve on a parchment lined baking sheet and bake for 18-20 minutes or until golden and inside appears cooked through.

Brush tops with melted butter and serve warm or let cool and drizzle with icing.

McCormick's Imitation Butternut & Vanilla extract, which is hard to find in Austin and which I have to order via Amazon, tastes great in these scones, but if you don't have any, regular vanilla is fine.
Notes
Make sure to measure the flour very carefully by spooning and sweeping the top flat. Also, if you are lucky enough to have some White Lily, you can skip blending the cake flour and all-purpose and just 100% White Lily. You'll need 11.5 oz or about 2 3/4 cups. If all you have is all-purpose and you really want to make these, they'll still be good. Use a total of 2 1/2 cups of flour which should be 11.5 ounce. Or forget the volume and just weigh everything.
Variation:  Use chocolate chips instead of blueberries.