In an attempt to use up some oranges we bought earlier in the week, Fuzz and I made Honey and Orange Whipping Cream Scones. These are made with heavy cream or whipping cream rather than butter. This was kind of an odd choice for us because we typically don't love orange flavored breads, but these scones were very good.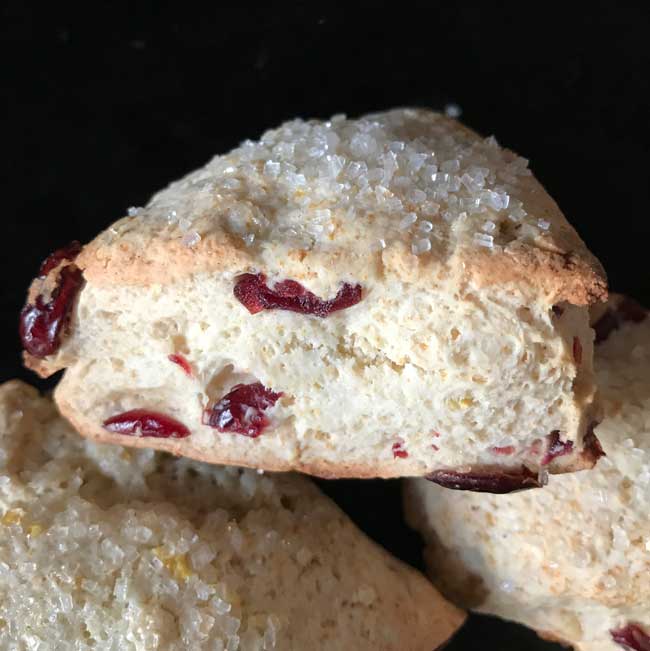 Whipping Cream Scones
The Honey and Orange Scones have a very pleasant texture.  Unlike heavy, biscuit-like scones, the cream makes these very soft and light.  Also, the scones are really easy to make -- no pastry cutter or food processor required.  They're on the sweet side, so while you could add a little jelly, you might be better off going with butter.  Wait, that sounds bossy.  Sorry.  Put whatever you like on your scone.  One of these days I'm going to try clotted cream.  In all of our years of making and eating scones, we've never tasted it.
Other Recipe Suggestions
Recipe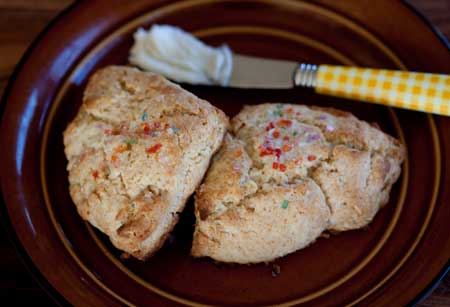 Honey and Orange Scones
Honey and Orange Scones made with cream (no butter). These can easily be converted to Honey and Lemon Scones (just use lemon zest) and are great with dried cranberries.
Ingredients 
1 ½

cups

all-purpose flour

(190 grams)

1 ½

tablespoon

granulated sugar

(20 grams)

1 ½

teaspoons

baking powder

½

teaspoon

salt

⅔ to ¾

cup

heavy whipping cream

1 to 1 ½

tablespoons

honey

(20 to 30 grams)

½

teaspoon

orange zest

or lemon zest

¼

teaspoon

vanilla extract

Handful of dried cranberries

optional

a little extra cream plus some sparkly or coarse sugar
Instructions 
Preheat oven to 425 degrees F. Have ready a parchment lined baking sheet.

In a mixing bowl, thoroughly stir together the flour, sugar, baking powder and salt. Make a hole in the middle of the flour mixture and add the honey, zest and vanilla. Mix the wet ingredients together in the hole, then mix everything together with a spoon until you get a soft dough.

Gradually add the cream to the dough one tablespoon at a time, stirring until it holds together. If the dough seems too dry, add a bit more cream. If too wet, add a bit of flour. If using cranberries, knead them into the dough.

Empty the dough out onto a very lightly floured surface or a pastry mat. If your dough seems dry, you can skip the flour. With your hands, push the dough together to form a circle about 5 ½ inches in diameter and 1 inch thick. Cut the circle into 6 to 8 wedges and arrange the wedges a few inches apart on the baking sheet. Brush tops with a little additional cream and sprinkle with coarse sugar if desired. Bake for 10-12 minutes (or 13-14 depending on your oven).
Notes
A reader complained that the first version was too dry. After re-testing, I didn't have problems with the dryness, but I felt like the scones could use less sweetness, so I lowered the amount of honey and sugar and increased the cream. This is the revised version. I've made it with both orange zest and lemon. The dough may seem a little dry at first, and that's okay as long as you are able to push it together. I like to empty it out onto a pastry mat while it's still kind of rough and floury, then work it into a smooth circle. I use heavier hand with this dough than most other scones and biscuits, and they still turn out.