Cindy's Mom's Dutch Apple Pie is a tried-and-true crumb-topped apple pie shared many years ago by Cindy D. It's a family favorite, and perfect for people who love apple pies where you can really taste the apple. That is, the filling is pretty simple -- just apples, sugar and a little cinnamon. And though it's simple, it's far from boring because it has a rich, buttery crust and crumb topping -- the best of all worlds!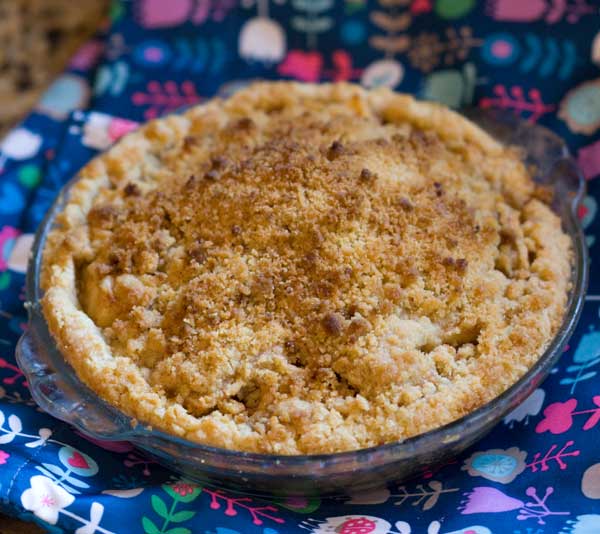 Crust and Topping
One nice thing about Dutch Apple Pie is that you don't have to be an expert pie crust maker to make an awesome pie. If you are an expert pie crust baker, you'll want to use your own favorite flaky pie crust recipe. I jump around a lot with crust recipes, but lately I've been using this one. But for those not interested in making the pie crust from scratch, a roll of store bought pie dough or even a frozen crust works perfectly. Update: Cindy shared an interesting oil-based pie crust recipe, which I've since added to the notes. Oil based crusts seem a little more cookie-like and crumbly rather than flaky, but they are quite tasty. You could even use this as an excuse to try a mayonnaise pie crust.
Dutch Apple Pie Filling
For the filling, I use a combination of Jonathan and Granny Smith apples. The Jonathans are juicy and have a sweet flavor that contrasts well with the tart Granny Smiths. Without any butter to tone it down, you really taste the apple flavor. The only drawback is that the pie is a bit looser than other apple pies on the first day. By days 2 and 3, it holds together, but on day 1 it spreads more on the plate. Update: Slices hold together better if you use thinly sliced apples.
Dutch Apple Pie Size
Cindy's recipe calls for a standard size 9 inch pie dish, but you can make it any size you like just by scaling down the apples and streusel. It's pretty versatile. The original recipe makes a 9 inch pie, but I often make it as a six or seven inch using a small pie dish like the one in the link. I added a few notes on pie sizes and how many apples you'll need in the notes.
Recipe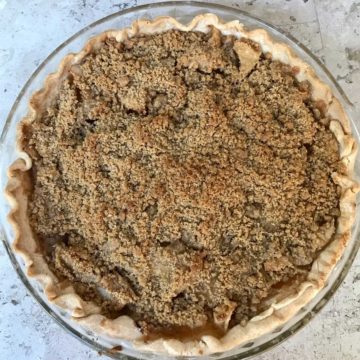 Cindy's Mom's Dutch Apple Pie
A Dutch style apple pie with a crumb topping and Jonathon apples.
Ingredients 
Crust (see notes)
9

inch

pie dish lined with pastry dough
Topping
½

cup

brown sugar

(100 grams)

¾

cup

flour

(100 grams)

1

tsp

cinnamon

⅓

cup

butter

(75 grams)
Filling
4-6

large

apples, Granny Smith mixed with Jonathans or others

Little under 2 pounds

½

cup

sugar

(100 grams)

1

teaspoon

cinnamon (optional)
Instructions 
You will need either a 7 inch (slightly deep dish) or a 9 inch (shallow) for the pie. If you use a deep dish glass Pyrex that measures 9.5 to 10, you'll probably want to increase the apples to 8 apples and just keep the amount of sugar the same.

Prepare the topping first. Mix the dry ingredients together in a bowl and cut in the butter with a pastry cutter. Keep refrigerated while you make the filling.

Peel, core and cut the apples into very thin slices. Put them in a large bowl and toss with sugar and cinnamon. Lay flat in the dough lined pie dish.

Arrange crumb topping evenly across the apples.

Bake at 450 degrees (425 for glass or Pyrex pan) for 10 minutes, then 350 degrees for 40 minutes.

Let the pie cool completely before you slice it.
Notes
7 Inch Pie -- I sometimes make small versions in a  7 inch dish.  For the 7 inch version, keep the topping amount the same and use 4 to 6 apples.
9 Inch Pie -- 6 apples or about 2 pounds should be enough for a regular 9 inch pie dish.  For a deeper dish or a glass pie dish that measures 9.5 to 10, you might want to increase to 8 apples.
Oil Crust: Cindy says "Mom made the traditional Crisco crust. I could never get it to roll, plus we like to use less transfats. So I always make an oil pastry crust. For an 8 or 9 inch regular pie plate, stir together 1 1 /3 cups flour and ½ tsp salt. Stir in ⅓ cup canola oil. Sprinkle with 2-3 tablespoons cold water, one tablespoon at a time. Shape into a ball and roll between two sheets of waxed paper."