I've always been kind of a traditionalist with Black and White Cookies. To get that tiny hint of lemon flavor, I use a bit of lemon zest. And for the topping, I tend to stick with the smooth, shiny-setting fondant even though it never tastes as good as buttercream. I thought I was being "authentic", until I read recently that the Black & Whites that originated in Upstate New York and go by the name "Half Moon Cookies" are iced with buttercream rather than the New York City style fondant. I also read that William Greenberg's Black and Whites, which are supposed to be among the best in the city, are iced with buttercream. I'm not sure if that's true, but it was enough motivation to make my next batch with buttercream. Also, to help distinguish this recipe from my 900 other Black and White recipes, I'm calling these Half Moon Cookies.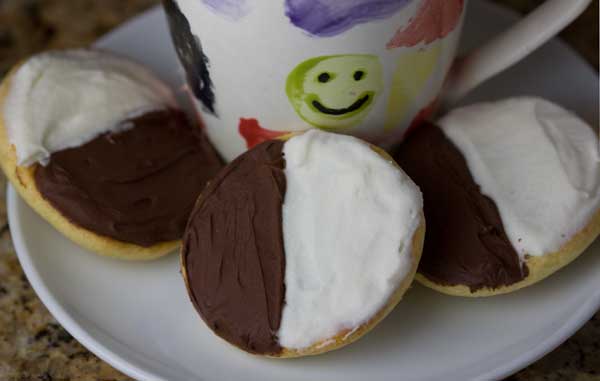 For the base of the cookie, I tried David Lebovitz's recipe which you can find on Fine Cooking. David uses lemon, but since my daughter always complains about the lemon in Black & Whites, I made a second batch and replaced the lemon with McCormick butter & nut extract. If you can't find the elusive extract sold in select states (I stocked while visiting North Carolina).   Another change in the second batch, was to use buttermilk, and swap out a tad of baking powder for baking soda.  This made a slightly less crumbly cookie that was a bit lighter and had more of a yellow cake flavor. I actually liked both versions, but decided to go with the second version since I liked the yellow cake flavor and color imparted by the Butter & Nut extract. For the frosting, I used my favorite crushed vanilla bean extract and Callebaut Dutch chocolate cocoa powder. The buttercream made the cookies so much better than fondant, though I wouldn't turn my nose up at the original style cookies, either.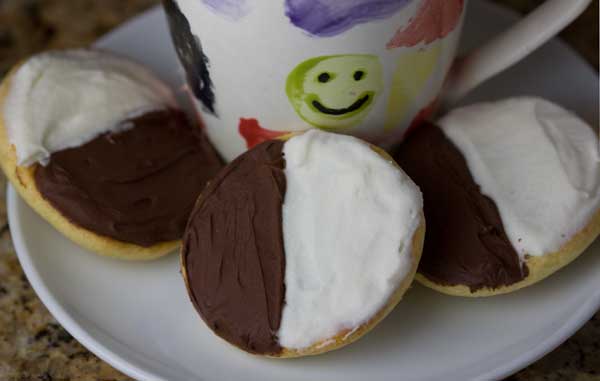 Half Moon Cookies
Not quite the traditional version, these are iced with buttercream instead of fondant.
Ingredients 
1

cup

4.5 oz) all-purpose flour

1

cup

4 oz cake flour

3/4

teaspoon

baking powder

1/4

teaspoon

baking soda

1/4

salt

1

stick

4 oz unsalted butter, at room temperature

2/3

cup

granulated sugar

1

tsp.

vanilla extract

1/2

teaspoon

McCormick butter & nut extract or an extra 1/2 tsp vanilla

2

large eggs

at room temperature

6

tablespoons

buttermilk
Frosting
8

tablespoons

butter

softened

3

cups

powdered sugar

sifted

1/3

cup

room temperature half & half or as needed

1

teaspoon

vanilla extract

1/3

cup

unsweetened cocoa powder
Instructions 
Preheat the oven to 375°F. Line two baking sheets with parchment paper.

Mix the all-purpose flour, cake flour, baking powder, baking soda and salt together in a bowl.

In a mixing bowl, using an electric mixer, cream the butter and sugar until smooth. Beat in the vanilla and second flavoring (butternut extract or lemon). Beat in the eggs one at a time. By hand, stir in the flour and milk alternately until well mixed.

Drop heaping tablespoons of batter into neat, round mounds, spacing 2 inches apart, on the prepared baking sheets. Bake on the center and lower rack, alternating halfway through, for 12 minutes or until cookies appear set.

Let cool completely on the baking sheets.

To make the frosting, Beat the butter until creamy. Add powdered sugar and beat until well mixed, then add half and half 1 tablespoon at a time until icing is a spreadable consistency. Add the vanilla.

Carefully measure out half the icing.

To one portion of icing, add the cocoa powder and beat until smooth, adding more half and half as needed.
Notes
If you'd like a crumblier, denser cookie and/or don't have any buttermilk around, use regular milk, omit the baking soda and use a full teaspoon of baking powder.