Happy Mother's Day to all mothers and those who have them. My gift was a homemade card, a pile of cookbooks and a bottle of Pinot Gris from Oregon. My mother's gift was a store-bought card with Snoopy on it (family tradition), coffee for her Keurig and some cinnamon raisin swirl New York bagels.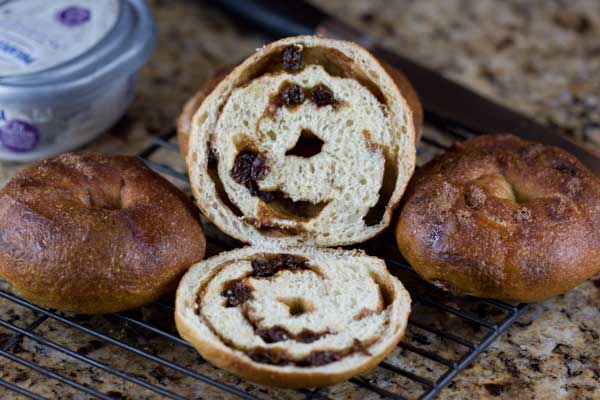 Some say the secret to New York bagels is the water. That might be true (actually it's not), but diastatic malt powder is important, too. Todd bought ours at Austin Home Brew Supply, where the helpful brewing associate knew exactly the type we needed for bagels. King Arthur also sells it, too. Once you get your malt, you'll be on the road to authentic, chewy, crusty, bagels. Of course you do need the right recipe.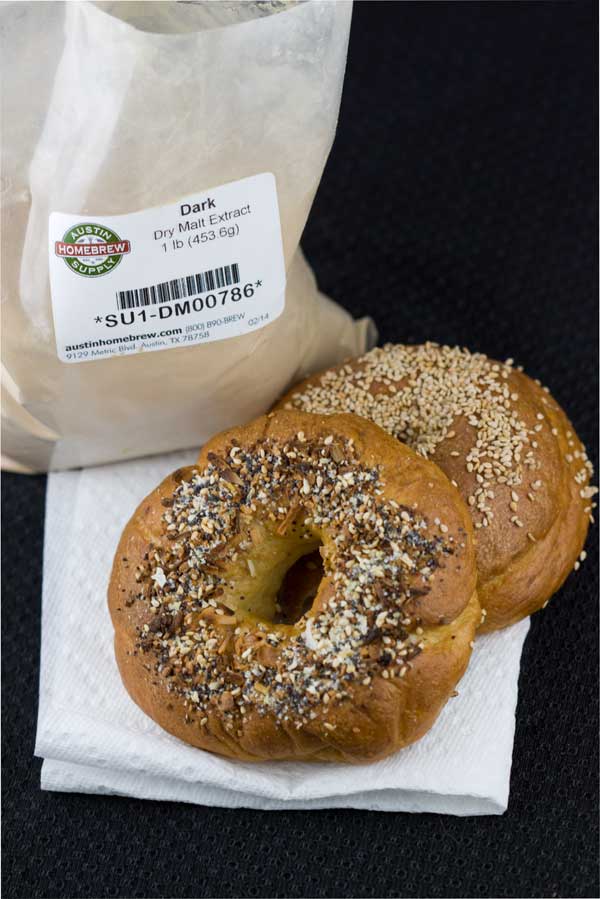 Peter Reinhart's bagel recipe on Epicurious is my favorite. Read it from start to finish, and once you've made a practice batch without any changes, it's safe to venture off on your own and start playing with new flavors. This cinnamon raisin swirl was my first flavor variation, and I'm sharing it here since I did diverge a bit from the basic recipe.
One final note: This is a two day recipe. You make the bagels on Day 1, put the shaped bagels in the refrigerator overnight, then boil and bake on Day 2. It's kind of hard waiting a full day to get to the boil and bake process, but putting together the dough and shaping it is very simple, and the dough is a pleasure to work with.
Update:  This is a good recipe, and since posting this I've found another great one courtesy of Stella Parks at Serious Eats.
 Her recipe is for plain bagels and uses something called a yukone to keep them fresh.  Check it out!
Recipe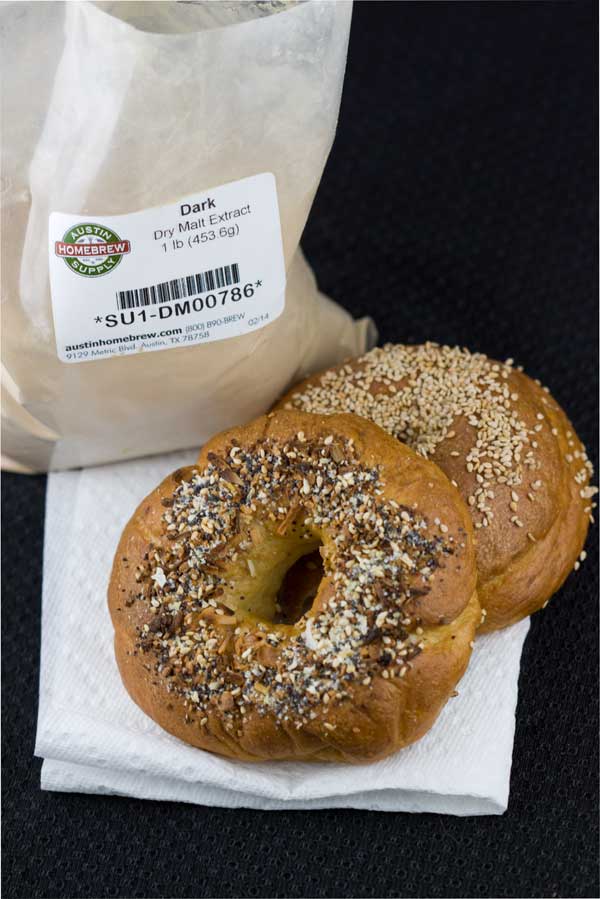 New York Bagel Recipe
Cinnamon Swirl Raisin Bagels made New York style with diastatic malt powder.
Ingredients 
Dough
3 ½

cups

16 oz / 454 g King Arthur brand unbleached bread flour

1

teaspoon

diastatic malt powder from a brewery or KA

1

teaspoon

instant yeast

such as Rapid Rise

1 ½

teaspoons

salt

1 ½

tablespoons

honey

1

cup

plus 2 tablespoons lukewarm water
Poaching liquid
2 to 3

quarts

water

1 ½

tablespoons

honey

1

tablespoon

baking soda

1

teaspoon

salt
Instructions 
Weigh your flour and put it in the bowl of a stand mixer. Stir in the malt powder, yeast and salt. Pour honey on top, then add water and stir with a big spoon or rubber scraper until blended.

Set your bowl under the mixer with the dough hook attached, and knead with the dough hook for 3 to 5 minutes or until the ball is sturdy, smooth and elastic. Remove the dough from the bowl. Wipe it clean, rub it with olive oil, then put the ball of dough back in the bowl and rotate it so that it's lightly coated with oil. Cover bowl and let dough rise for 45 minutes to an hour

Line two baking pans (I recommend a 13x9 and a 9 inch) with parchment and oil the parchment. Oil keeps the dough from sticking to the parchment and deflating when you pull it off to boil, so don't skip the oiling even if it seems redundant.

Divide the dough into 8 equal sections. It should be extremely pliable and easy to work with.

Take one section of dough and press it into a rectangle approximately 4x3 ½ inches. Also, you really shouldn't need to flour your surface. Dough should be so smooth and pliable that you can just pat it out onto a clean surface such as a plastic cutting board or parchment lined counter. If it's really sticky for some reason, you could try rubbing a little oil on it.

Sprinkle a packed teaspoon of dark brown sugar onto your little rectangle. Sprinkle as much cinnamon as you like over that, then sprinkle raisins – as many as you want, over the cinnamon. Now roll the rectangle lengthwise into a little tube as if you were making cinnamon rolls. Squeeze the tube and elongate it until it's about 8 inches, then bring the ends together to make your bagel ring. Set on the oiled parchment in one of the pans and repeat with remaining bagels, spacing them a little over an inch apart, until you've made all 8 bagels. Cover both pans with plastic wrap and chill overnight.

Day Two

Remove the bagels from the refrigerator and let sit at room temperature for about 40 minutes while you prepare the water and oven

Preheat the oven to 500 degrees F. Bring 2-3 quarts of water to a boil. Line a heavy duty baking sheet with parchment paper (you don't have to oil it this time).

When water is boiling, carefully add the baking soda, honey and salt – be careful and stand back because it may boil up. Drop 3 or 4 (as many as can fit easily) bagel dough rounds into the boiling water and boil for about 2 ½ minutes, turning halfway through. Lift boiled bagels carefully with a spatula, letting water drip back into the pan, and place on a heavy duty baking sheet lined with parchment.

If you want, you can sprinkle the boiled bagels with a little cinnamon sugar.

Put the bagels in the oven on center rack.

Reduce heat to 450 degrees F.

Bake for 8 minutes. Put a second baking sheet under the first to prevent bottoms from over-browning (not sure this is necessary, but it doesn't hurt!), turn pan and continue baking for another 10 to 12 minutes.

Let the bagels cool down for at least 30 minutes before eating.