If you're in the mood to bake a scratch strawberry cake, here's a recipe flavored with 2 cups of strawberry puree and a dash of strawberry extract. It's a nice change from the popular strawberry cakes with white cake mix and strawberry gelatin. It doesn't have that same hot pink color, but the flavor makes up for it.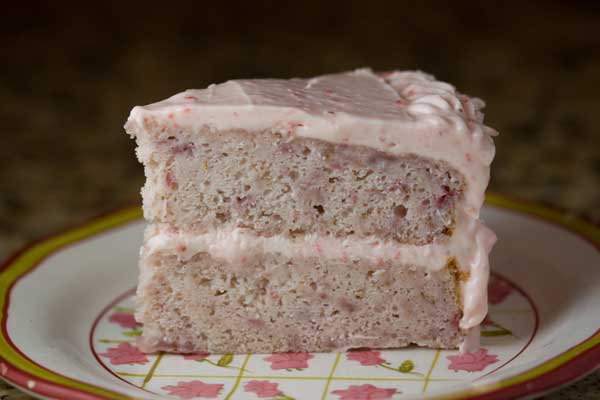 Scratch Strawberry Cake Flavor
As far as flavor is concerned, it's full-on strawberry with notes of vanilla.  Also, the texture is dense and soft rather than fluffy. We liked this scratch cake a lot, but the truth is I haven't made one of the cake mix variations in a while and want to do a comparisons of the two types together. I'll post a cake mix version (though you probably already have one), but for now here's the scratch. It's adapted from one I found on Fancy Flours, where I've purchased cute sprinkles and cupcake wrappers. My changes were to use a completely different icing, make the cake in two layers and add vanilla.
Update
You can find the original recipe using the link to Fancy Flours. Since posting this, I've noticed some other bloggers have made the cake with modifications including reducing the strawberry puree in a saucepan and using ground freeze dried strawberries in the icing. These are excellent ideas and their cakes have great reviews. For that reason, I recommend using those recipes until I have a chance to make this one a few more times. I just haven't had a lot of time to test this one multiple times because I usually end up making the hot pink ones with the strawberry gelatin. That, plus I rarely have the strawberry extract on hand.
Strawberry Cake Update Two
Since posting this I've tried a couple of frostings made with ground freeze dried strawberries. I wanted to love them, but the strawberry flavor was kind of sour and didn't have the punch I was looking for. Plus it felt heavy and weird and seems more appropriate in small amounts or on cupcakes than over a whole cake. Personally, I'd rather have a light and fluffy topping on strawberry cake. The cream cheese strawberry frosting I linked to on Fancy Flours is still better (in my opinion).
For a fresh strawberry cake, I think I'd rather just make a good Strawberry Bread. For pink and pretty strawberry cake, I'd still go with one of the white cake mix/gelatin versions.
More Strawberry Recipes