Up until last week I'd never heard of Basque cake, but someone brought it to my attention and I have become a little obsessed. For those unfamiliar with "Gateau Basque", it is a Basque pastry comprised of a round, thick, dense cake encasing a filling. The filling usually made with fresh preserves, pastry cream or almonds.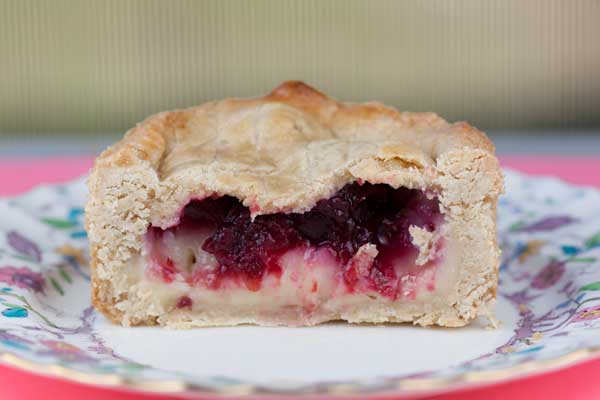 Trying Three Recipes
There are variations. My new goal in life is try try them all, but since time is limited and butter is expensive, I started with just three different recipes. Also, because I was not really sure what I was doing at first or whether we'd even like this cake, I scaled the recipes down and made them in Wilton 4 ½ inch springform pans. But don't worry if you don't have the small pans. The recipes I linked to are all made in a large pans. You can choose one of those or you can see how I scaled the recipes.
Basque Cake Recipes Used
First, here's quick list of the recipe I used:
1. Dorie Greenspan's Gateau Basque from NPR.
2. Amanda Rockman's Basque cake which she shared on a blog called Lottie and Doof. The same recipe is on The Pastry Chef is Baking.
3. A Basque cake recipe shared by Gale Gand on Food Network.
I chose these three because they all had good reviews and were made with regular flour, butter and sugar. Many Basque cakes are made with almond flour, but I am saving the almond flour versions for a different post.
#1. Dorie Greenspan's
So first up was Dorie Greenspan's recipe. Unlike many Basque cake batters which are piped into the pan, Dorie's "batter" is actually a soft dough that is thick enough to roll into circles and press together to hold the filling. As a cookie person, this method of rolling and shaping seemed more approachable than piping soft dough out of a pastry bag. At least at first.
I made Dorie's dough as directed but cut the recipe in half. For the filling, I used a combination of my favorite basic pastry cream and some homemade cherry preserves. I went a little off track with assembly, however, and built my edges up so high that the baked cake looked more like the Italian "torta rustica". Nevertheless, the "cake" tasted delicious. And I put "cake" in quotation marks because the texture was really more pastry-like -- somewhere between a cake and crumbly, soft, shortbread cookie.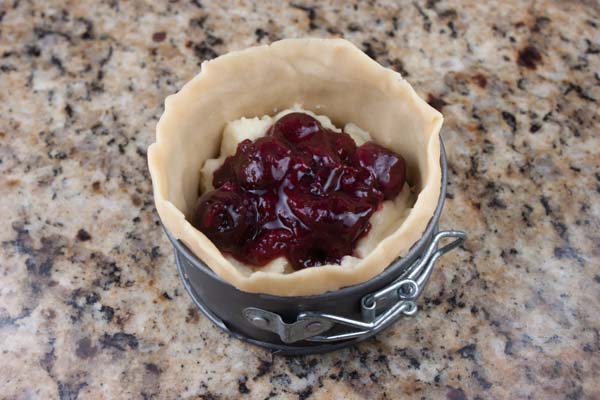 #2. Pastry Chef is Baking and Lottie & Doof Cake
The second recipe was posted on Lottie and Doof and The Pastry Chef's Baking. The Pastry Chef is Baking credits the Culinary Institute of America for this recipe, which has the defining characteristic of a high ratio of butter and sugar to other ingredients. Along with 3 eggs, it has 16 oz/448 grams of butter, 16 oz/448 grams of sugar and 13 oz/364 grams of flour. It's rich! Still, this is good because you can cut small pieces and balance them out with lighter sauces and fruit.
I scaled that recipe down to ⅓ of the original and had enough batter for two 4 ½ inch cakes. The batter was piped into the pan as instructed, and filled with pastry cream only -- no jam or fruit. This is how I piped my first one (batter on side, filling is in the center). As I made more of the these (a lot more!), I started piling the filling up a little higher.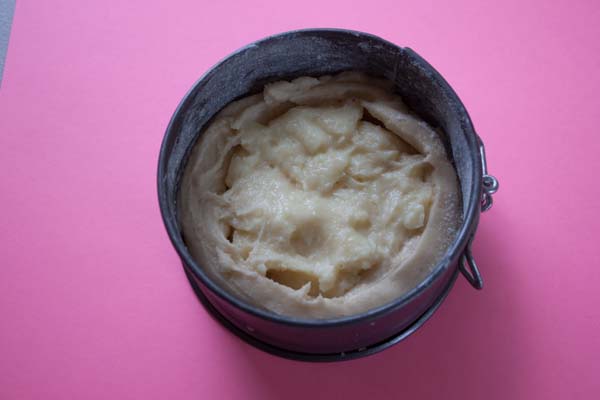 Here's what it looked like when topped with dough and brushed with egg. I baked it for 45 minutes at 325 degrees F.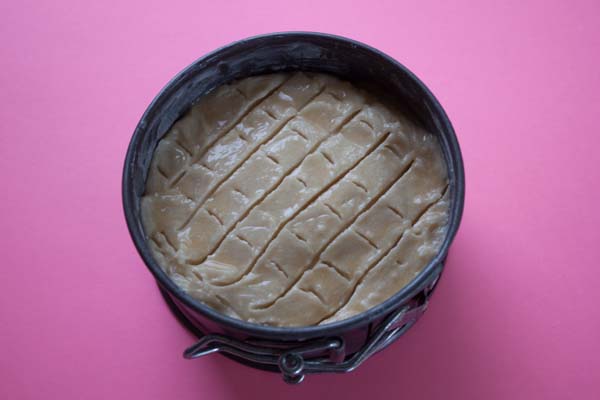 It was gorgeous when I pulled it out of the oven, but sank a little as it cooled. The sinking was a minor disappointment at first, but the cake was fantastically delicious. Plus if you look closely at picture of the cake served at The Bristol, it has a slight indent in the center too, as do the miniatures made by the chef at The Pastry Chef is Blogging.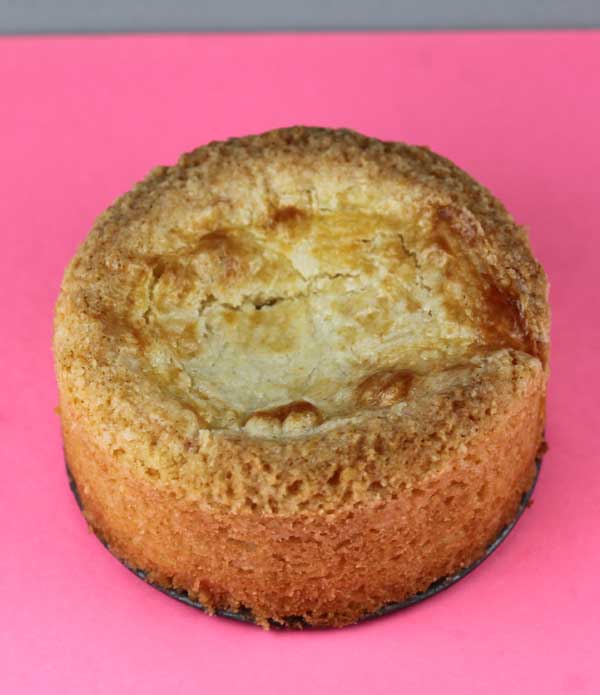 I cut the 4 ½ inch cake into 4 pieces, and served each little segment with whipped cream and fresh berries.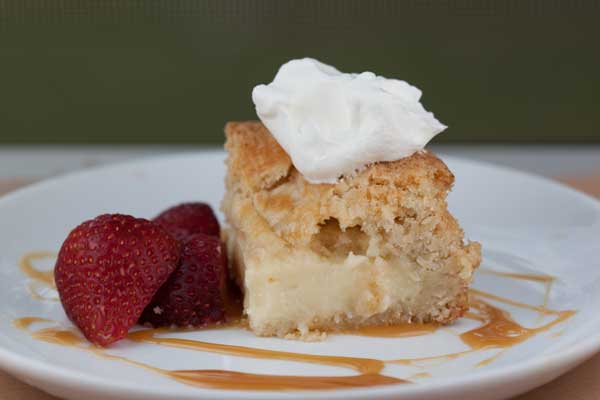 #3. Gale Gand's Basque Cake
We loved both Dorie's cake and the CIA cake, so I was really curious as to how this third cake, one from Gale Gand, would work. Her recipe is filled with preserves rather than pastry cream and flavored with almond extract. Like the CIA recipe, Gale's calls for 3 eggs, but she uses only 8 ounces of butter rather than 16, 9.3 ounces of sugar rather than 16 and 11 oz of cake flour rather than 13. So Gale's has a bit less flour and quite a bit less butter and sugar. My prediction was that it would not sink.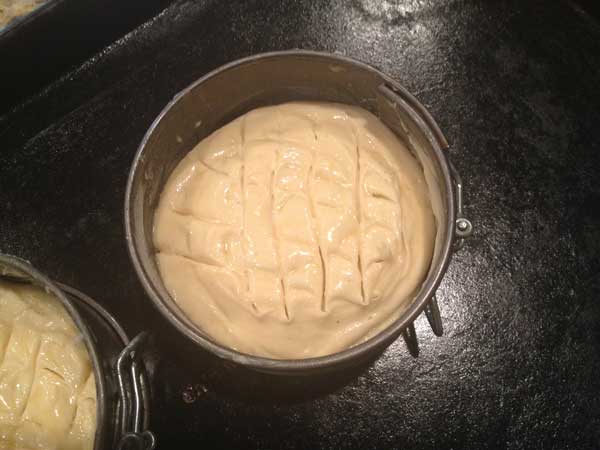 It didn't! I couldn't wait to cut into it.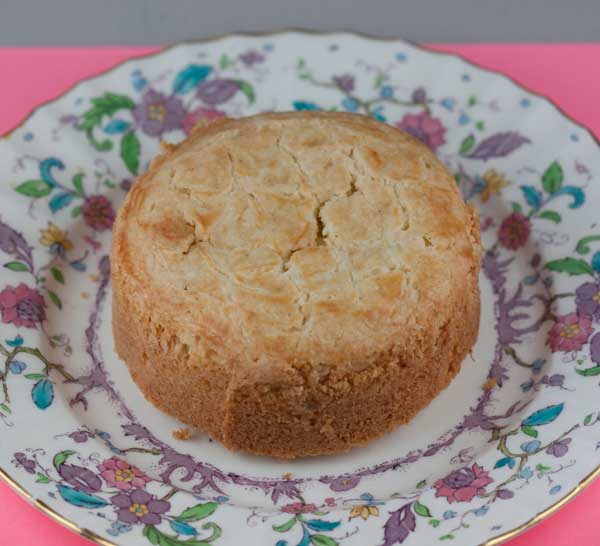 When it was completely cool, I cut it in half. The texture was definitely lighter than the CIA recipe -- very tight crumbed and even and more like actual cake than pastry. Some of the pastry cream soaked into the batter as it baked because there seemed to be less cream in the middle, but it might have been my imagination.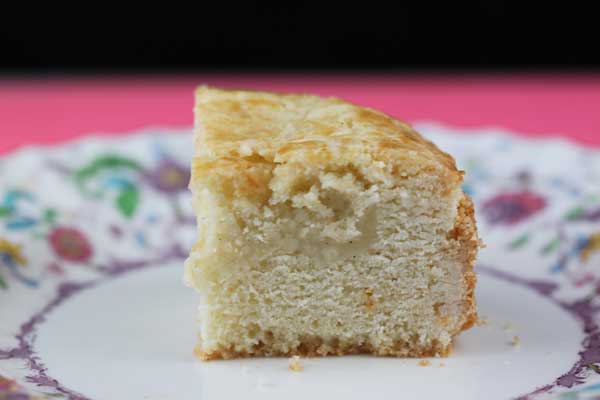 I made a note to put loads more pastry cream in the second round.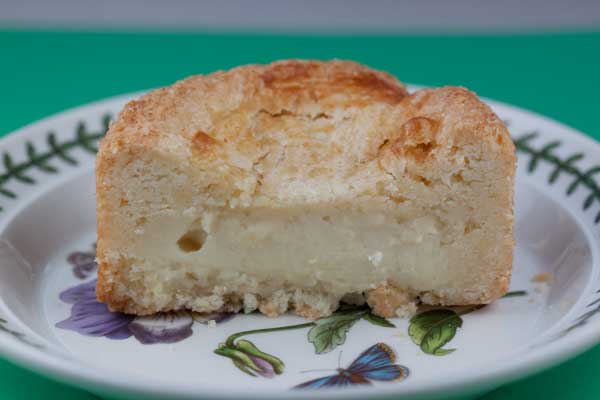 Final Recipe Review
-- Dorie's was the most convenient and had a lot of flavor (loved the brown sugar). It was a bit crustier and pastry-like rather than cake-like, and I think I preferred the fruit filling over the combination of of fruit and cream. We loved Dorie's, and I'm going to make it again. Next time I will use the proper shaping technique.
-- The CIA/Bristol recipe was Todd's favorite and I wouldn't hesitate to make it for company. I also want to get some small pastry rings and see if I can make the cakes even smaller -- more like The Bristol's. I'm done worrying about sinkage because that wasn't really a problem and that little bit of sinkage made a nice well for fruit. I did find that I got a bit less sinkage when I piled the filling high.
-- Gale Gand's cake was my personal favorite, but I think some people might find it too dry. Its texture soaks up liquid from jam or preserves, and it reminded me of a dense, pound cake. When made in a larger pan, it might have more moisture.
For anyone interested in making the CIA recipe, here is my version which is scaled down to a third and baked at 325 for 45 minutes. For the filling, I used a half batch of basic pastry cream which works perfectly.
I also found that the CIA recipe, when filled with the basic pastry cream I linked to, froze well. The cream, in this case, doesn't break apart. I've read that pastry creams made with cornstarch DO break down after being frozen and thawed. Maybe the flour in this recipe prevents that from happening? Whatever the case, I was happy with how the CIA cake tasted after being frozen and thawed.
Feel free to email me with questions if you try the cake! I'm moving on to the almond flour version next.
Recipe
Basque Cakes
Basque Cake baked in 4 ½ inch springform pans. Before making the cake, you will need to have a cup of basic pastry cream on hand. Alternatively, you can fill the cake with cherry jam or pie filling.
Ingredients 
1

cup

plus 1 tablespoon cake flour

125 grams

½

teaspoon

plus a pinch of baking powder

or eyeball ⅔ of a teaspoon

¼

teaspoon

of salt

⅔

cup

unsalted butter

cool room temperature (150 grams) -- butter should be about 62F

¾

cup

granulated sugar

150 grams

1

large egg

room temperature

½

teaspoon

vanilla extract

Lightly beaten egg mixed with a splash of milk for brushing

⅔ to 1

cup

of basic pastry cream

cold
Instructions 
Preheat the oven to 325 degrees F. Grease two 4 ½ inch springform pans with shortening and dust with flour.

Sift the flour, salt, and baking powder together and set aside (or just mix them together well).

With a handheld electric mixer, beat the butter until creamy. Add the sugar and beat until light and fluffy. Using low speed, add the egg, then increase mixer speed and beat for about a minute, scraping sides of bowl; beat in the vanilla.

Fold the dry ingredients into the butter mixture with a heavy duty scraper. A soft dough should form. Scrape the dough into a pastry bag. Pipe a circle of dough over the bottom of each pan, then pipe an outer circle on top of that circle to contain the cream.

Put a large scoop of pastry cream in the center, making sure it doesn't touch the walls of the pan. Try to scoop it higher than the outer circle.

Carefully pipe remaining batter over the mount of pastry cream. Don't build up the sides, just do the best you can to cover the pastry cream so that it mounds in the center.

Brush tops owith a mixture of beaten egg and milk. Set on a rimmed baking sheet and bake for about 45 minutes at 325 until tops are golden brown and cakes appear set. Let cool for about 25 minutes in the pan, then carefully remove the rings and let cool completely.

At this point, you can chill the cakes or serve them at room temperature.
Notes
For the pastry cream, I use this recipe. https://www.cookiemadness.net/2013/09/basic-pastry-cream-2-this-might-be-the-one/
If you'd like a less rich, softer, cakier version, follow the directions as written above but use the ingredients in these amounts - 74 grams of butter, 86 grams of sugar, 1 egg, ½ teaspoon of vanilla, 102 grams of flour,⅓ of a teaspoon (eyeball it) of baking powder. Proceed as directed. Batter will be a bit softer and you'll have slightly less of it.