Magnolia Pie or Buttermilk Pie — Either Way, It's Good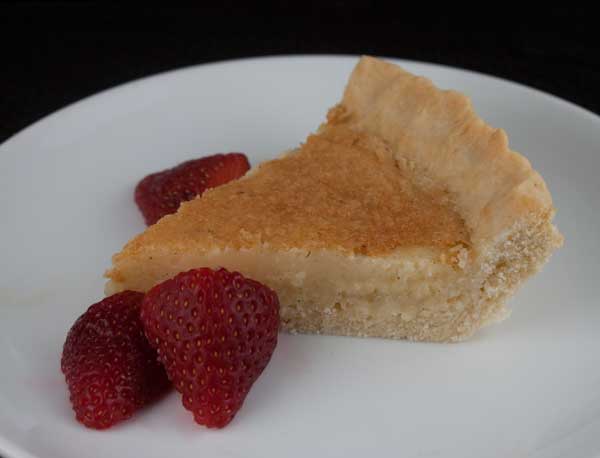 Also known as Buttermilk Pie, Magnolia Pie is a dessert I re-discovered last Thanksgiving when my sister-in-law served one she'd bought from a lady in Llano. I don't know the lady's name or what recipe she used, but my family was crazy for that pie. I vowed to make that buttermilk pie, but forgot about it until months later when I saw another version where it was called Magnolia Pie. It got my attention and I was determined to make one, but didn't know where to begin. My last buttermilk pie was decent (unlike the photo), but it had pecans, and as much as I love pecans, I wanted something smoother and more basic.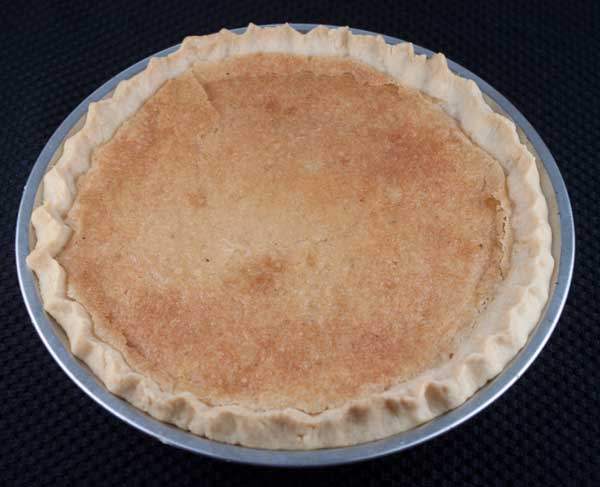 The most popular version and what appears to be the "classic" version of buttermilk pie calls for 1 1/2 cups sugar, 3 eggs, 1 cup of buttermilk and 1/2 cup of butter, but a lot of reviewers said it was too sweet. And then there was the issue of the lemon, which also had mixed reviews. I love lemon, but wanted to use my Nielsen Massey vanilla bean paste and worried the lemon and vanilla bean might clash. So it was back to the sugar issue. Should I go with the classic 1 1/2 cup sugar and 3 egg version or do like so many people did and knock out 1/2 cup sugar? And wouldn't that change the whole structure of the pie? I thought about that a lot this morning and wasn't sure what to do, but Mother Nature made the decision for me.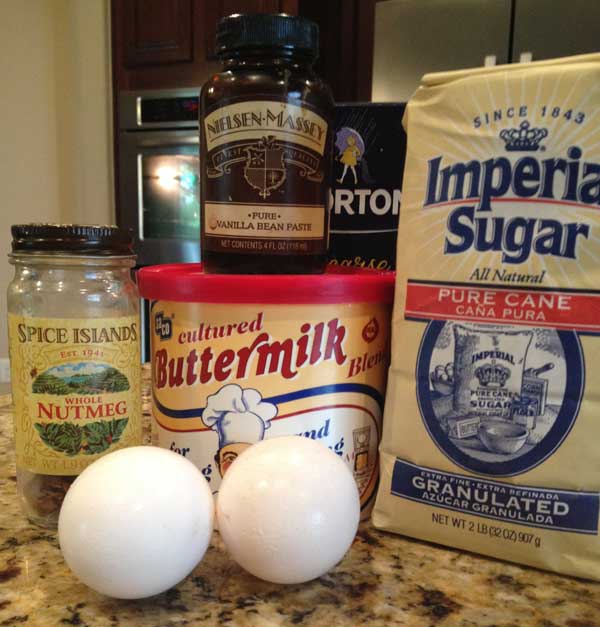 I was about to go to the store for buttermilk when it started to rain. Not wanting to drive in the rain, it occurred to me that Saco, the powdered buttermilk company, might have a recipe on their site and I could use that. Unlike regular buttermilk, I almost always have powdered buttermilk in the refrigerator.
Now I wish we could fast forward to Thanksgiving so I could present this pie to my in-laws. They'd love it — powdered buttermilk and all. I'm definitely going to try a pie with regular buttermilk, but this version was great — not grainy, smooth, flavorful, and not overly sweet even with all the sugar. I think my overly thick, hacked together pastry crust helped tamper any sweetness, so all was well. And my decision to leave out the lemon was validated my Saco, as their recipe doesn't call for any lemon either. They use vanilla and nutmeg, so the pie kind of tastes like eggnong. Here's the recipe. I'm going to try a few more, but this one was very good and super convenient thanks to the powdered buttermilk.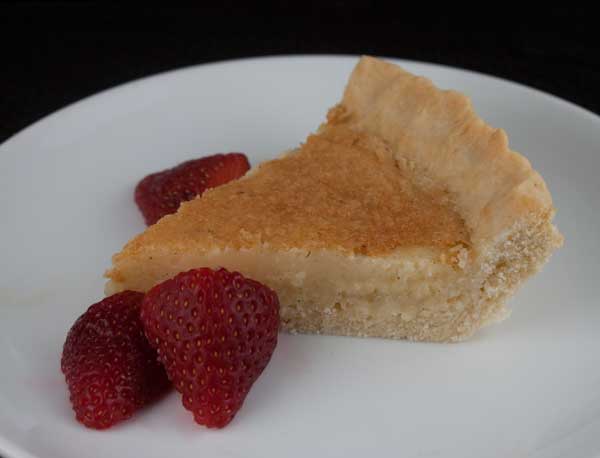 Magnolia Pie
A version of the classic buttermilk pie mad with powdered buttermilk
Ingredients 
1 9

inch

pie crust

not deep dish

4

tablespoons

unsalted butter

1

cup

granulated sugar

1/8

teaspoon

salt

omit if using salted butter

2

large eggs

2

tablespoons

powdered buttermilk

2

tablespoons

all-purpose flour

1/2

cup

water

1/8

teaspoon

freshly ground nutmeg

3/4

teaspoon

vanilla bean paste or 1 teaspoon of vanilla extract

Garnish: Lightly sweetened whipped cream & fresh berries
Instructions 
Preheat oven to 350°. Have your pie shell ready to go.

Whisk the sugar and butter together until smooth.

Whisk in the eggs, one by one, until mixture is smooth.

Mix the buttermilk powder and flour in a small bowl, then add to the egg mixture and stir until smooth. Stir in nutmeg, vanilla bean paste and water until smooth.

Bake for 45 minutes or until almost set. Transfer to a wire rack, and cool 1 hour.

Chill thoroughly before serving (or not -- I like things chilled, but some prefer room temperature).