It's Monster Cereal season, so for today's treat here's a recipe made with Franken Berry cereal. These no-bake marshmallow bars are absolutely perfect for upcoming Halloween parties and fall festivities. And of course if strawberry is not your thing, you can use Count Chocula for chocolate flavored bars, or Boo Berry cereal for mixed berry flavored treats. The trick is finding the cereal.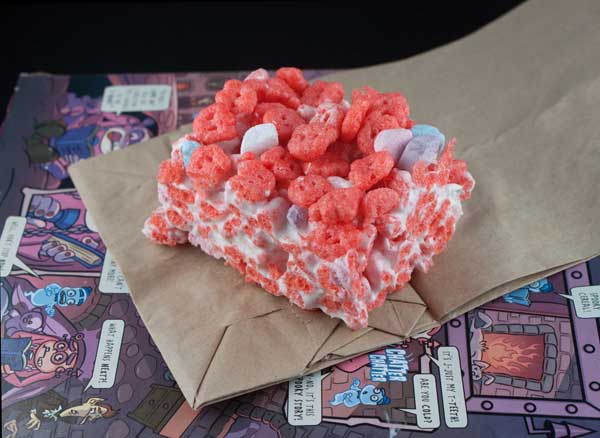 I spotted the monsters at Target last week, but since my name appears on a big list of monster cereal fans with blogs, a box of it appeared on my doorstep courtesy of General Mills. This sure beats 20 years ago when I had to drive all over Illinois to find a box of Boo Berry cereal, though I will say these new monsters appear quite different.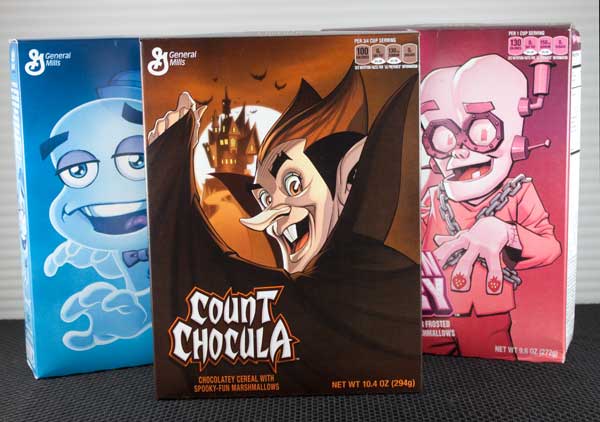 Monster Makeover!
They had a makeover! Through a partnership between General Mills and DC, DC Entertainment Co-Publisher Jim Lee redesigned Boo Berry, Dave Johnson put his spin on Franken Berry, and Terry and Rachel Dodson restyled Count Chocula. In addition to the monsters, the back panels of the boxes were redesigned by DC Comics artists Sholly Fisch, Brent Schoonover and Dave McCaig. This is big news for collectors, but it's also pleasant for the average cereal buyer who just enjoys looking at the boxes.  
Older Monster Cereal Boxes
And if your reason for liking the boxes is because they remind you of childhood, you're still in luck. While some of the boxes are made over by super-artists,  Target is carrying exclusive retro boxes like this one so you can walk down memory lane every time you open the pantry.  Ah, good times.  Tea parties with dry monster cereal at Marla's house.  Okay, now onto the recipe!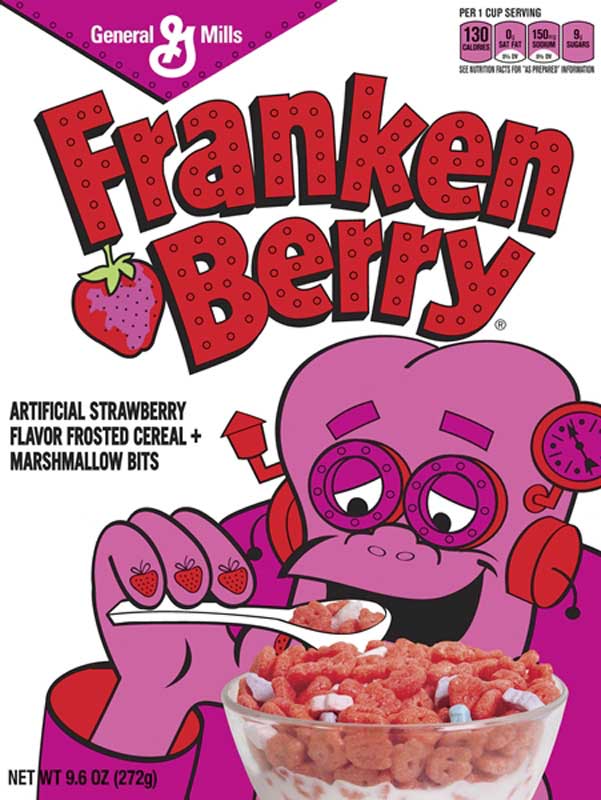 This one is short and sweet and you can whip it up in minutes. My only advice is to store loosely covered as directed, otherwise the cereal gets a little chewy.
Recipe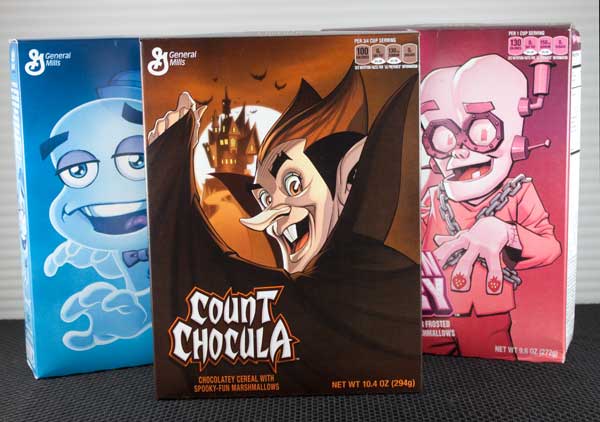 Monster Cereals Have Arrived
No-bake cereal bars made with Monsters cereal -- Franken Berry, Count Chocula or Boo Berry
Ingredients 
3

tablespoons

butter

1

bag

10 oz miniature marshmallows (6 cups)

5

cups

desired monster cereal

such as Boo Berry™, Franken Berry™ and/or Count Chocula™
Instructions 
Spray bottom and sides of 8- or 9-inch square pan with cooking spray.

In large microwavable bowl, microwave butter and marshmallows uncovered on High about 2 minutes, stirring after each minute, until mixture is smooth.

Immediately stir in cereal until evenly coated. Pour cereal mixture into pan. With buttered back of spoon, press mixture in pan until even. Cool at least 10 minutes.

With table knife, cut cereal mixture into 4 rows by 4 rows to make 16 bars.

Store loosely covered.