Key lime pie is one of our favorites and I think I've made at least 20 different variations. The one I've been making most often is a version that uses sour cream and doesn't have eggs, so I was really curious to see how a pie made with 6 (!) eggs would compare. In Mile High Key Lime Pie, the eggs are separated, the yolks are used in the filling and the whites are beaten into a mile high meringue. Unlike the famous Rum House Key Lime Pie which is served as mini pies, this recipe makes one 8 or 9-inch pie.
Meringue on Key Lime Pie
My meringue would have appeared taller had I used a 9 inch pie crust, but I used a deep dish 9 ½ inch pie dish so my pie is a little stretched out. Still, the meringue was a delight to work with and didn't taste too egg-y. Even though I generally like whipped cream on pies rather than meringue, the meringue was a nice and light contrast to the pie and gave the pie a more dramatic appearance.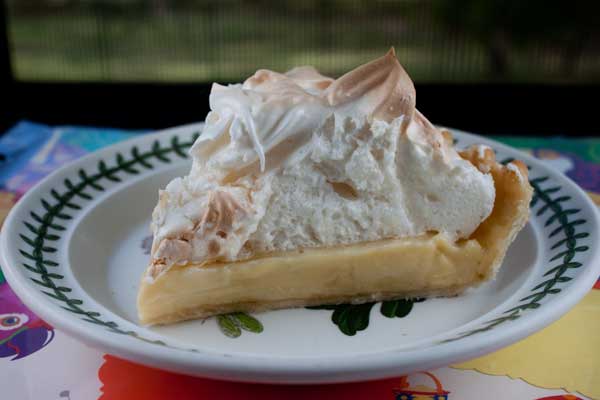 Update: Mini Mile High Meringue Key Lime Pies
I was in a meringue pie mood and decided to try making this recipe in miniature ceramic pie dishes. The recipe worked really well, but I had to make a few alterations including 1) adding a graham cracker crust recipe and 2) bumping up the heat slightly. The Miniature Mile High Meringues are cuter than the original, and I think this recipe is actually more suited for mini pies than for full-size pies so I'm adding a recipe (below) for making it as 1 miniature pie to serve 2.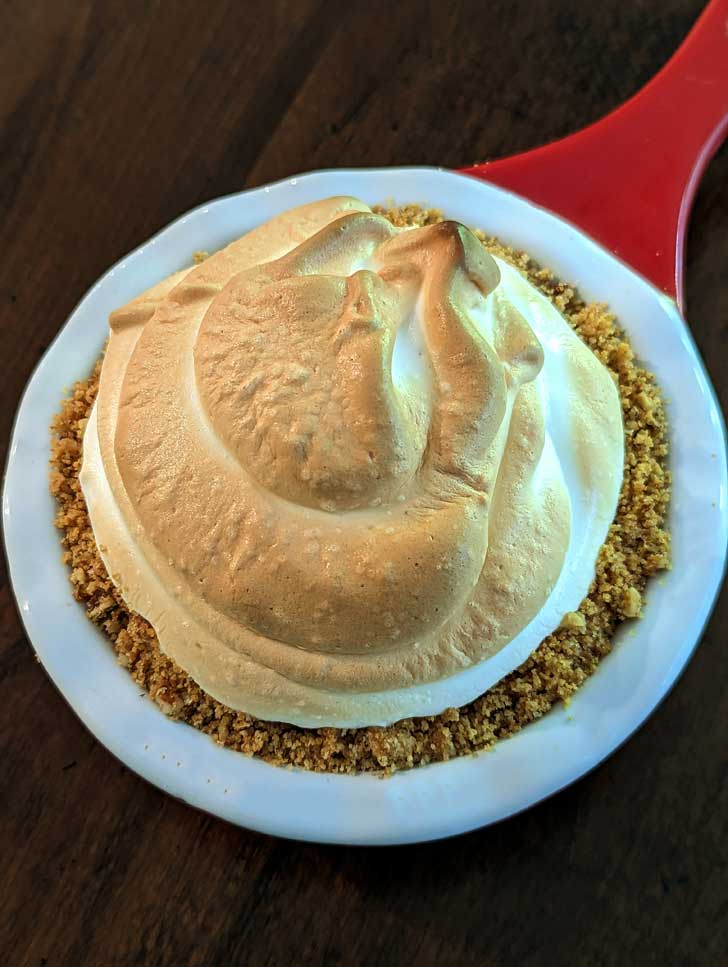 I found my 5 inch wide ceramic pie dishes at a thrift store (Modern Gourmet Stoneware) but Amazon has plenty including these Emile Henry ones which are similar in size. This recipe is for one small pie to be shared by two after dinner, but if you aren't into sharing dessert you can double the recipe and make two. The recipe's a great way to use up leftover condensed milk.
I made graham cracker crust with pecans, but if you just want a plain graham cracker crust you can just omit them.
Miniature Mile High Key Lime Pie for Two
⅓ cup of graham cracker crumbs,
1 heaping tablespoon of very finely chopped pecans or omit
1 tablespoon of sugar (can be granulated or a mix of granulated and brown)
1 ½ tablespoons melted butter and a pinch of salt.
1 large egg, separated
65-70 grams of condensed milk (set bowl on scale, tare to zero and pour in 65 grams)
20 grams of lime juice (about 1 ½ tablespoons)
A few scrapes of lime zest
Pinch of cream of tartar
2 tablespoons and 2 teaspoons of sugar
Dash of vanilla
Mix together the crust ingredients. Press into a greased miniature pie casserole dish and bake for 7 minutes. If you'd like to be able to easily remove the whole pie from the dish (maybe your ceramic dish isn't so cute?), you can line with parchment and carefully lift the pie out.
Make the filling. Whisk together the egg yolk, condensed milk, lime juice and zest (taste test and add more as needed, but only if you are not worried about the raw egg, otherwise just use a few scrapes). Pour into the cooled, baked pie shell.
Make the meringue. Beat the egg white and cream of tartar just until soft peaks start to form then gradually beat in the sugar. Pile the meringue on top of the mini pie. Bake the pie with the meringue at 375 degrees F for about 10 minutes or just until meringue is golden. Let cool, then chill for a few hours or until cold.
I was surprised how little this meringue weeped. I cut into after about a 3 hour chill time. The bottom of the meringue wasn't cooked as much since the meringue goes onto a cold filling, but it still tasted great. We didn't eat the whole pie, so I covered it. This is what it looked like on Day 2.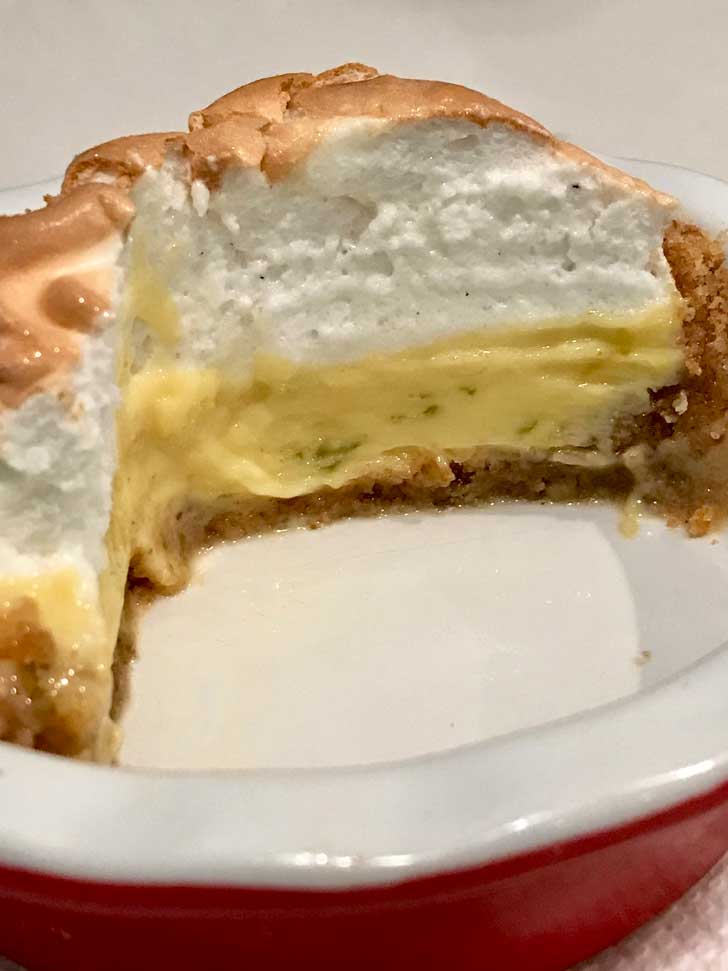 Recipe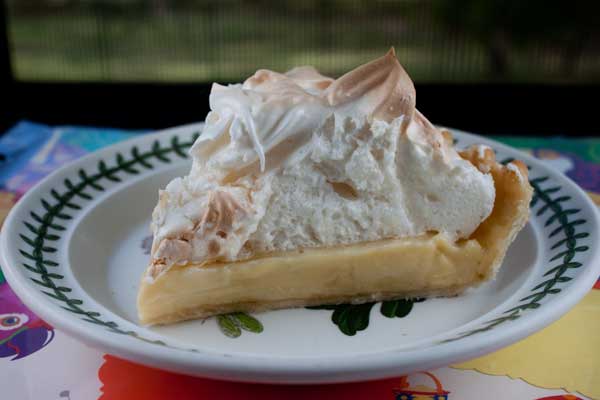 Mile High Key Lime Pie
Key lime pie with a meringue topping
Ingredients 
14

oz

can of sweetened condensed milk

6

large

eggs or 5 extra large

separated and brought to room temperature

½

cup

fresh Persian lime juice or ½ cup Key Lime juice

(Nellie and Joe's)

1

teaspoon

lime zest

1

teaspoon

cream of tartar

1

cup

granulated sugar

½

teaspoon

vanilla

1

9-inch

baked pie crust -- regular. or you could use an 8 inch
Instructions 
Stir together the sweetened condensed milk with the egg yolks, then stir in the lime juice and lime zest.

In a clean mixing bowl, beat egg whites with cream of tartar until foamy. When foamy, start adding the sugar very gradually (a tablespoon at a time) and continue beating until you have a big, fluffy, bowl of meringue. Add a dash of vanilla right at the end.

Cover pie with meringue, being careful to seal the edges of the crust.

Bake at 350 for 10 minutes or until meringue is golden brown. Let cool, then chill until ready to serve.