If you love gingersnap pie crust but don't enjoy crushing the cookies (or cleaning out the food processor afterwards), here's a recipe for a rolled ginger pie crust. I probably need a more catchy name for it, but basically it's a crust you stir together in a bowl, roll out, fit into the pan and bake. The texture is different from a crumb crust. It's sturdier and denser and will hold creamy fillings without getting soggy. Plus it tastes like a giant gluten-free gingersnap cookie!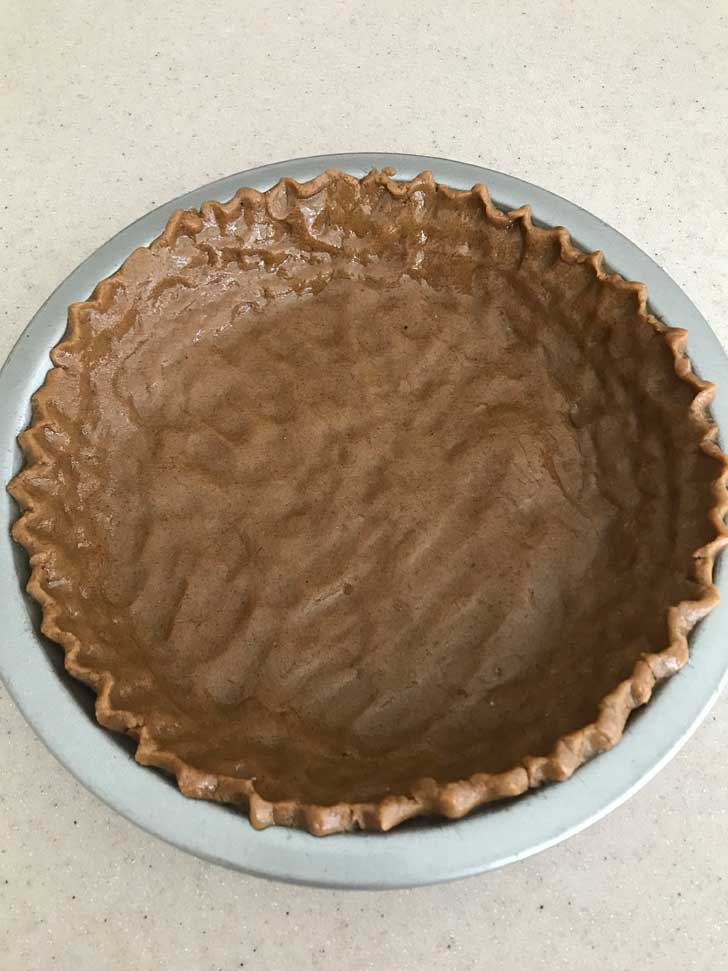 Gluten-Free Rolled Ginger Pie Crust
I've made this crust four times now and have tested it with all-purpose and gluten-free flour. The all-purpose flour worked, but the crust made with gluten-free flour was easier to stick a fork into. So this is one case in which gluten-free flour works better than all-purpose and tastes just as good. Plus you can work the dough more without it getting chewy. The downside is it is a tiny bit harder to work with, as it tends to fall apart. But again — since it's gluten-free you can just piece it back together as you fit it into the pan.
Pie Pan Size
This recipe is designed for a 9 inch pie plate. I've tested with ceramic and metal. If you spray the pie dish with a little cooking spray, the cookie crust should pop right out.
Unbaked, Par-Baked or Baked Pie Crust
So far I've used this for creamy pies that require a baked crust, which in this case were Millionaire Pie and Creamy Lemon Pie. I also used it for my Sour Cream Key Lime Pie, which does require a 5 minute bake. At first the crust will seem very firm. Very firm. But the creamy filling does soften it up a bit, so by the time the filling has set the crust will be firm, but not rock hard. You should be able to cut through it pretty easily with a chef's knife. Do be sure to grease the pie pan so that it will pop right out.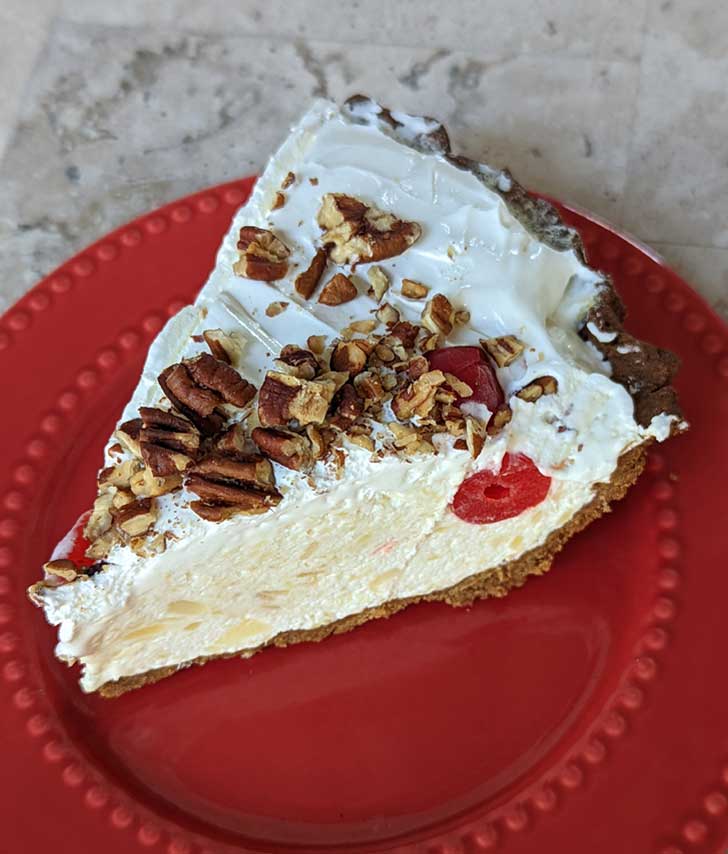 Creamy Lemon Pie Filling
If you want to give this crust a test run, I recommend using it for Creamy Lemon Pie. Bake the crust as directed. Pour one 14 oz can of condensed milk into a mixing bowl. Stir in 1 teaspoon of lemon zest and 1/2 cup of fresh lemon juice. Fold in an 8 oz tub of whipped topping gradually. Put it in the baked ginger crust and chill for several hours. Alternatively, you can freeze it. This makes a big, blank, lemon pie which you can adorn with berries of some sort.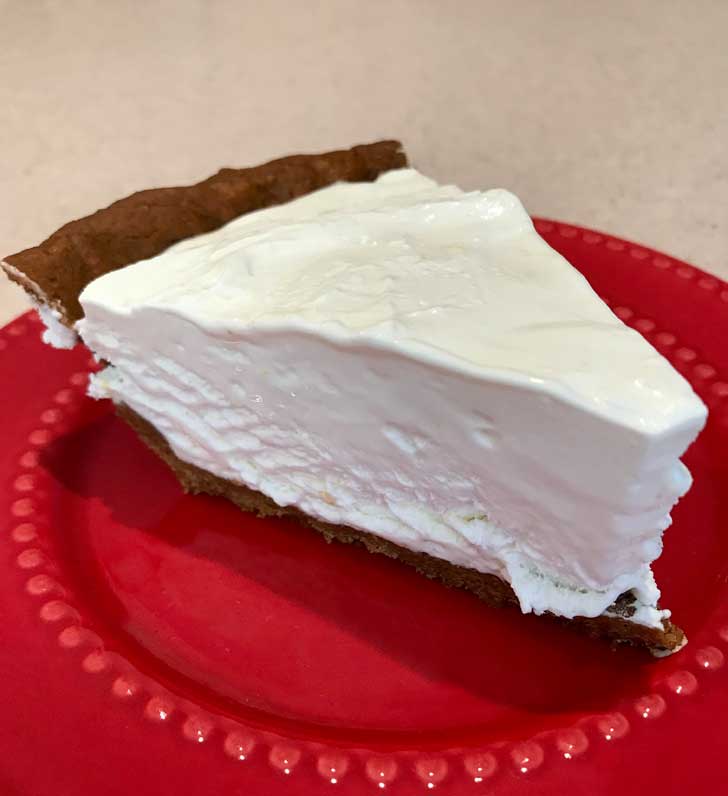 I'm looking forward to hearing how this pie crust works in other kitchens, so if you make it please leave me a comment or shoot me an email at anna at cookie madness dot net. I'll be happy to answer any questions or give clarifications.
More Recipes
Recipe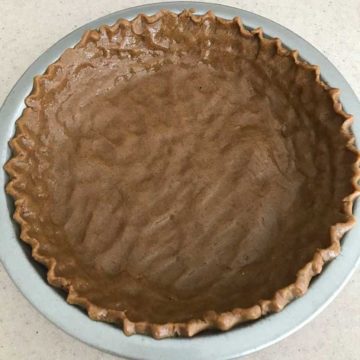 Rolled Ginger Pie Crust
Pie crust made with ginger cookie dough. This recipe makes enough for one 9 inch pie, but doubles well if you need two.
Ingredients 
1 1/8

cup

gluten-free flour (volume is approximate) or AP flour

(150 grams)

1

teaspoon

baking powder

1/8

teaspoon

teaspoon salt plus an extra pinch**

1/2

teaspoon

ground cinnamon

1/2

teaspoon

ground ginger

1/2

teaspoon

unsweetened cocoa powder

3

tablespoons

granulated sugar

(36 grams)

1

large

egg yolk

1 1/2

tablespoons

honey

(30 grams)

2

tablespoons

molasses

(40 grams)

1/4

cup

plus a tablespoon of oil, canola or grapeseed or any other oil (so 5 tablespoons total)

(65 grams) — use more if needed
Instructions 
This should give you enough for a shallow 9 inch dish or a slightly smaller (7 or 8 inch) deeper dish. Spray a 9 inch pie dish with cooking spray or grease it.

Combine the flour, baking powder, salt, cinnamon, ginger, cocoa powder and sugar in a mixing bowl. Stir for about 1 minute to make sure the mixture is very evenly blended.

Make a well in the dry ingredients and add the egg yolk, honey, molasses and 1/4 cup of the oil Stir well. Dough should be a little dry at this point. Drizzle in the the remaining tablespoon of oil, carefully folding dough over on itself to absorb oil, until it is pliable and no longer dry. It should be slightly greasy/oily, but not overly so. If you feel like it's very, very, greasy, add a little more flour.

Spread a large piece of plastic wrap or parchment on your work surface and press dough into a circle. Roll it slightly larger than your pie dish. Invert the circle into the pie dish (it will break, but that's okay and peel away plastic wrap. Reshape the dough so that it fits the pie dish. It should come up just to the rim. You can do a small crimp right at the rim, but this crust is delicate so don't attempt to build it up too high. Chill until ready to use.

To bake, press a piece of greased foil or parchment over the dough, weigh down with beans or pie weights.

Bake at 325 for 25 minutes. Remove from oven and remove foil and pie weights. At this point the shell is partially baked, so you can stop here if you plan on making a pie with a filling that has a short bake time (under 30 minutes). To complete the bake, put the pie back in the oven, reduce the heat to 300 and bake without foil for another 10 minutes. It may still seem a little under-baked at this point, but that is fine. It will harden as it cools. It will then soften up somewhat after it is filled.
Notes
The baking powder adds some salty flavor which is why you don't need too much salt.