You can never have too many Key lime pie recipes, so here's the one I made yesterday.  It's a Key lime pie without eggs.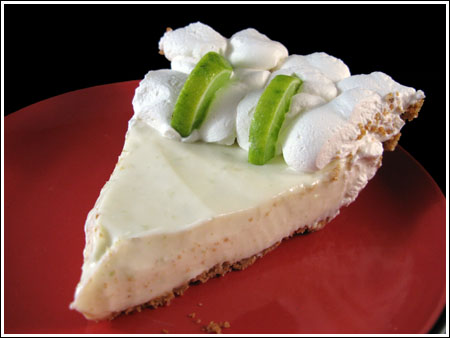 Key Lime Pie Without Eggs Inspiration
This was inspired by a "best of show" winner at a Florida state fair and it's interesting because it gets its smooth & thick texture from cream cheese and butter rather than the usual egg yolks. As I've mentioned, I like key lime pie that's very tart, so I used a lot of lime zest. You can adjust the amount of zest to taste. I also used real key lime juice today because key limes happen to be 99 cents a bag, but feel free to use bottled key lime instead. If you can't find key limes or key lime juice, you can use the juice of regular Persian limes.
Recipe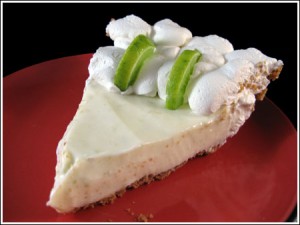 A Key Lime Pie Without Eggs
Key Lime Pie Egg-Free Key Lime Pie
Ingredients 
Crust:
18

graham cracker squares

(145 grams)

⅓

cup

pecans, toasted

(35 grams)

3

tablespoons

granulated sugar

(36 grams)

⅛

teaspoon

salt

2-3

tablespoon

coconut flakes, sweetened

6

tablespoons

unsalted butter, melted

(90 grams)
Pie:
4

tablespoons

unsalted butter

(60 grams)

6

ounces

cream cheese, softened

(180 grams)

1

can

condensed milk

(420 grams)

1 ½

tablespoons

lime zest

½

cup

key lime juice (fresh or bottled) plus an extra 1-2 T if desired

1

cup

heavy cream plus 1 tablespoon sugar & ¾ teaspoon vanilla
Instructions 
Preheat oven to 350 degrees F. Grease a 9 inch pie dish.

Combine graham crackers, pecans, sugar, salt and coconut in food processor; process into crumbs. Pour in the butter and pulse until crumbs are moistened. Press into pie plate covering bottom and sides and bake for 10-12 minutes. Cool.

Prepare filling. In the same food processor bowl you used for the crust, combine softened cream cheese and softened butter and process until smooth. Scrape side of bowl and add condensed milk, lime zest and bottled lime juice; process until smooth. Taste and make sure it's sour enough, then add more juice/zest if desired. Pour into the cooled pie shell. Chill for at least 5 hours.

A few hours from serving time, whip the cream until stiff peaks form, then beat in sugar and vanilla. Put cream in a zipper bag, snip off the corner and pipe cream around edges of pie.

** You could skip making the crust and use a store bought graham cracker or vanilla crust if you are in hurry. If you do this, you can make the whole pie using a mixing bowl and a hand-held mixer.