Key Lime Pie Coconut Milk Ice Cream was inspired by some ice cream we had at a local shop here in Raleigh. Along with the Brookie flavored ice cream I mentioned the other day, they had a dairy-free Key lime flavored dessert made with coconut milk. Technically, it's not ice cream since it's made without cream, but when you're limiting dairy it feels good to pretend it is. Coconut milk creations are a decent stand-in.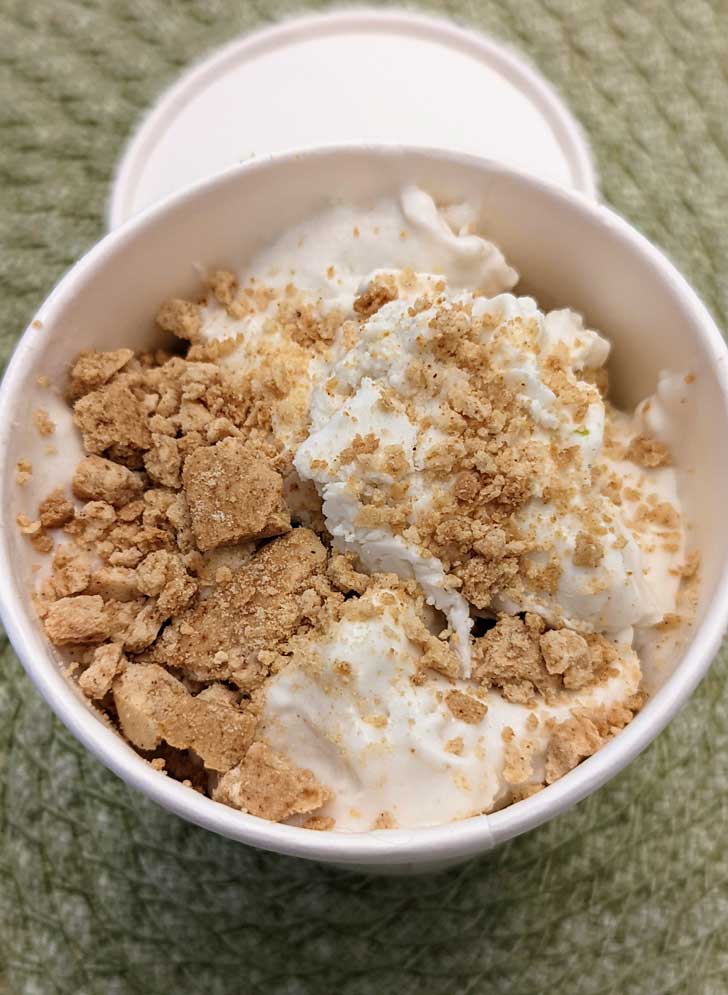 So here's the version I made at home. I was going for maximum Key lime pie flavor without using lime extract, so I used a combination of Nellie & Joe's Key lime juice, lime zest and vanilla. I also tested with both gluten-free graham crackers and gingersnaps and both cookies worked well.
Key Lime Syrup aka Sugar and Lime Juice Reduction
Syrups are often used in ice cream to enhance the creamy texture. This is why a lot of coconut milk ice cream recipes call for corn, maple or agave syrup. For my first batch, I used a combination of corn syrup and Nellie & Joe's Key lime juice. The ice cream was good, but a little icier than I wanted it to be, which was probably due to the straight key lime juice. So for the second and third rounds, I omitted the corn syrup and made my own lime syrup by boiling sugar with a mixture of water and Nellie & Joe's Key lime juice. Here's a picture of the lime syrup.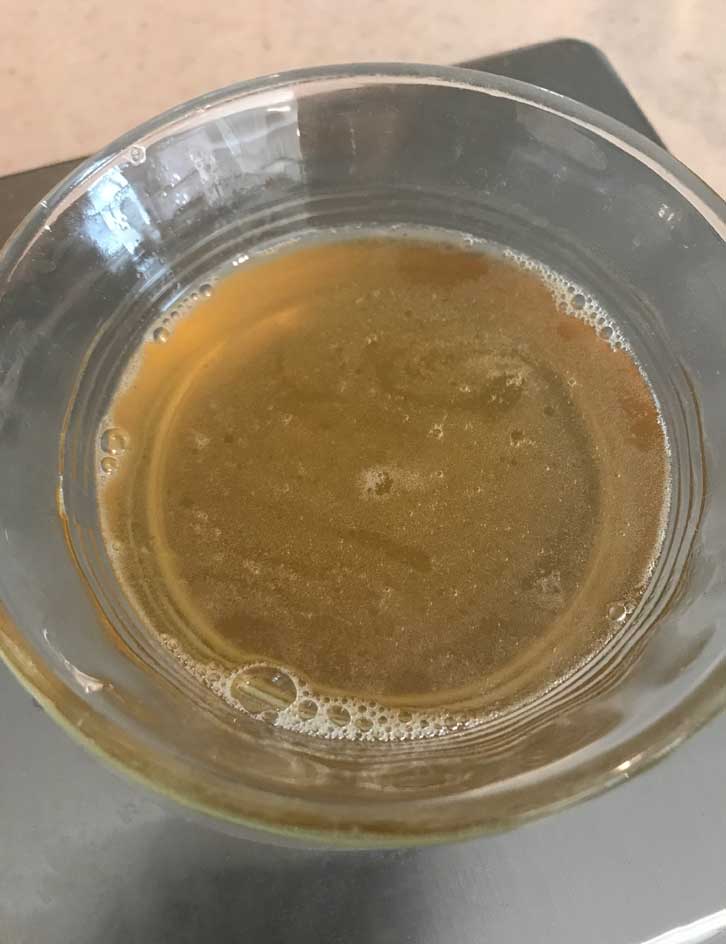 Very Lime-y, Very Creamy
Once the syrup cooled, I blended it with some lime zest, vanilla and coconut milk then chilled the creamy mixture before processing in the ice cream machine. The Key lime syrup did the trick! Compared to the first batch, this one was much smoother and creamier. And it was lime-y! I'm sure "tart" is a better word, but the whole family kept saying "lime-y" so we'll go with that. The fact I added ½ tablespoon of lime zest might have also had something to do with this. Feel free to use less, although I think Key lime lovers appreciate tartness.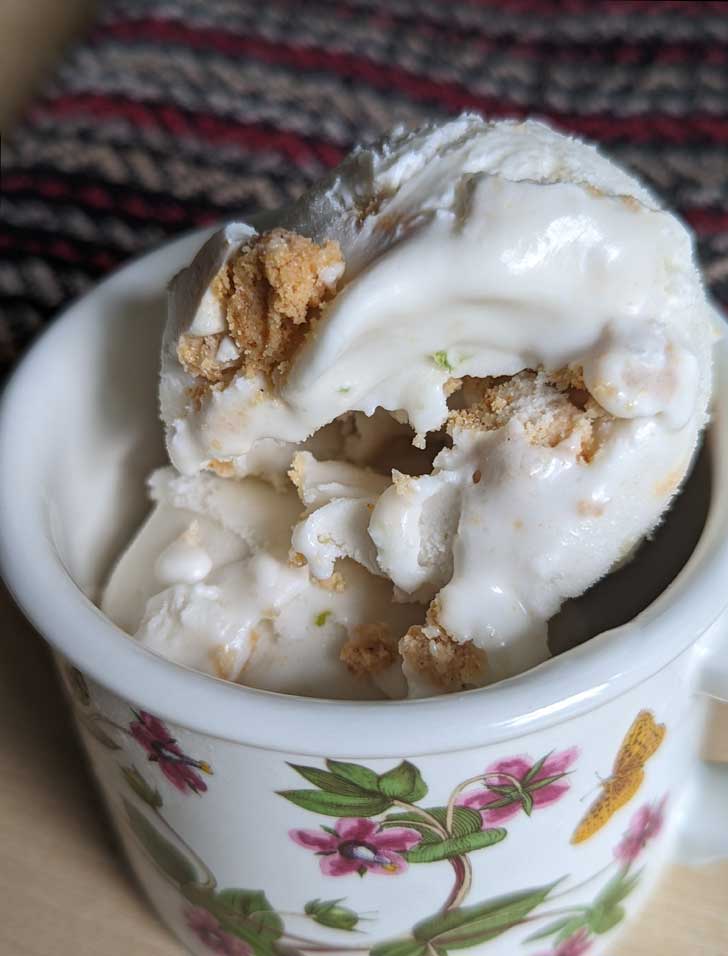 Vodka
I have mixed feelings on whether or not the vodka did anything for coconut milk ice cream, but since the texture was so pleasing I'd be hesitant to leave it out. If you can't use vodka, then skip it. In theory, alcohol is supposed to make ice cream more scoopable, and I guess it does to some extent. Or at least for the first 12 hours or so. Even if you use alcohol, the ice cream will become fairly solid in 24 hours and you'll still need to let it soften for 10-15 minutes or so before serving. So if you have vodka, use it. If you don't want to, then don't.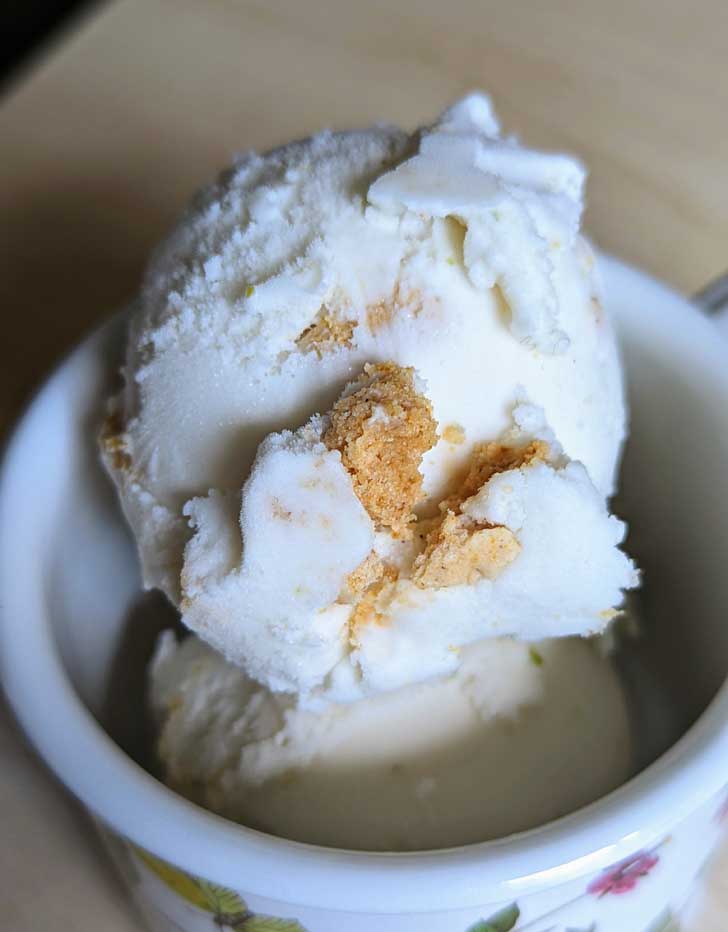 Small Batch Key Lime Pie Coconut Milk Ice Cream
This is a small batch recipe, and I plan to keep it that way so I can make it often and test out different brands of coconut milk. I may even try it with coconut cream, but honestly the coconut milk versions are rich enough. Just don't use the "light" kind! So far I've tested with Wegmans and 365 brands, both of which have guar gum. Given that guar gum is also used in ice cream as a stabilizer, it's probably beneficial to the ice cream's texture. So if you don't have problems digesting gums you may want to stick with coconut milk with guar gum. Or not! If you test it with a guar gum free coconut milk, let me know how it goes.
Recipe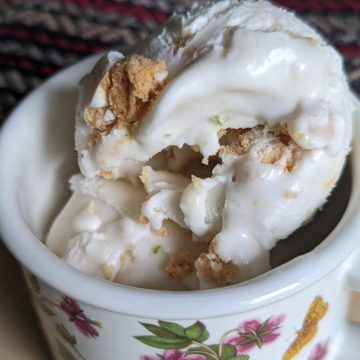 Key Lime Pie Coconut Milk Ice Cream
Key lime flavored ice cream made with coconut milk, Nellie & Joe's, lime zest and vanilla. A little vodka seems to help make the ice cream more scoopable, but you can leave it out if you prefer. Even if you do add the vodka, the ice cream will still need to sit for a bit to soften.
Ingredients 
6

tablespoons

granulated sugar

(75 grams)

¼

cup

Nellie and Joe's Key Lime Juice

(56 grams)

¼

cup

water

(56 grams)

1

can

(13.5 oz/400) coconut milk, pref. with guar gum

(378 grams/400 ml)

½

tablespoon

lime zest (you can use a little more or a little less)

¼

teaspoon

vanilla extract

½

tablespoon

Vodka (optional)

⅓

cup

Graham Crackers, roughly crushed (can use more or less to taste) or Gingersnaps (regular or gluten-free)
Instructions 
In a small saucepan, stir together the sugar, lime juice and water. Bring to a boil, then reduce heat and simmer for about 8 minutes or until mixture is reduced by just about half. You'll have to eyeball at first. You'll know you are close when the bubbles start looking white and fizzy. Also, you don't have to be super precise about how much you reduce it, but to be sure you've used the right amount you can scrape it into a bowl and weigh it. The starting weight is 187 grams and target weight is between 85 and 115.

So you can weigh it, or skip that, but do scrape it into a bowl and allow it to cool. It will also thicken quite a bit. If you've reduced it quite a bit (85 grams) it will be more golden in color and so thick you'll have to use a blender for the next step. If you reduce it more gently and stop when it's down to about 112 grams, it will have a slightly cleaner lime flavor and will be easy to just whisk with the coconut milk.

Pour the coconut milk into a blender container and scrape in the cooled thick lime syrup. If your syrup is thin enough, just whisk the two things together in a bowl. Add lime zest and vanilla and blend or stir until creamy and homogeneous. Scrape into a bowl, then cover with plastic wrap and chill for 2 hours or until very cold.

When ready to process in the ice cream machine, whisk in the vodka. Scrape into the ice cream maker and process as per the manufacturer directions.

Scrape ice cream into a pint container layering with crushed graham crackers or gingersnaps.

Freeze for at least an hour or until you are ready to serve. Ice cream will still be fairly soft at this point. Otherwise, freeze overnight and serve when convenient. Ice cream will freeze solid, so allow it to stand at room temperature for about 10 to 15 minutes or until it softens. It will go from icy to creamy.