This dairy free chocolate mousse recipe is from a rather surprising source -- Swanson Vitamins. Swanson is known for health products, but they also have a variety of nut butters, flours, oils and extracts. In addition to that, they have a recipe collection with recipes that use their products.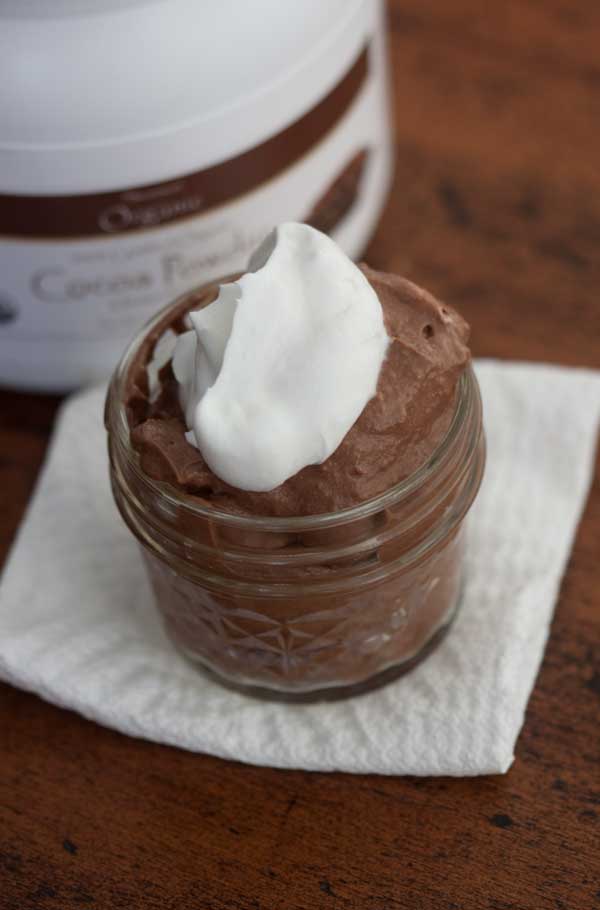 Organic Cocoa Powder
The featured product in this recipe is Swanson Organic cocoa powder, a natural, non-alkalized unsweetened cocoa powder for drinking, baking or in this case, blending. To make the dairy free chocolate mousse, you blend the cocoa powder with avocado, maple syrup, vanilla, coconut oil and coconut milk.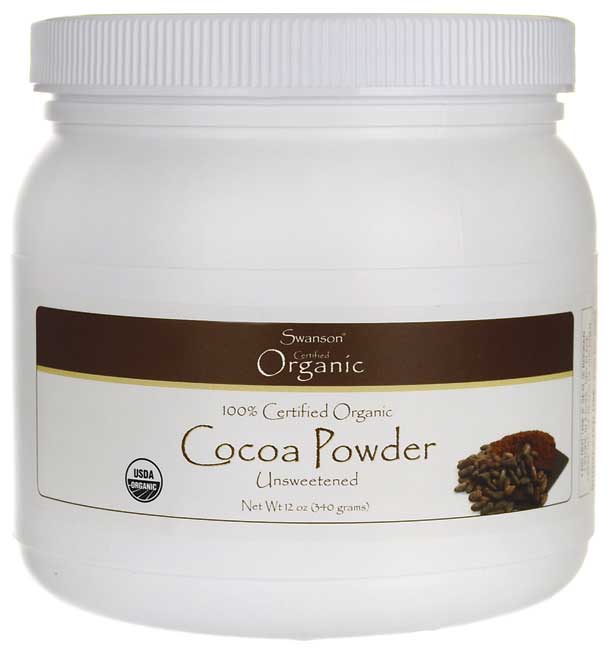 Whipped Coconut Milk
Other than having to clean the food processor, the recipe was quick and simple and gave me the opportunity to try something new. I'd never whipped coconut cream before. Having tried it, I'm not so sure I like the flavor of whipped coconut by itself, but once mixed with the chocolate it was good. The flavor of the mousse is mostly chocolate, though the flavors of coconut and maple (and avocado, in my opinion) come through. It's also very stiff once chilled, so next time I might spoon it into a pie shell and make a dairy-free chocolate pie.
Thanks to Swanson for the original recipe. Here's how I made it along with a few tips.
Recipe
Dairy Free Chocolate Mousse
An easy chocolate mousse recipe made with whipped coconut milk.
Ingredients 
1

large

ripe avocado

120 grams, not counting seed or skin

¼

cup

unsweetened cocoa powder

21 grams

¼

cup

maple syrup

60 grams

1

tablespoon

good quality coconut oil

14 grams

1

teaspoon

vanilla

1

can

can chilled coconut milk or coconut cream

see note
Instructions 
Scoop the inside out of the avocado and put it in a food process or blender.

Add the cocoa powder, maple syrup, coconut oil and vanilla extract and process, stopping every so often to scrape sides, until smooth.

Open the coconut milk and scoop out the part that has solidified. I used Trader Joe's and had 10 ounces/280 grams of solids and 4 ounces of liquid.

Using an electric mixer, beat the solid part until creamy.

Spoon about 6 ounces (¾ cup) of the whipped coconut cream into the processor and process until smooth.

Divide the mixture between 3 or 4 small cups. It's very rich, so small servings go a long way.
Notes
I used Trader Joe's brand coconut milk which they label as "coconut cream" even though it looks a lot like coconut milk. It might be a bit richer. Even before it was chilled, the Trader Joe's coconut cream had 10 ounces of solids and 4 ounces of liquid. I chilled it anyway so that it would whip quicker. It whipped in about 2 seconds. I spooned about 6 ounces of whipped coconut cream into the mousse and had leftover whipped coconut cream. I added a dash of vanilla and powdered sugar to that and put it on top of the mousse.