These chocolate dipped cupcakes are inspired by Dairy Queen. They have a chocolate cake base, a 7 Minute Icing and a coating of solid chocolate. They're a lot of fun to prepare (if you're in the mood for a project) and definitely stand out from the others.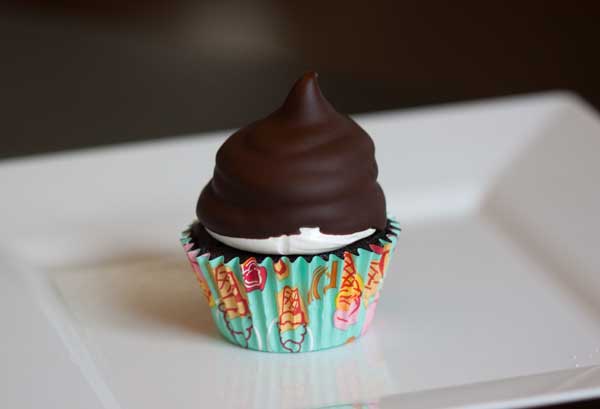 The idea for chocolate dipped cupcakes is most often credited to Elinor Klivans who calls them Hi Hat Cupcakes in her book, Cupcakes. Given that the three components are just three basic recipes combined, it makes sense that there are many variations.
Chocolate Cupcake Base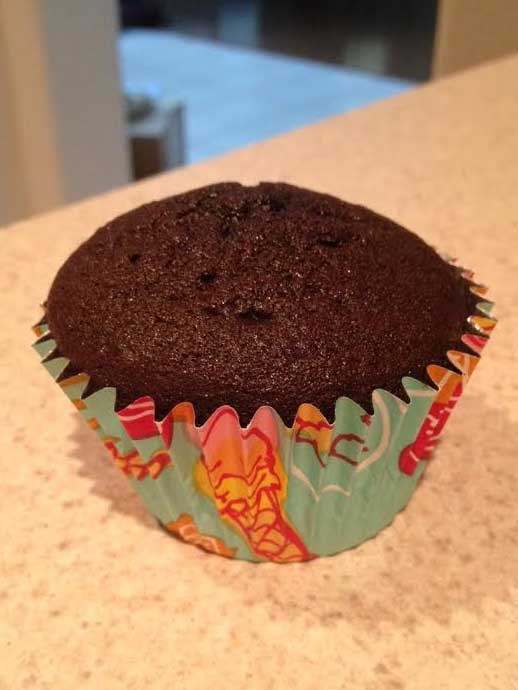 For the chocolate cupcake base,  I used a great chocolate cupcake recipe from The Cupcake Project. Normally I would have used Cook's Illustrated Ultimate Chocolate Cupcake as a base, but I was in the mood to try something a little different and am glad I did. These cupcakes dome nicely and have a soft, tight-crumbed texture that works well with the other components.  The cake also calls for 2 egg yolks, leaving you with 2 whites to use in the 7 Minute Icing.
7 Minute Icing
Chocolate dipped cupcakes need a firm, sturdy icing, so 7 Minute Icing works well. I thought about going with my personal favorite, but the double-boiler is packed away so I opted for the Brown Eyed Baker's recipe.  Her 7 Minute Icing is similar to Martha Stewart's but has ½ cup less sugar. It works perfectly here.
Dairy Queen Chocolate Shell
For the Dairy Queen dip cone inspired shell, I experimented with a few different types of chocolate and used good quality coconut oil instead of vegetable.
For the first round I used Dove Chocolate and coconut oil. The Dove version tasted great and set up nicely when chilled, but Dove chocolate is softer and creamier than most and I probably could have skipped the coconut oil altogether because at room temperature, the topping got a little too soft.
For the second round I used Guittard chocolate chips. As expected, the melted chocolate chip and coconut mixture was thicker and didn't coat the frosting as easily, but it did work and the chocolate had soft yet still firm texture when cold and at room temp.
Finally, I tried a bar of 4 oz Ghirardelli Bittersweet mixed with a tablespoon of coconut oil. That one was the best of both worlds -- firm when cold and at room temperature.  Plus it glided easily over the frosting when dipped.
I plan on making chocolate dipped cupcakes more often, for sure. Next up I'm going to try my friend Lisa's idea of dipping the cupcakes in colored candy melts. Lisa makes green dipped cupcakes for St. Patrick's Day which are really cute.
Here's the recipe as I made it. If you're not in the mood for making the icing or dipping, at least try the cupcakes.
Recipe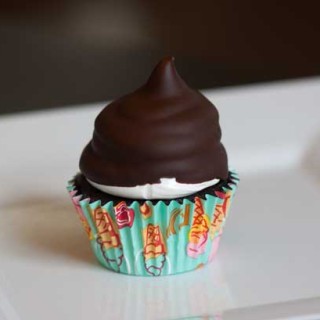 Chocolate Dipped Cupcakes
Hi Hat Chocolate Dipped Cupcakes are chocolate cupcakes topped with a 7 minute icing and dipped in a chocolate coating made of semisweet chocolate and coconut oil.
Ingredients 
2

ounces

bittersweet chocolate, chopped

56 grams

1

cup

all-purpose flour

140 grams

½

teaspoon

salt

½

teaspoon

baking soda

½

cup

cocoa powder

natural or Dutched (40 grams)

4

tablespoons

unsalted butter

room temperature (57 grams)

1

cup

granulated sugar

196 grams

2

large eggs

room temperature

2

large egg yolks

room temperature

½

cup

plus 1 tablespoon vegetable oil

2

teaspoons

vanilla extract

⅓

cup

sour cream

do not use low fat

½

cup

room temperature water or coffee
Icing
1¼

cups

granulated sugar

245 grams

3

large egg whites

at room temperature

¼

cup

water

¼

teaspoon

cream of tartar

2

teaspoons

vanilla extract
Chocolate Coating:
12

ounces

semisweet chocolate

finely chopped

3

tablespoons

vegetable oil

I used coconut oil
Instructions 
Preheat oven to 350 F. Line a 12 count muffin tin with paper liners, then line a second muffin tin with only 6 liners -- you should get about 18 cupcakes with this recipe.

Melt the chocolate in a small microwave-safe bowl using 50% power and stirring every 40 seconds or so. Let cool slightly.

While chocolate cools, sift together flour, salt, baking soda, and cocoa powder and set aside.

In a mixing bowl using an electric mixer, beat butter and sugar on low speed until blended. Continuing on low speed, add eggs and yolks one at a time, mixing after each addition. Scrape in the melted chocolate and mix until blended, then add the oil and vanilla and beat until smooth. Beat in sour cream.

Add dry ingredients and water mixture alternately, in three parts, to the egg mixture, beating on lowest speed (or stirring by hand) until well blended.

Fill cupcake liners ⅔ full and bake on center rack for about 18 to 20 minutes or until just slightly firm.

Remove cupcakes from the cupcake tin and place on a cooling rack or on the counter to cool to room temperature.

Icing: In the bowl of a stand mixer, whisk together the sugar, egg whites, water and cream of tartar. Set the bowl over a pan of barely simmering water and whisk until sugar is dissolved and the mixture reaches 160 degrees F on a thermometer. Transfer the bowl to a stand mixer fitted with a whisk attachment and beat on high speed until the frosting forms stiff peaks, about 12 to 16 minutes (mine took about 6). Add the vanilla extract and beat until combined.

Transfer the frosting to a large pastry bag fitted with a ½-inch round decorating tip such. Pipe a high swirl of frosting onto the top of each cupcake. Keep the cupcakes chilled while you prepare the dipping chocolate.

Make the Chocolate Coating: Combine the chocolate and oil (I used coconut) in a medium heat-proof bowl set over a saucepan of barely simmering water and stir until melted and smooth. Alternatively, you may do this in two parts using a Pyrex mixing cup, microwaving at 50% power and stirring occasionally until melted and smooth. Transfer to a small (deep) bowl, and let cool to room temperature.

Holding each cupcake by its bottom, quickly dip each cupcake straignt into the chocolate to coat the white icing and place on a wire rack. Let the cupcakes stand at room temperature 15 minutes, then refrigerate for 30 minutes uncovered (I put mine directly in the refrigerator).
Notes
For the chocolate, I experimented with a few different kinds. First, I used 4 oz of Dove Dark and 1 tablespoon of coconut oil. This created a topping that was firm, but got a little too soft at room temperature. Dove tends to do that. For the second batch I used Guittard chocolate chips. The chocolate mixture was, as expected, thicker and didn't coat as evenly. The best results were with a mixture of melted Ghirardelli bittersweet chocolate and coconut oil. The topping solidified in the refrigerator and did not get too soft when left at room temperature.