The best Scottish Shortbread I ever had was the shortbread left in our room during a stay at The Ritz Hotel in London.  The texture was extremely light and crumbly and it had a decent amount of butter flavor.  A few years later, our neighbors in Austin brought over some shortbread that had a very similar flavor and texture.  They shared the recipe, and since then this is the only way I'll make shortbread.  Okay, that's not true I'll make any kind of shortbread, but this is my melted butter shortbread favorite. 
Jump to Recipe
Scottish Shortbread Ingredients
Rice flour is the key to this recipe. It doesn't call for a lot, so if you don't want to spend money on a bag of rice flour (or can't find any), you can grind your rice in coffee grinder or spice grinder. It will be a bit coarser than store bought rice flour. It's best to use the finest rice flour you can find.
This recipe is flavored with a bit of ginger. It's there to add notes of flavor, not make it "ginger shortbread".
Melted butter is so much easier to mix then creamed or cold. Salted butter is used in this recipe, but if you'd prefer to use unsalted you can add a teaspoon of salt. For the butter, I usually use Plugra or KerryGold, but lately I've been experimenting with other brands like President and Danish butter. And of course Land o Lakes works.
The great thing about this recipe is that the butter is melted! It makes mixing so easy. When you melt the butter, melt it gently over low heat in a saucepan or using power level 5 or 6 in the microwave.
Pan Size
My neighbors make double the recipe in a 15x10 inch pan, but I'm always monkeying around with the pan size. I usually make it in a 9 inch square pan or a 7x11 inch pan.  If you really want to make it but don't want too much shortbread, you could halve the recipe again and make it in a 9x5 inch loaf pan.
Loaf Pan Shortbread -- Half Batch
I recently tested the recipe in an 8 ½ by 4 ½ inch loaf pan. The 8 ½ by 4 ½ inch USA pan works perfectly for a half batch. Here's a picture of my set up. I used a little foil for lifting and butter and a little cooking spray on the corners.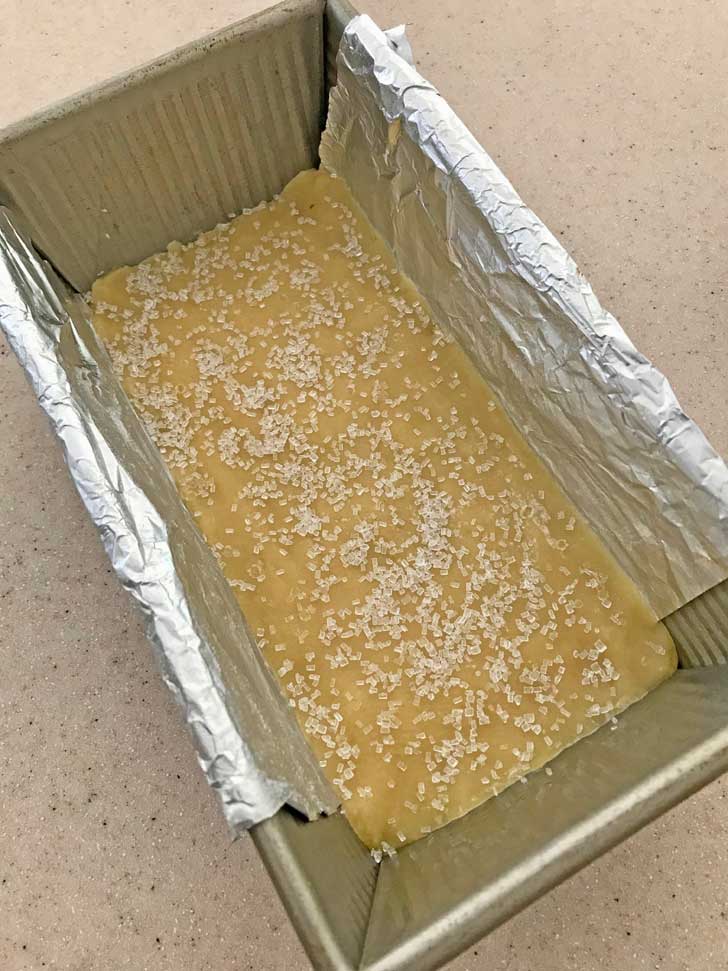 Weights Rather Than Volume
We've always made this using weights rather than volume. If you use volume measurements it will probably turn out okay too, but I recommend using a scale anyway. Try it and let me know what you think.  It's a quirky little recipe given the melted butter, the higher baking temp and the fact you poke holes at the end of baking rather than before, but my family really likes this one a lot.  The two I compared it with this week were King Arthur's (which is also VERY good) and one from Food.com.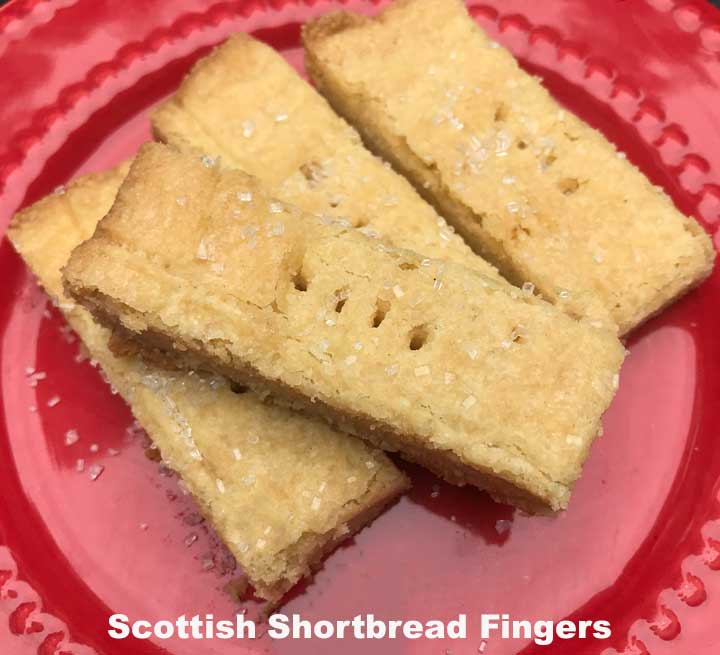 New York Times Sugared Shortbread
I recently logged on to the New York Times recipe section and noticed a very similar recipe calling for melted butter and rice flour. It was submitted by a reader in 2012. The New York Times version is different. There's no ginger, the amount of rice flour is ¼ cup (36 grams) and the amount of sugar is ¼ cup (62 grams). They use an 8 inch square pan and the bake time is 40 to 45 minutes. My daughter and I tested the NYT version and I have to say it is very good too.
Recipe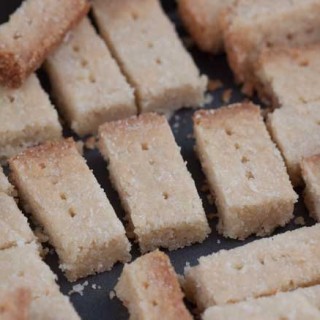 Scottish Shortbread Fingers
Shortbread made with melted butter and rice flour.
Ingredients 
1 ¾

cups

all-purpose flour (do not use pastry flour)**

½ pound/240 grams

6

tablespoons

rice flour**

56 grams

½

cup

plus 1 tablespoon granulated sugar

114 grams

¼

teaspoon

ground ginger

½

pound

European style or really good quality salted butter (or add 1 scant teaspoon salt to recipe) -- see note about salt levels (Plugra works well)

240 grams

½

teaspoon

vanilla extract
Instructions 
Line a 9 inch square metal pan with nonstick foil or parchment paper.

Combine the all-purpose flour, rice flour, sugar and ginger in a large mixing bowl.

Gently melt the butter in a microwave- safe glass measuring cup using 50% power.

Mix the vanilla with the melted butter and let it cool for about five minutes.

Add the butter to the flour mixture and stir with a wooden spoon until blended. Transfer mixture to the pan and pat it down flat. Put it in the refrigerator for 30 minutes or until cold.

Preheat oven to 350ºF.

Sprinkle top of shortbread with sugar. Place in the oven and bake for about 30 minutes or until middle appears set and edges are lightly browned.

Using a 4 pronged fork or whatever fork you feel like using, poke holes in the warm shortbread. Poke them at intervals and plan on cutting around them.

Using a razor blade or sharp knife, score the shortbread gently into 32 fingers (or whatever size you want). Do not lift it from the pan at this point.

Let sit until completely cool, then lift from pan. Use a knife to cut through the areas you lightly scored.

Store in a tin. These stay fresh for weeks.
Notes
Salt: The shortbread gets it's salt from the salted butter, but feel free to add an extra pinch if you like sweet & salty.  If you are using unsalted butter, add ¾ teaspoon of salt to the recipe.
If you have an old coffee grinder or spice grinder, make your own rice flour by grinding 2 ounces of white rice
For best results, weigh your ingredients.
Don't over-bake. Edges should be just browned and shortbread should still be pretty soft when you pull it from the oven.
Version Two 8 Inch Square Pan:  Use only 36 grams (¼ cup) rice flour 63 grams sugar (¼ cup) and use an 8 inch square pan rather than a 9 inch square pan.  Use salted butter or if using unsalted, use ½ teaspoon.