Bran Chocolate Chip Cookies made with All Bran cereal are one of my top favorite cookies, and I also love this recipe made with Raisin Bran. Actually, I have a lot of favorites with bran, but mainly bran cereal. I wanted to try something a little different this week and made cookies with unprocessed wheat bran.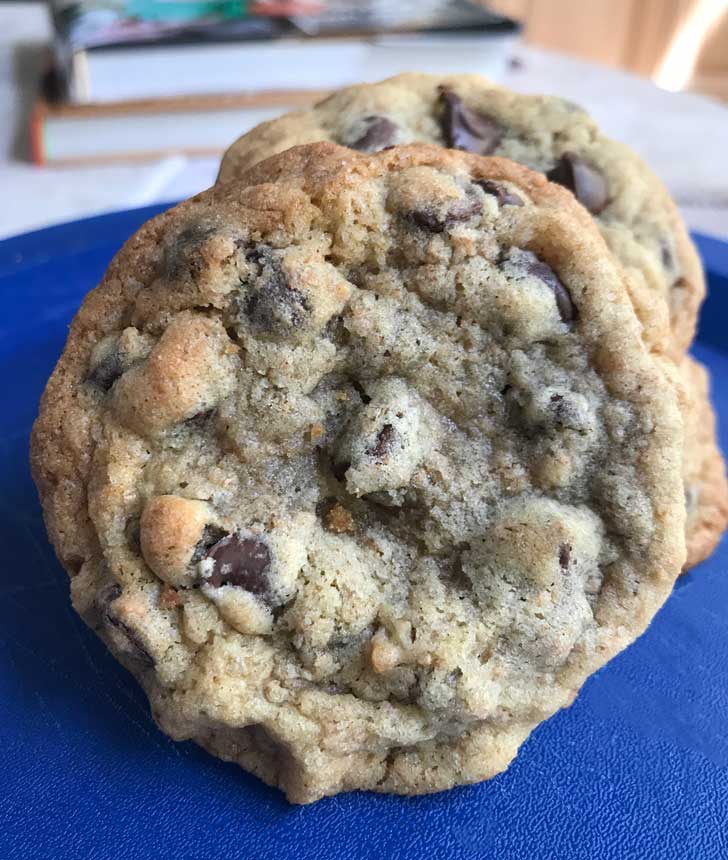 They're basic chocolate chip cookies with unprocessed wheat bran standing in for some of the flour. I wouldn't classify them as healthy, but if you like the flavor and texture of bran it makes a nice addition to the cookies. Plus that little bit of fiber isn't exactly a bad thing! The cookies are thin and chewy. You can add some nuts to bulk them up a bit, but they're good without the nuts too. And they're great frozen! Here's the recipe. It's not fancy, but if you have a half cup of bran lying around and like chocolate chip cookies I recommend it.
Bran Chocolate Chip Version II
The printable recipe makes a good bran cookie, but during my experiments I made a darker, chewier, cookie with an even higher ratio of bran. I feel like the printable version is more reliable, but if you want to try the dark, chewy, thin version it's in the notes.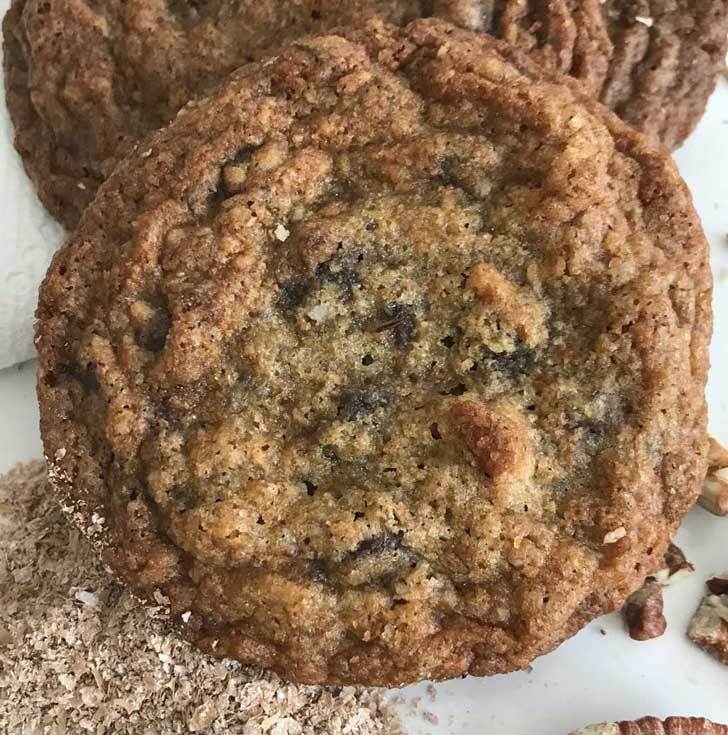 Where to Buy Wheat Bran
Maybe it's my imagination, but unprocessed wheat bran seems a little harder to come by these days. I used to see it in the baking aisle and the bulk bin at Whole Foods, but now I can only find it in the bulk bin at Sprouts. Amazon still has Bob's and other brands, but it just seems like it's not as popular an ingredient anymore maybe due to so many people being gluten-free.
Recipe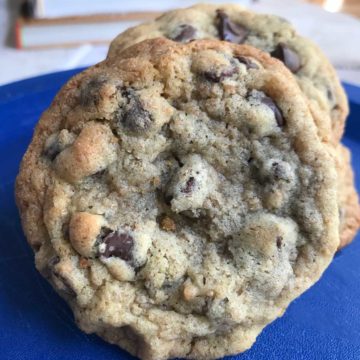 Bran Chocolate Chip Cookies
Thin, Chewy, Chocolate Chip Cookies with Bran
Ingredients 
2

cups

all-purpose flour, lightly spooned or weighed

(260 grams)

1

teaspoon

baking soda

1

teaspoon

salt

¼

teaspoon

cinnamon

1

cup

unsalted butter (230 grams), softened

1

cup

light brown sugar

(200 grams)

½

cup

granulated sugar

(100 grams)

2

large

eggs

1

teaspoon

vanilla

½

cup

wheat bran, unprocessed kind -- not bran cereal

2

cups

semisweet chocolate chips

½

cup

chopped pecans, optional
Instructions 
Preheat oven to 350 degrees F.

Weigh the flour and mix it with baking soda, salt and cinnamon. Set aside.

Beat the softened butter and both sugars until creamy, then beat in the eggs, one at a time, beating just until blended. Beat in vanilla.

Add flour mixture and stir until smooth, then stir in the bran. Once bran is fully incorporated, stir in the chocolate chips and nuts.

Using a medium size cookie scoop, scoop out balls of dough and arrange them on a plate lined with plastic wrap. Cover and chill until ready to bake or bake immediately.

Arrange dough balls on a parchment lined or ungreased baking sheet and bake for about 12 minutes or until cookies appear done. They will be big, flat, and brown. Let them cool on the baking sheet for about 5 minutes, then loosen from sheet and transfer to a wire rack to finish cooling.
Smaller, Crispier Cookies
If you like crisp cookies, make the dough balls smaller by using a rounded teaspoon of a small cookie scoop. Press the balls down slightly so they have flat tops. Bake at 300 for about 15 minutes or until they appear nicely browned. Let cool on baking sheet for 5 minutes, then transfer to a wire rack to cool and crisp.
Notes
For a darker, chewier and richer cookie, use 1 ⅓ cups of flour (170 grams) instead of 2 cups.  For the sugar, use ¾ cup of granulated and ¾ cup of light brown.  The batter will be softer and the cookies will spread more and be very thin and dark.