Trader Joe's Dark Chocolate Brownies get their name from the type of chocolate I used the first time I made them -- a big block of Trader Joe's 72%. I classify these as "whipped brownies" because the recipe calls for beating the eggs and sugar until pale and light, which gives the brownies a light yet fudgy texture.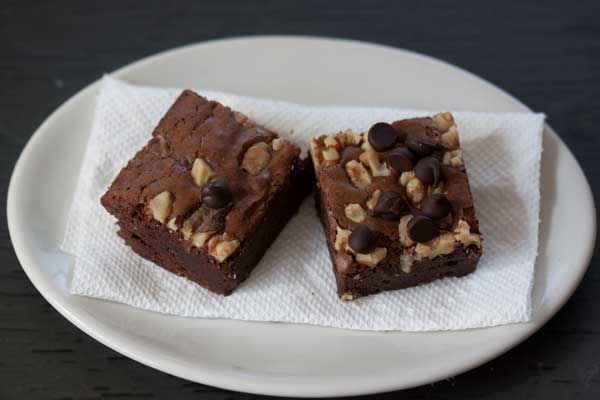 Overbaking Brownies
The only caveat is that with whipped egg & sugar brownies, you need to get the timing just right or else they'll be borderline cakey. My brownies are usually done in 30 minutes, but it could take slightly less time if you use convection or if your oven runs hot. For best results, use a probe thermometer. The temperature should top at out no more than 205 degrees.
Gluten-Free Trader Joe's Dark Chocolate Brownies
Update:  I just tested this recipe with Pillsbury Gluten-Free All Purpose Blend.  It worked perfectly!  Just remember, this recipe is best with chocolate that is at least 72% cacao.  Sweeter chocolate will give you sweeter brownies.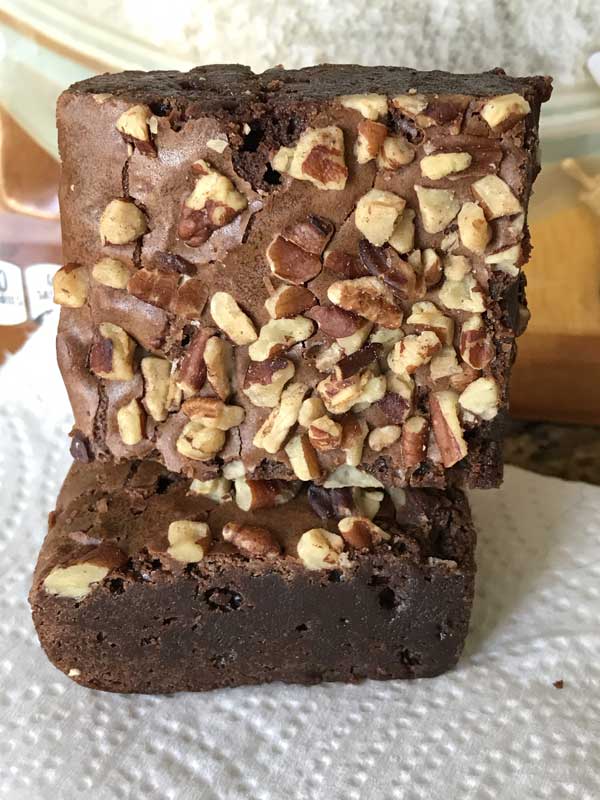 Recipe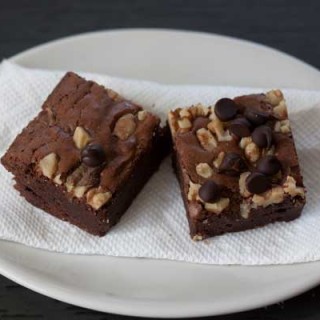 Trader Joe's Dark Chocolate Brownies
Trader Joe's Dark Chocolate Brownies are baked in an 8 inch square glass baking dish.
Ingredients 
½

cup

unsalted butter, cut into chunks

(114 grams)

½

tablespoon

coconut oil or vegetable oil

4

ounces

72% dark chocolate, chopped

(114 grams)

1 ½

tablespoon

unsweetened cocoa powder

½

cup

dark brown sugar

(100 grams)

2

extra-large

eggs or 2 ½ large eggs

125 grams total**

¾

cup

granulated sugar

(150 grams)

½

tablespoon

vanilla

⅜

teaspoon

salt

¾

cup

all-purpose flour

95 grams

½

cup

chopped walnuts

Handful dark chocolate chips
Instructions 
Preheat the oven to 350 degrees F. Line the bottom only of an 8 inch pan with a piece of parchment paper. Grease parchment paper only. Do not grease sides of the pan.

In a medium saucepan, melt the butter over medium low heat. Add coconut oil and chopped chocolate and reduce heat to low. Stir until chocolate is melted and smooth, adding in the cocoa powder as you stir. When smooth, add the dark brown sugar and stir until it dissolves slightly, then remove from heat.

In a mixing bowl, using a hand-held electric mixer, beat the eggs for about 1 minute or until frothy. Gradually add the granulated sugar and continue beating for 5 minutes or until thick and frothy. Beat in the vanilla and the salt.

Fold the melted chocolate mixture into the egg mixture, then fold in the flour.

Pour the batter into the prepared pan, sprinkle walnuts over the top, and bake in the center of the oven until set and starting to crack, about 30 minutes (may take longer, but probably not). Internal temperature should be between 200 and 205.

Pull from oven and sprinkle chocolate chips over hot brownies so that they melt just enough to adhere.

Let cool completely at room temperature (or plunge into an ice bath if you prefer), then chill thoroughly. To remove from pan, loosen sides without parchment gently with a knife, then pull up on parchment and take brownies out of the pan. Cut into squares.
Notes
If you only have large eggs, crack a third egg into a small cup, beat it with a fork, and measure out 2 tablespoons.