Salted Mixed Nut Butter Chocolate Chunk Cookies were supposed to be Salted Tahini Chocolate Chunk Cookies, but things went awry. Trader Joe's to the rescue!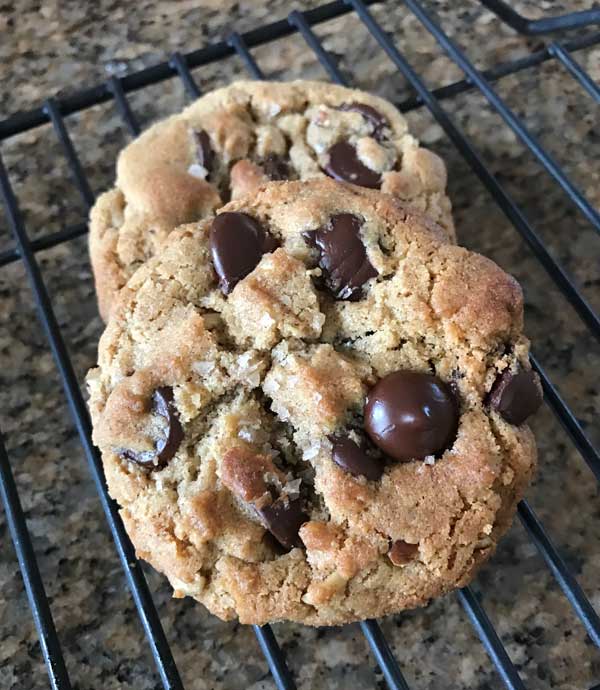 Trader Joe's Mixed Nut Butter to the Rescue
I had this grand plan to compare the The New York Times  Salted Tahini Chocolate Chip Cookies to David Lebovitz's version, but after gathering all the ingredients, I discovered the tahini had gone bad. Uh oh! It was time for Plan B, which turned out to be Trader Joe's Mixed Nut Butter.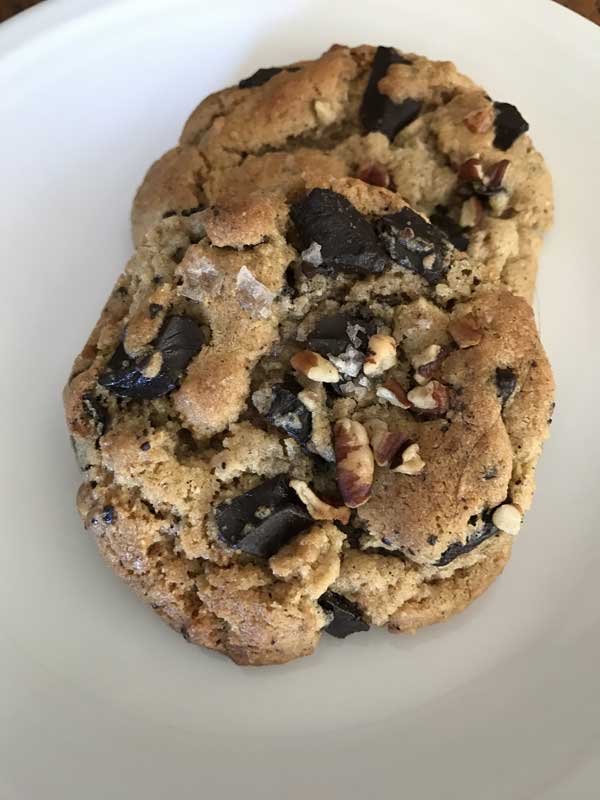 Mixed Nut Butter
I am a big fan of Trader Joe's Mixed Nut Butter, so it will be a sad day when they discontinue it (so far they haven't!!) But for now I'll just keep buying it and enjoying the feeling that I'm getting a wider variety of nutrients from the mix of nuts.  Almonds, cashews, walnuts, Brazil nuts, hazelnuts and macadamia nuts -- they're all in there. It's not a sweet spread, so sometimes I add a little honey.  I also chop up extra Brazil nuts and swirl them in too (selenium!).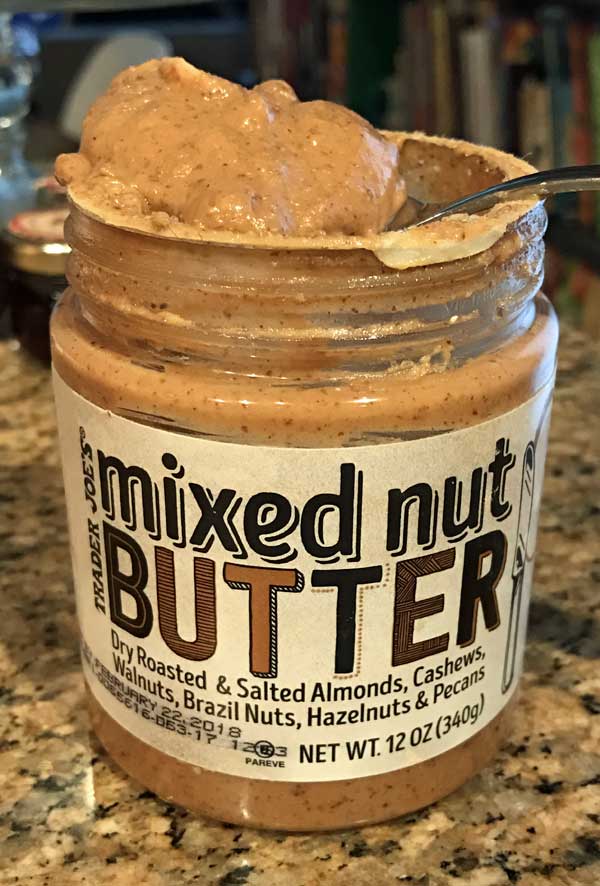 But back to the cookies.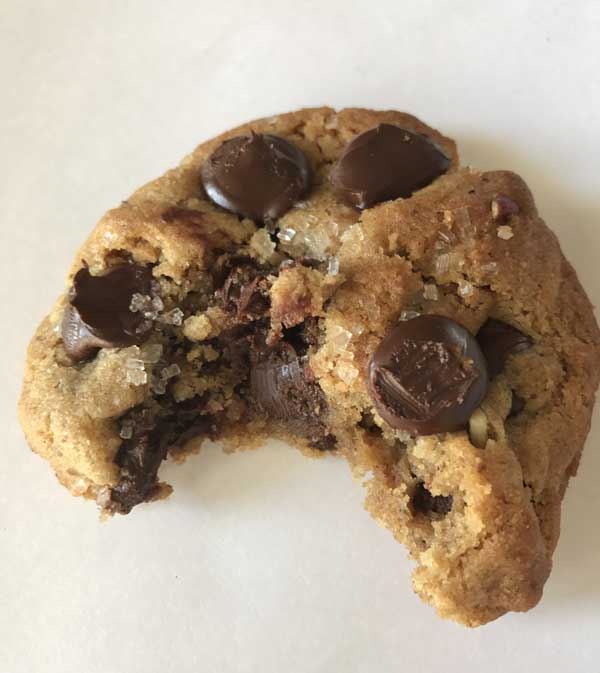 They turned out quite lovely! How they compare with the salted tahini variety will remain a mystery because I don't see myself buying tahini again for a while Update: (now I buy Soom or Baron's). For now, these will do. They're not too sweet, have scraggly tops, they brown nicely, and have a texture that's not exactly soft, but not crunchy. It's similar to a peanut butter cookie texture, but firmer. For these cookies I suggest adding an "accent" nut. Pecans work well, but any nut will do.  Also, adding coarse salt or coarse sugar makes the texture and flavor even more interesting.  And finally, you can really pack these with chocolate.  The dough is fairly sturdy and not super sweet, so the more chocolate the better.
Costco's Kirkland Mixed Nut Butter
A while after I posted this, I discovered Costco's Kirkland Mixed Nut Butter. Theirs is a bit different in that is has bits of chia and flax. Fuzz and I love it, but I haven't had a chance to test it in a lot of recipes. I have no doubt it would work well in these cookies.
Recipe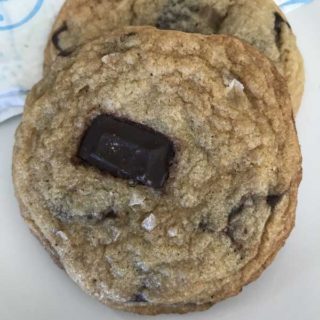 Mixed Nut Butter Chocolate Chunk Cookies
Mixed nut butter enhances the texture and flavor in these chewy chocolate chunk cookies.
Ingredients 
1

cup

plus 2 tablespoons AP flour

(150 grams)

¾

teaspoon

baking soda

½

teaspoon

salt

up to ¾ if not garnishing with salt

8

tablespoons

unsalted butter, softened

(114 grams)

½

cup

Trader Joe's brand nut butter, well stirred

(120 grams)

½

cup

granulated sugar

(100 grams)

½

cup

tightly packed light brown sugar

(100 grams)

1

teaspoon

vanilla extract

1

large egg

at room temperature

1

large egg yolk

2

cups

bittersweet or semisweet chocolate chunks, or chocolate chips

(280 grams)

⅔

cup

of your favorite nuts

pecans, walnuts, et.

Flaky Sea Salt for garnish or coarse sugar
Instructions 
Thoroughly whisk together the flour, baking soda and salt. Set aside.

In a mixing bowl, beat the butter, nut butter and both sugars until creamy. Beat in the vanilla.

Scrape sides of bowl and add egg and the yolk. Mix by hand, then beat on medium speed until egg is blended in.

Add the flour mixture gradually, stirring by hand until incorporated.

Stir in the chocolate chunks and nuts.

Portion dough into about 24 to 27 chunks and put on a lined baking tray or a couple of foil-lined plates -- whatever you can fit in your refrigerator. Chill dough portions for about 30 minutes or until ready to use.

Preheat the oven to 350 degrees. Line two baking sheets with parchment paper or just leave unlined and ungreased.

Arrange dough portions about 2 ½ inches apart on baking sheets and sprinkle tops of cookies with flaky salt. Alternatively, dip tops in coarse sparkly sugar.

Bake one sheet at a time on center rack for about 12-14 minutes or until cookies appear nicely browned.

Transfer the cookies to a wire rack and let cool completely.
Notes
For the flour you can use 150 grams of all-purpose or use 120 grams AP and 30 grams of whole wheat.