Thanks to Santa, I am now the proud owner of a bottle of anise extract.  I was told he purchased it at The Spice House, a local spice store that started stocking it in response to fisherman who claimed putting anise on their bait attracted more fish. Hmm, I don't know about that, but it it sure worked well in this anise biscotti.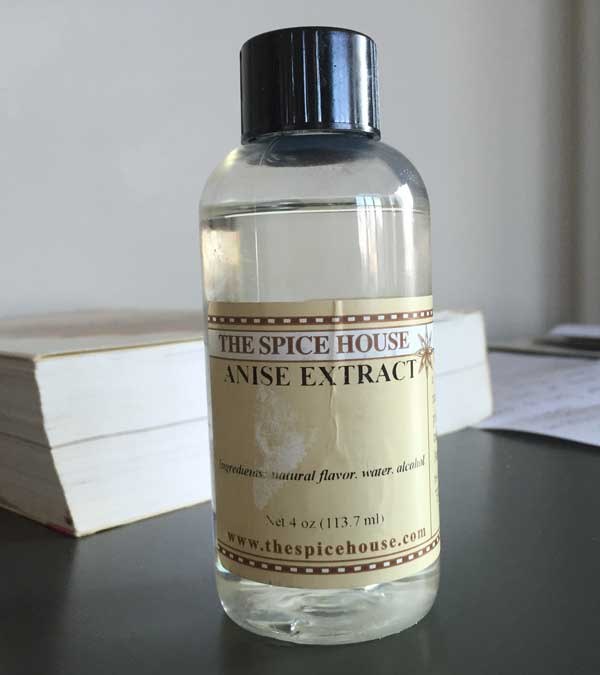 To be honest, I wasn't actually sure what I'd do with anise biscotti since I like the idea of anise more than the actual flavor, but the results were much better than expected.  The anise flavor was mild rather than overwhelming in the way licorice can be, and the texture was uniform and not too hard on the teeth.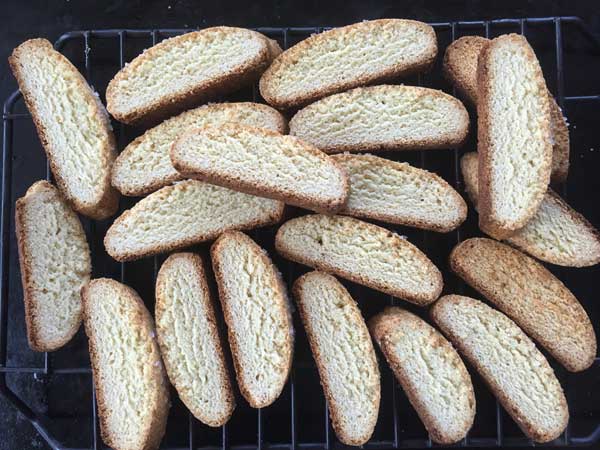 Adding nuts, which you'll inevitably want to do after you make the first batch and realize you just have to try variations, makes the biscotti slightly crumblier.  But nuts or no nuts, the recipe still gives you a pretty handsome cookie.   And finally, this recipe calls for a lot of baking powder, so make sure to use an aluminum free brand or one that won't leave a metallic taste.  My brand of choice is Rumford.
Recipe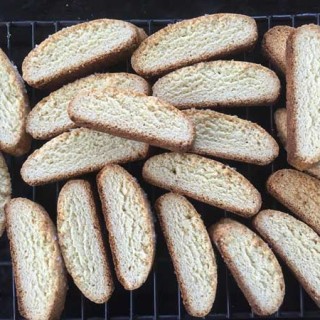 Anise Biscotti
An easy biscotti recipe made with Anise extract. The original recipe is from Rocco DiSpirit, but I changed it a bit by adding vanilla and playing with the time and temperatures. These are less sweet than some other biscotti and slightly softer to the bite rather than tooth breakingly crunchy. They are good with or without coffee.
Ingredients 
3 ¼

cups

all-purpose flour

420 grams

1

tablespoon

aluminum free baking powder

3

large eggs

1

cup

granulated sugar

195 grams

½

cup

vegetable oil

½

teaspoon

vanilla extract

1

tablespoon

anise extract
Instructions 
Preheat oven to 375F. Line two large baking sheets with parchment paper.

Thoroughly mix together the flour and the baking powder. Set aside.

Using an electric mixer, beat the eggs until light and frothy. With the mixer going, gradually add the sugar. Reduce mixer speed slightly and gradually add the oil, followed by the vanilla and anise.

With a heavy duty scraper, stir the flour mixture into the egg mixture to form a dough and scrape it out onto the parchment lined baking sheets (half on each sheet).

Working directly on parchment lined sheets, dampen your fingers with a little water and push the sides of the dough inward to dough form a log a little over 12 inches long and ½ inch thick.

Bake logs for 25 minutes or until golden brown, then remove from the oven and let the logs cool until they are not so hot to the touch.

Reduce the oven temperature to 325F.

Using a large chef's knife, cut into ½-inch (or slightly thicker if you prefer) slices. Stand them upright on a baking sheet so that both sides are exposed.

Bake at 325F for about 15 minutes or until they start to appear dry, then let cool completely.
Notes
For the baking powder, I used Rumford. In my opinion it does not seem to leave behind a metallic flavor like some others.