This is one of my older recipes for Whole Wheat Pastry Flour Scones. They're chocolate chip flavor, but you can make them any flavor by changing the add-ins. Use white chips and dried fruit, try fresh blueberries, turn them into butterscotch scones using butterscotch chips. Try different variations. The ingredient in this recipe is the whole wheat pastry flour.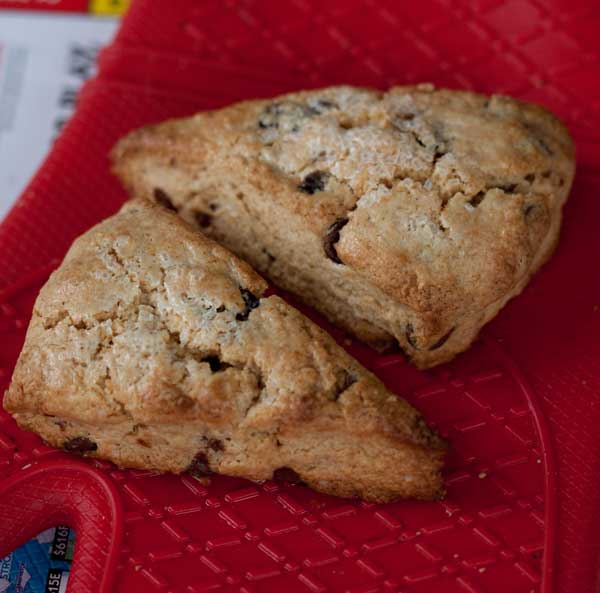 Whole Wheat Pastry Flour in Scones
All-purpose is an acceptable substitute, but whole wheat pastry flour (such as this one) has a little less gluten so you can work the dough harder without making the scones tough. And then of course there's the flavor factor. The pastry flour adds just a slight taste of wheat without making the scones taste "health food-ish".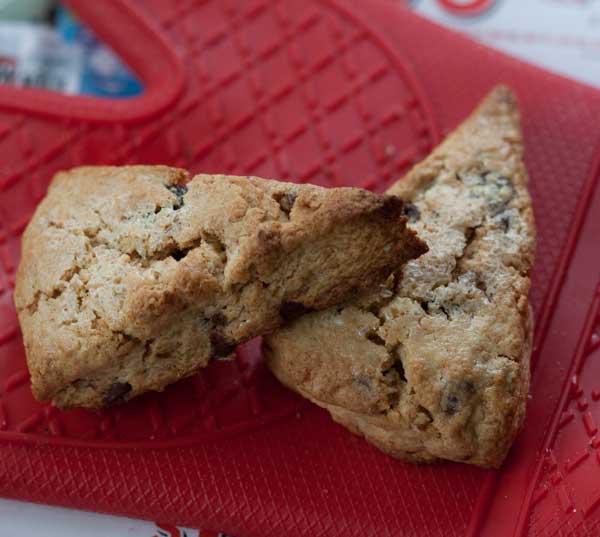 Texture
Texture-wise, they are in the "crumbly and compact" category as opposed to the "fluffy and crusty". They're borderline cookie-like so keep that in mind. If you want fluffier and more cake-like scones, this may not be your recipe.  However, if you want rich and flaky scones that travel well (I sent some to work with Todd), these are perfect.
Recipe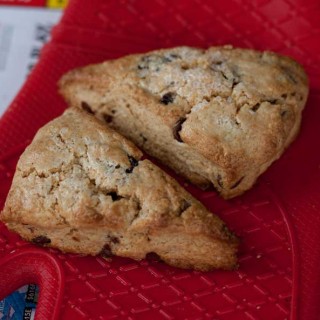 Whole Wheat Chocolate Chip Scones
Whole Wheat Chocolate Chip Scones are made with whole wheat pastry flour. The pastry flour helps keep the crumb soft and edges crispy.
Ingredients 
240

grams

about 2 cups whole wheat pastry flour

2

tablespoons

packed dark brown sugar

2

tablespoons

granulated sugar

1 ½

teaspoons

baking powder

¾

teaspoon

salt

¼

cup

unsalted butter

cut into chunks, European style if you have it

½

cup

dark or semisweet chocolate chips

¾

cup

heavy cream plus extra for brushing

1

teaspoon

vanilla extract

vanilla bean paste or vanilla butter & nut extract
Instructions 
Preheat oven to 400 degrees F. Line a heavy duty baking sheet with parchment paper.

Whisk the flour, sugar, baking powder and salt together in a bowl for about 15 seconds. Add the butter and mix with a pastry blender or your fingers until crumbly.

Mix together the cream and vanilla and add to dry ingredients. With a heavy duty scraper, stir to make a somewhat dry dough.

Add the chocolate chips and gently knead the dough just until it comes together. Transfer dough to a sheet of parchment or wax paper and shape into a 1 inch thick circle. It should be about 6 inches in diameter. Cut the circle into 6 or 8 wedges and arrange on the parchment lined baking sheet. Brush the wedges with a little extra cream and bake for 20 minutes or until edges are brown.
Notes
Variations: Throw in a handful of dried cherries and/or pecans. Use frozen blueberries instead of chocolate chips.