Some scones are made with butter or a mixture of butter and cream, but these are "cream scones" made with cream only.  I love making cream scones because they're so easy to throw together (no cutting in the cold butter) and very open to improvisation.  For instance, this morning I threw in chunks of white chocolate, dried cranberries and crystallized ginger.  Next time I might use chocolate chip and orange or just cinnamon chips.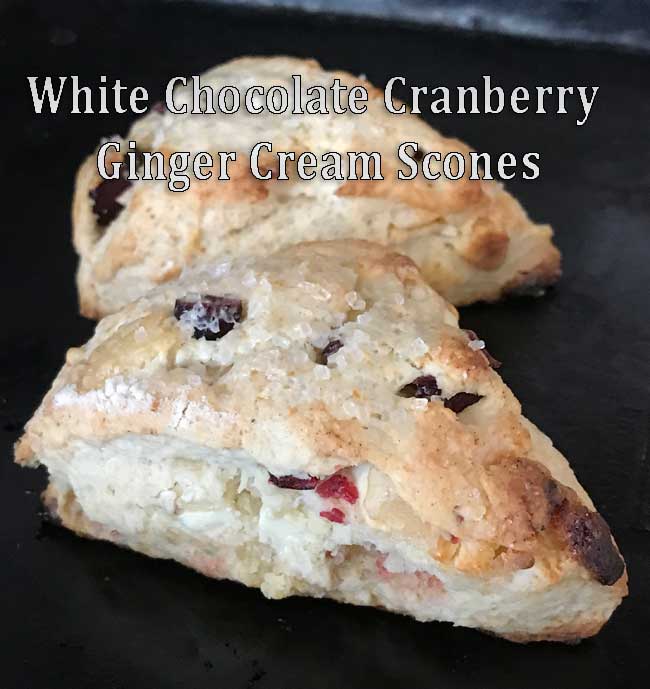 Some things to keep in mind with this dough are that it starts out very rough and crumbly, then you dump it out and push it all together until it holds in place. I like to fold it over on itself a few times before shaping it into a circle because it gives the scones kind of a layered texture – though they're not exactly layered in texture like layered biscuits. Unlike other scone recipes where it's better to use light hand, this one takes well to a bit of kneading. Let me know what you think if you try it! I still like butter scones, but the convenience of this one is hard to beat.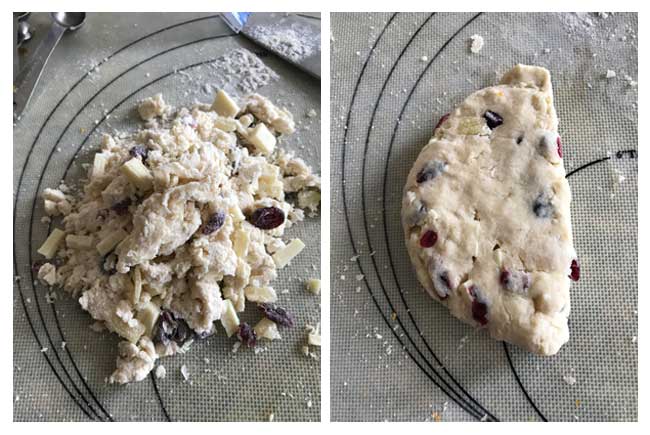 Recipe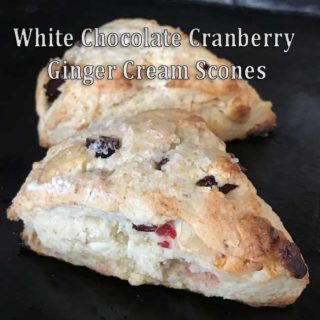 White Chocolate Cranberry Ginger Cream Scones
White Chocolate Cranberry Ginger Cream Scones
Ingredients 
1 ½

cups

190 grams all-purpose flour**

3

tablespoons

granulated sugar

1 ½

teaspoons

baking powder

½

teaspoon

salt

⅔ to ¾

cup

heavy whipping cream

½

teaspoon

vanilla extract

2-3

oz

chopped white chocolate

I used a Lindt bar

Handful of dried cranberries

optional

2

tablespoons

chopped crystallized ginger

a little extra cream plus some sparkly or coarse sugar
Instructions 
Preheat oven to 425 degrees F. Have ready a parchment lined baking sheet.  For this recipe, a thicker, heavy duty baking sheet works best.

In a mixing bowl, thoroughly stir together the flour, sugar, baking powder and salt.  Make a hole in the middle of the flour mixture and add the cream and vanilla.  Mix the wet ingredients together in the hole and stir until partially blended, then add the white chocolate, cranberries and ginger. Mix a little more, then dump dough onto a clean surface (I use a pastry mat).

Use your hands to push it together into a blob, then press down.  Scrape it up with a flat spatula or pie lifter, flip it over and press down again, then fold it over on itself.  Press down again. Fold it over and pat it into a 6 inch circle.

Cut the circle into 6 wedges and arrange the wedges a few inches apart on the baking sheet.  Brush tops with a little additional cream and sprinkle with coarse sugar if desired.  Bake for 12-14 minutes.  Allow the scones to cool before serving.  You can re-warm them if you want, but these scones tend to taste better after they've completely cooled.
Notes
To measure the flour, weigh out 6.8 oz or 190 grams or fluff it up and stir it well before spooning it into the cup. If you don't have a scale, you'll want to measure with a light hand.