After using silken tofu in what we thought was a very good pudding, I decided to try using it as an egg/milk replacement in scones. To keep the vegan theme, I used coconut oil in place of butter and increased the amount of vanilla to help compensate for the missing butter flavor (which wasn't missed at all). Success! The vegan chocolate chip scones got a big thumbs up from my daughter who loves scones and gives honest feedback.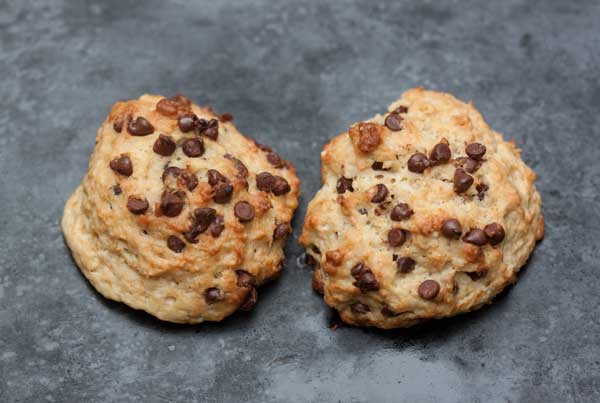 As much I we liked these, I probably wouldn't make them for a fancy brunch or a holiday party. For those occasions I'd go with something richer. However, for every day drop scones, these are perfect because they have less fat and more moisture. Most of the sweetness comes from the chocolate chips. I wouldn't advise adding more sugar to the dough because it might cause spreading. If you want sweeter scones, try sprinkling the tops with sugar or cinnamon sugar right when you pull them from the oven. Then again, they're scones not cookies, so the sweetness level should be fine as is. For best results, weigh the ingredients.  And finally, with so much baking powder in the recipe, make sure you use a brand that doesn't have too much of a metallic taste.  I go through a lot of baking powder and some are better than others.
Recipe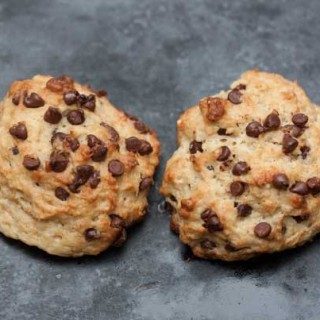 Vegan Chocolate Chip Scones
Vegan Chocolate Chip Scones are made with a mixture of coconut oil, applesauce and tofu. I measure most ingredient by weight, so if you have a scale I recommend using that.
Ingredients 
¾

cup

plus 2 tablespoons all-purpose flour

114 grams/4 ounces

2

teaspoons

baking powder**

¼

teaspoon

salt

1

tablespoon

packed dark brown sugar

15 grams

1 ½

tablespoons

granulated sugar

20 grams

2 ½

tablespoons

coconut oil

30 grams

4

ounces

silken tofu

114 grams

2

tablespoons

unsweetened apple sauce**

1 ½

teaspoon

vanilla

⅓

cup

56 grams semisweet chocolate chip, nondairy if vegan if desired
Instructions 
Preheat oven to 400 degrees F. and line a large baking sheet with a Silpat or some parchment paper.

Combine the flour, baking powder, brown sugar, sugar and salt. Add coconut oil and mix with a spoon or heavy duty scraper until mixer is coarse. You may also do this in the food processor bowl if you prefer and then dump it into the mixing bowl.

Pat the tofu dry, weigh out 4 ounces, then put tofu, applesauce and vanilla to the food processor and process until smooth. Scrape the tofu mixture into the flour mixture and to form a soft dough. Stir in chocolate chips.

Drop 6 equal size mounds of dough onto the baking sheet. Bake at 400 for 18 to or until lightly browned. Let scones cool for about 15 minutes before serving (texture improves slightly as they cool).

**I like to drain some of the moisture out of the applesauce before measuring. Less water means more apple p and potentially less water to contribute to steamy rubberiness. To drain, just spoon about 4 tablespoons of applesauce onto a stack of paper towels and let the towels soak up moisture. Measure your 2 tablespoons of applesauce by scraping it up off the towels.
Notes
In my opinion, Rumford baking powder is the best brand to use. Some brands leave a slightly metallic flavor behind, but Rumford tastes a little cleaner.