The New York Times recently published a recipe for Dulce de Leche Chocoflan. I haven't tried their recipe, but it reminded me of the Chocolate Flan Cake with cake mix I posted years ago. And by that I mean many years ago, as you can tell by the pictures! All of the ingredients are from H.EB. which is one thing I miss about Austin. Then again, I can't complain because here in Raleigh we have Publix and Wegman's.
Anyhow, I plan on making Chocolate Flan Cake again and will add a few more notes and tips when I do. For now, here's the recipe from way back. As the pictures show, the flan mixture gets poured over the cake mix. The two batters "magically" trade places while baking so the cake is on the bottom and the flan is on the top.
The end results is stunning! More stunning if you manage to get the cake out of the pan. Luckily, I didn't have any problems with this one. Using flour-added baking spray did the trick.
Not in the Mood for Chocolate Flan Cake?
If you like pumpkin cheesecake more than flan, there's also a Pumpkin Cheesecake Topped Bundt, and it does NOT call for cake mix. Like the Chocoflan from New York Times, It has a scratch chocolate base. I only made it once, but Debbie and Jackie made it and liked it. Karen did too, even though she dropped half of it on the floor. Reminds me of the time I dropped a red velvet cake on Emma's bike and a Hello Kitty cake on the floor of The Little Gym. Good Times.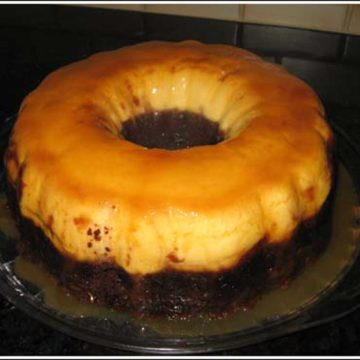 Chocolate Flan Cake
Chocolate Flan Cake is half cake and half flan baked in a Bundt pan.
Ingredients 
11

ounces

caramel topping

softened or at room temp

1

box

chocolate cake mix, plus ingredients listed on box

14

ounces

sweetened condensed milk

12

ounces

evaporated milk

1/2

cup

milk

8

ounces

cream cheese — softened

1

teaspoon

vanilla

5

large

eggs
Instructions 
Preheat oven to 350 degrees F. Spray a 12-cup bundt pan with flour-added cooking spray or grease the pan with shortening and dust with flour.

Pour the caramel topping into the greased and floured Bundt pan.

Prepare cake mix according to package directions. Pour the cake batter into the cake pan over the caramel topping.

Make the flan. Pour condensed, evaporated and fresh milks into a blender. Add softened cream cheese, vanilla and eggs and blend until smooth. Pour the flan mixture very slowly over the cake batter.

Spray a sheet of aluminum foil with cooking spray (or just use nonstick foil) and cover the pan TIGHTLY with the foil. Covering tightly is very important. Set the Bundt pan into a large pan (such as a roasting pan) and set on the oven rack.

Carefully pour hot water into the larger pan to a depth of 2 inches (The Bundt pan will be sitting in 2 inches of water). Bake for two hours.

After two hours, remove cake from water and allow to cool for 15 minutes. Peel off the aluminum foil. Invert cake onto a large plate with rim. The caramel topping should flow down the sides. Cool completely then refrigerate.