This is an easy French bread recipe, and since I make it at least once a week I figured it was time to share it. What's great about this recipe as opposed to others is it makes just one small loaf. It serves about 4 people, so I guess you could call it a mini loaf or maybe a mini baguette.
Jump to Recipe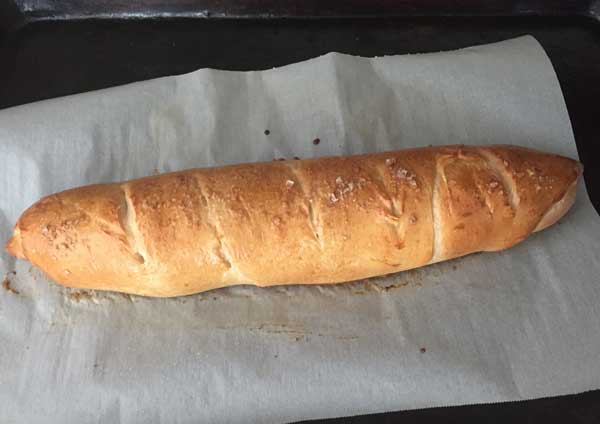 Easy French Bread Mini Loaf
It's not exactly artisan style bread since there's no sponge involved and it has a short rising time, but it's still a good bread for serving with dinner. When I was younger I kneaded the dough by hand and made rather heavy loaves. These days I use a stand mixer or food processor to get the dough to the smooth and elastic stage.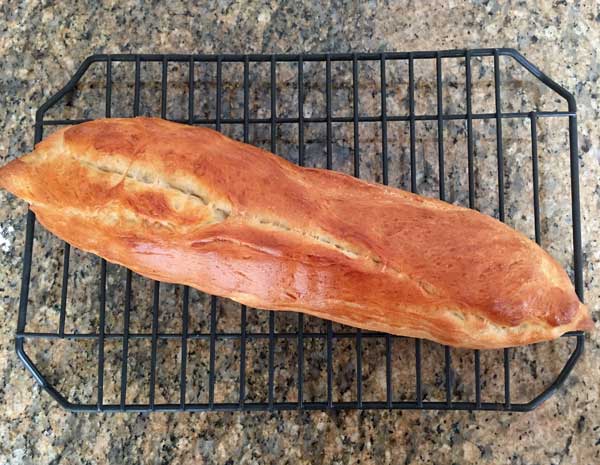 My baguettes tend to turn out different every time based on whether I use all-purpose or bread flour, how much water I add, and how lazy I am with shaping. Some of the not-so-attractive Easy French Bread loaves taste better than the pretty loaves.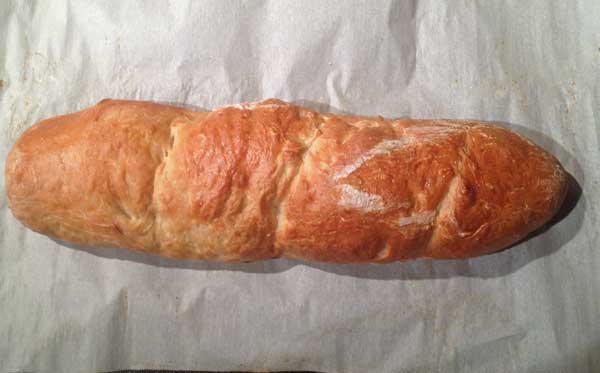 And some loaves have more flavor due to toppings. For instance, every so often I'll put a layer of minced dried garlic, onions, poppyseeds and sesame seeds on top -- same as you'd get on an Everything Bagel.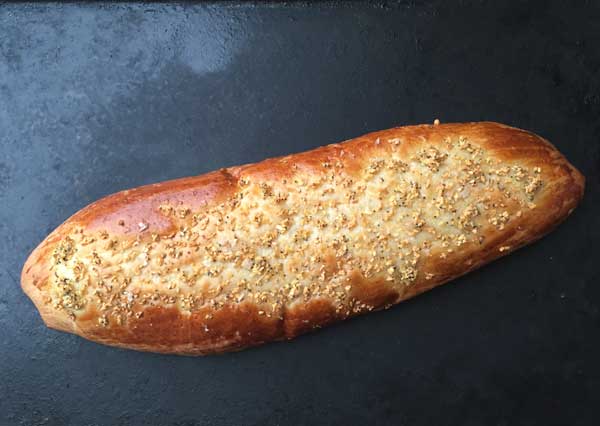 Enjoy the bread, and make sure to serve it with some really good extra virgin olive oil.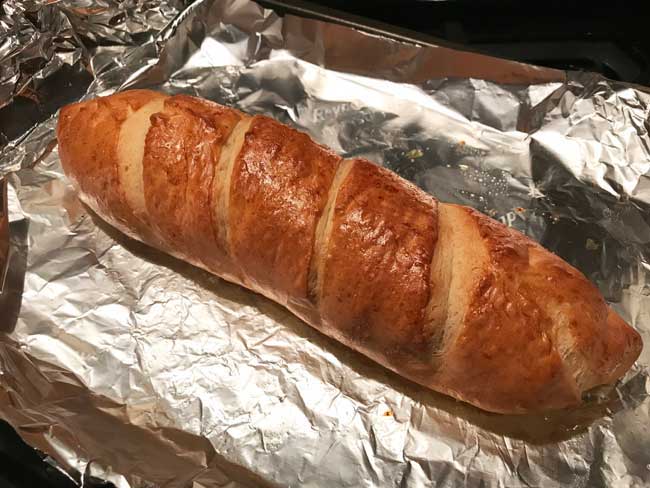 Here's the latest photo, which as you can see was made without a baguette pan.  I just ordered a baguette pan and am going to see how much of a difference it makes.  Also, this loaf is topped with Trader Joe's Everything But the Bagel seasoning.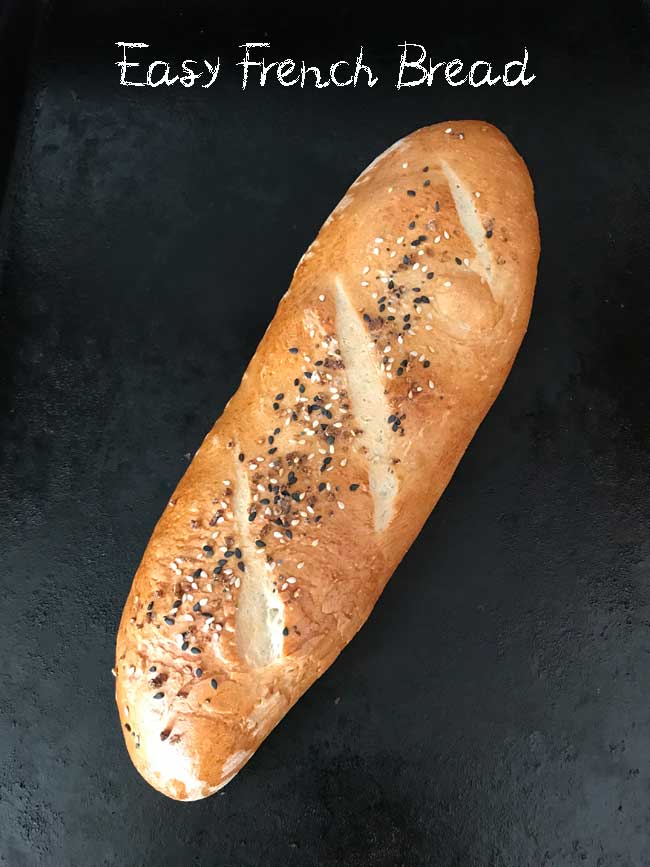 Recipe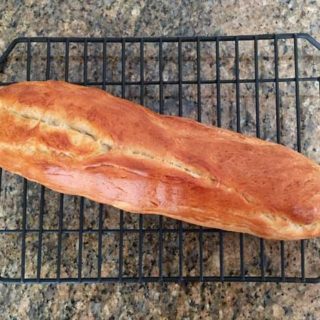 Easy French Bread
This recipe makes one loaf of French bread or enough to feed about 4 people at dinner.
Ingredients 
1 ⅓

cups

bread or all-purpose flour

I always weigh out 6 ½ oz

2

teaspoons

granulated sugar

¾

scant

teaspoon salt

You can use less if desired

¾

teaspoon

fast rising yeast

instant yeast

½

cup

hot water from the tap

or heat and let cool to 125 degrees

Olive oil for bowl

Egg white or a mixture of beaten white and yolk mixed with water for brushing
Instructions 
Weigh the flour and put it in the stand mixer bowl (I put the mixing bowl right on the scale, set the tare to zero, and add 6.5 oz of flour). Stir in the sugar, salt and yeast, then add enough water (½ cup should be just right) to form a cohesive but not too dry dough.

Attach the dough hook to the stand mixer and begin kneading the dough. It should leave the side of the bowl as it kneads.

Knead until the dough is smooth and elastic. Mine is usually done in 8 minutes if using the stand mixer and 3 if using the processor. If using the processor, pause every 40 seconds to make sure dough is not getting too warm from the friction of the processor.

Transfer the smooth ball to an oiled bowl and roll the dough around so it's coated with oil. Cover and let rise for 45 minutes or until doubled in bulk.

Punch down the dough. At this point it should be fairly easy to work with and theoretically you should be able to shape it directly on a parchment lined baking sheet and not have to use flour. If it's really sticky for some reason, go ahead and shape it on a floured surface.

Shape it into a 12 inch log. Taper the ends a bit if you want.

Cover or tent (I prefer to tent) with a little greased plastic wrap and let rise for another 45 minutes or so. This might take less time if the room is very warm.

Preheat oven to 375 degrees. Make several small slashes in the dough to allow steam to escape. Sometimes I skip this step if the dough has already developed a crack during rising.

If desired, brush the dough with some egg white for a crisp crust or a mixture of white and yolk for less crispness and more brownness. If making the "Everything" version, sprinkle the toppings over the egg-brushed loaf.

Bake at 375 for about 25 minutes. Let cool for about 10 to 15 minutes before you slice it.
Notes
"Everything French Bread". Sometimes I top the bread with a mixture of dried garlic, dried onions, poppy seeds, sesame seeds and salt -- same as you'd get on an "Everything Bagel". There's no specific ratio, but this blend works for me: 2 teaspoons minced dried garlic, 1 teaspoon dried minced onion, ¼ teaspoon poppy seeds, ½ teaspoon sesame seeds, 4 teaspoons of water (more if needed) and a sprinkling of sea salt. Mix all the ingredients except sea salt and water. Add water and let sit for about 10 minutes to hydrate the garlic and onions (this prevents them from drying out as the bread bakes). Spread over the risen dough and bake as directed.