One of my mother's favorite pies, which definitely falls into the "better than the sum of its parts" category, is Luby's "Butternut Brownie Pie". Interestingly, this pie has nothing to do with brownies at all. It's a pie made with baked egg whites, graham crackers and lots of nuts. And it's delicious. I like it so much that I decided to try its cousin, the Ritz cracker Pie – not to be confused with "Mock Apple Pie" which can also be made with Ritz crackers.
Crackers, Nuts and Chocolate
I guess you could call this a poor man's torte because it has a full cup of ground Ritz crackers and only a half cup of chopped pecans. I actually used chopped glazed pecans, but most recipes for pies like this just call for regular nuts. And then there are the chocolate chips. Don't leave those out!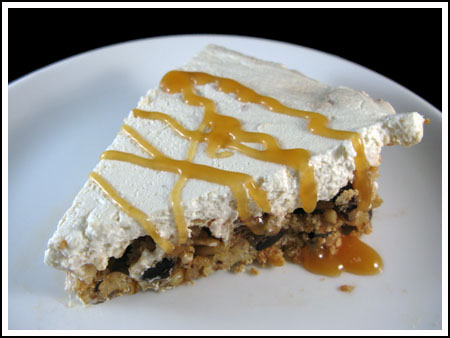 I wasn't sure I'd post this one since most of the recipes here on Cookie Madness are highly sophisticated, fancy, time consuming affairs (if you're new here, that's a joke), but Todd gave this an "un-fished-for" compliment so I had to post it. Don't let my picture put you off because you can definitely dress this up better than I did.
Some Ritz Cracker Pie Alternatives
Recipe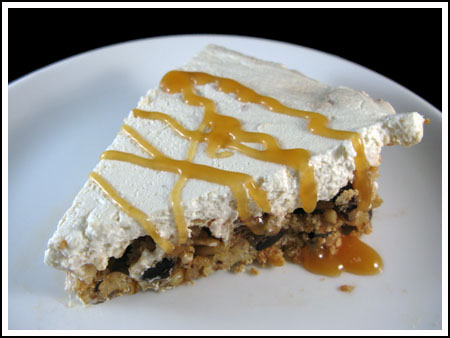 Ritz Cracker Pie
A pie made with Ritz crackers
Ingredients 
3

large egg whites

1

teaspoon

vanilla extract

1

teaspoon

baking powder

¾

cup

sugar or ⅔ if you are using glazed nuts

⅔

cup

semi-sweet chocolate chips

1

cup

Ritz cracker crumbs

35 crackers

½

cup

chopped toasted pecans or glazed pecans

like B. Lloyd's

1

cup

whipping cream

2

tablespoons

granulated sugar

1

teaspoon

vanilla

Garnish: More nuts or caramel sauce
Instructions 
Preheat oven to 350 degrees F. and butter a 9 inch glass pie plate.

Beat egg whites and vanilla to soft peaks. Combine baking powder and sugar and gradually add to egg whites, continually beating until peaks are stiff. Fold in chocolate chips, cracker crumbs and pecans. Spread this mixture across bottom of pie plate and bake for 25 minutes. Let cool completely.

Whip cream until soft peaks form. Add sugar and vanilla and beat to stiff peaks. Spread over cooled pie. Chill until ready to serve. Garnish with caramel sauce or more nuts