I used to call these Mock Kit Kat Bars, but changed the name to Club Cracker Bars because people could never agree on whether they were more like Kit Kats or Twix. That, plus I switched from Ritz to Club Crackers, so a new name was in order.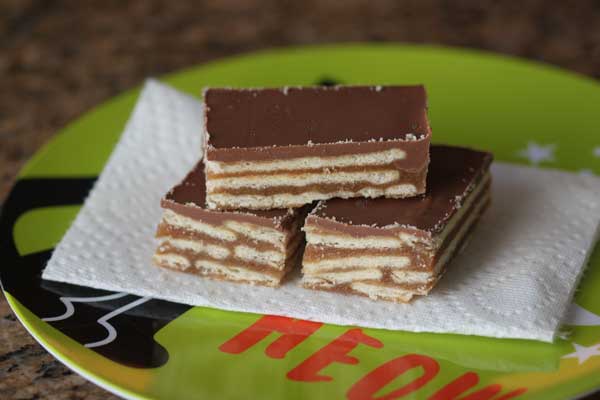 Names aside, I've made Club Cracker Bars twice this week and both times they were a hit. Friends liked the butter, brown sugar and chocolate flavor (of course!), and the crispy crackers made the bars texturally interesting.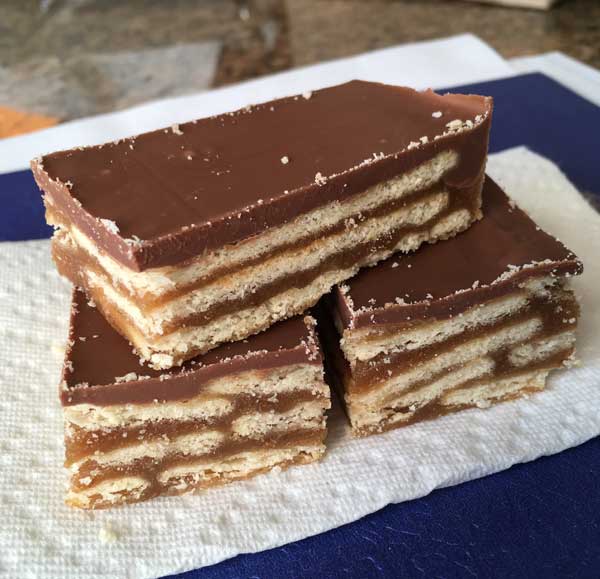 Club Cracker Bars Notes
For the most part, the Club Cracker Bar recipe is easy. However, there are some things to keep in mind. First, there's the filling. Just about every version of this recipe calls for a different ratio of ingredients, but I suspect some people don't realize how important the salt is. If you use unsalted butter, make sure to add salt to balance the sweet. If using salted butter, you can skip it. But I've seen recipe reviews where people claim these are very sweet, and my guess is they are using unsalted butter and not adding salt.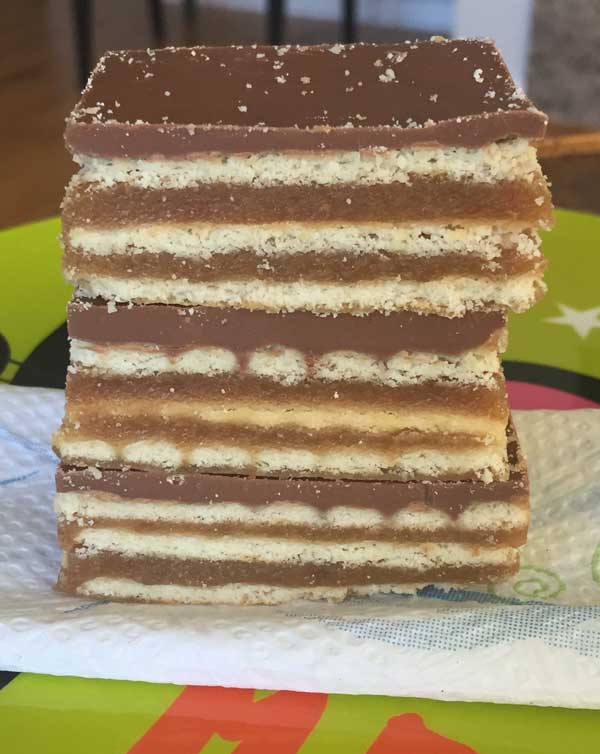 Chocolate Topping
The topping also has variations. Some versions call for butterscotch chips, while others just use milk chocolate and peanut butter. I used to always add butterscotch chips and still like the flavor they add, but I made this batch with milk chocolate chips and peanut butter and they were just fine. Plus they set up nicely. I've had good luck with Guittard chocolate chips. They melt smoothly and taste pretty good for milk chocolate chips.
Boiling the Filling
Lastly, the recipe involves boiling a hot sugar mixture for 5 minutes. It's easy to do, but if you use the wrong pan or use too high of a boil, you risk burning the mixture. To prevent burning, use a thick, non-stick saucepan (mine looks like this) and maintain a steady but controlled gentle boil, stirring all the while.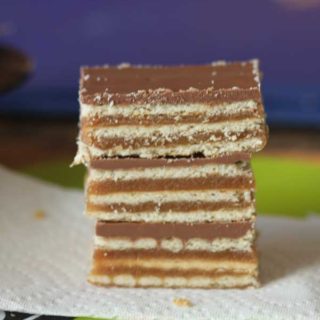 Club Cracker Bars
Club Cracker Bars aka "Better Than Kit Kat Bars" are sweet bar cookies made by layering Club Crackers with a sweet, graham cracker and brown sugar flavored filling.
Ingredients 
75

Club Crackers

plus a few more if needed

1 1/2

sticks

3/4 cup salted butter (or use unsalted and 1/2 teaspoon salt)

1 1/2

cups

graham cracker crumbs

Should be 1 sleeve

3/4

cup

light brown sugar

3/4

cup

granulated sugar

1/3

cup

whole milk

1

generous cup

a little over 6 oz milk chocolate chips

1/4

cup

creamy peanut butter

mainstream type (Skippy or Jif Natural)

Chopped peanuts for garnish

optional
Instructions 
Line a 9×13 inch pan with nonstick foil. Spread crackers across the lined pan, pushing the crackers together as closely as possible. See note about anchoring.

In a heavy, thick, 3 quart saucepan, soften the butter over low heat and mash it around a bit. Don't melt it completely. Remove it from the heat and add salt (if using), graham crackers, sugars and milk, stirring until blended.

Put the saucepan over medium heat and bring to a boil. When mixture hits a steady boil, set timer for 5 minutes and keep at a steady but gentle boil for 5 minutes, stirring constantly so that mixture won't burn.

Remove from heat and pour half of the mixture over the crackers. The crackers might spread apart, so try to push them in towards each other.

Arrange a second layer of crackers over the sugar mixture, then pour remaining sugar mixture over the crackers.

Add a third ( final) layer of crackers. Set aside and make topping.

In a microwave safe bowl, combine the chocolate chips and peanut butter. Heat on 50% power, stirring at 30 or 50 second intervals until smooth and creamy. Alternatively, you may do this in the top of a double boiler.

Pour the chocolate mixture over the bars, spreading evenly. Sprinkle peanuts on top if desired.

Let cool room temperature for another half hour, then transfer it to the refrigerator and chill until the top is set.

When chocolate has set, lift from the pan and cut into bars.
Notes
When you pour the hot sugar mixture over the first layer of crackers, they may move about. You can anchor them by melting a little extra chocolate, spreading it thinly across the lined pan and pressing the crackers into the melted chocolate. Alternatively, can just anchor them by propping broken crackers on the side.