I used to call these Mock Kit Kat Bars, but changed the name to Club Cracker Bars because people could never agree on whether they were more like Kit Kats or Twix. That, plus I switched from Ritz to Club Crackers, so it became a Club Cracker Bar recipe and a new name was in order. You can still make them with Ritz, but the Clubs line up neatly, whereas the Ritz don't because they are round.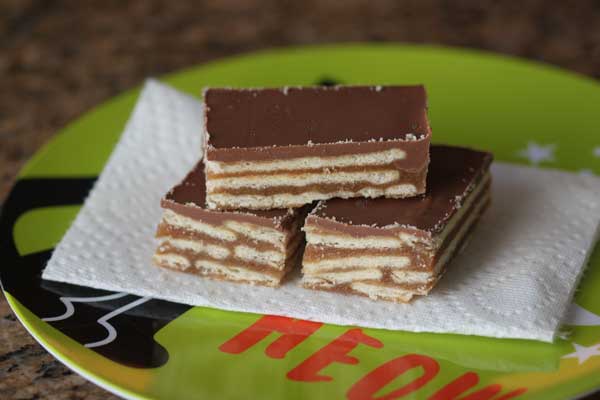 Names aside, I've made Club Cracker Bars twice this week and both times they were a hit. Friends liked the butter, brown sugar and chocolate flavor (of course!), and the crispy crackers made the bars texturally interesting.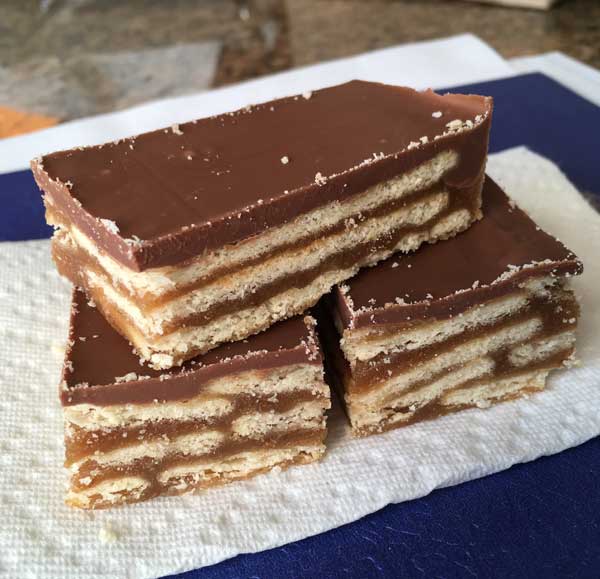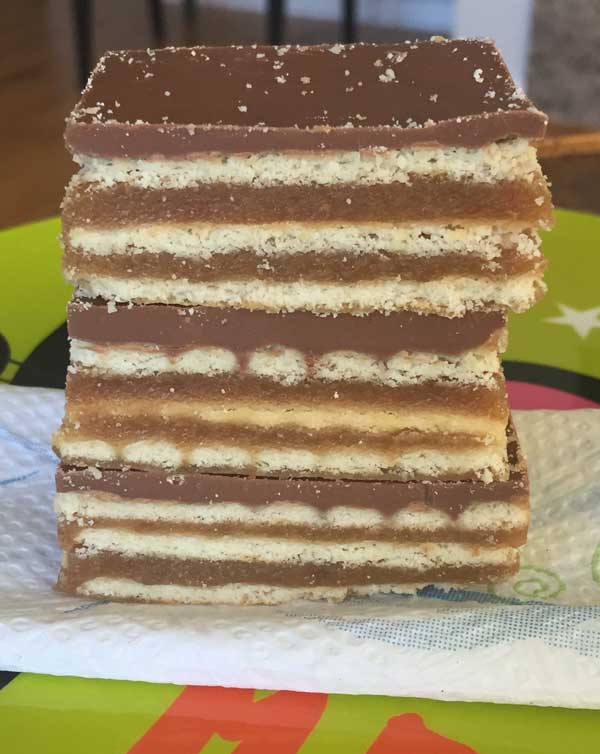 Notes on the Filling
Club Cracker Bars are made with a filling of graham cracker crumbs, butter, brown sugar, granulated sugar, salt and milk. It's a weird combination of ingredients, but they all work in harmony. Still, you have to get it just right! The recipe involves boiling a hot sugar mixture for 5 minutes. If you use the wrong pan or use too high of a boil, you risk burning the mixture. To prevent burning, use a thick, non-stick saucepan (mine looks like this) and maintain a steady but controlled gentle boil, stirring all the while. Here are a few other things I've learned.
Sometimes the mixture separates. If it does, just do your best to stir it all together and then pour it on. To prevent separation, start with soft butter rather than melted and mix ingredients until fully blended before you put them over the heat.
Salted butter makes the filling more flavorful. You can also add salt separately.
Don't leave out the milk! I recently did this by accident and the toffee mixture cooled and became hard as a rock. Thankfully it was a small batch version.
Chocolate Topping
The topping also has variations. Some versions call for butterscotch chips, while others just use milk chocolate and peanut butter. I used to always add butterscotch chips and still like the flavor they add, but I made this batch with milk chocolate chips and peanut butter and they were just fine. Plus they set up nicely. I've had good luck with Guittard chocolate chips. They melt smoothly and taste pretty good for milk chocolate chips.
You may want to double the chocolate topping. The amount in the recipe works, but I make 1 ½ times. I also like to melt about 4 oz extra chocolate, spread it on the bottom of the pan and anchor the crackers in the melted chocolate.
Half Batch Club Cracker Bars
If an 8 inch pan is all you need, good news! The recipe halves well. I made a little half batch today using Ritz crackers and it worked pretty well. For the filling, just halve all the ingredients and be sure to use a smaller saucepan such as a 1 ½ to 2 quart. Also, remember to stir the softened butter, sugars and cracker crumbs together until everything is evenly mixed before you put it on the stove. I was careless with my batch and the graham cracker mixture separated, making it harder to spread. And don't forget the milk!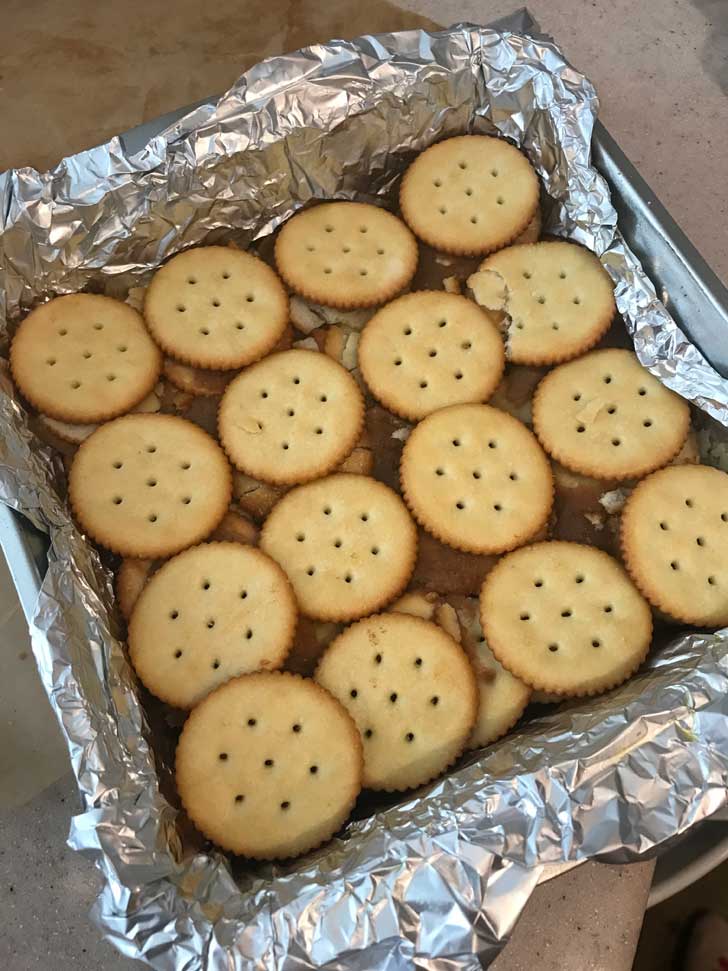 Loaf Pan Version
I crave these so often I sometimes make a loaf pan version. For the last batch I used 24 Ritz, 3 layers of 8 crackers, and a loaf pan that was about 4 inches wide. For the filling, I used ⅓ of the amounts listed below and for the topping, ½ of the amounts below plus extra chocolate for anchoring.
Recipe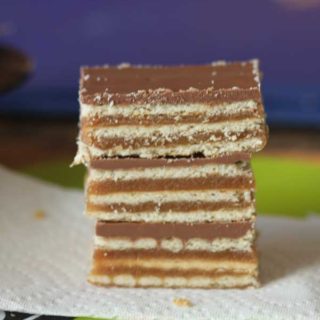 Club Cracker Bars
Club Cracker Bars aka "Better Than Kit Kat Bars" are sweet bar cookies made by layering Club Crackers with a sweet, graham cracker and brown sugar flavored filling.
Ingredients 
75

Club Crackers, plus a few more as needed

1 ½

sticks

salted butter

(170 grams)

1 ½

cups

graham cracker crumbs

(

¾

cup

light brown sugar

(150 grams)

¾

cup

granulated sugar

(150 grams)

⅓

cup

whole milk

1

cup

milk chocolate chips (or use 1 ½ cups)

(170 grams)

¼

cup

creamy peanut butter (or use 6 tablespoons)

mainstream type (Skippy or Jif Natural)

Chopped peanuts for garnish

optional
Instructions 
Line a 9x13 inch pan with nonstick foil. Spread crackers across the lined pan, pushing the crackers together as closely as possible. See note about anchoring.

In a heavy, thick, 3 quart saucepan, soften the butter over low heat and mash it around a bit. Don't melt it completely., the goal is to soften it. Remove it from the heat and add salt (if using), graham crackers, sugars and milk, stirring until blended. This is important. If the ingredients aren't fully blended the mixture may separate.

Put the saucepan over medium heat and bring to a boil. When mixture hits a steady boil, set timer for 5 minutes and keep at a steady but gentle boil for 5 minutes, stirring constantly so that mixture won't burn.

Remove from heat and pour half of the mixture over the crackers. The crackers might spread apart, so try to push them in towards each other.

Arrange a second layer of crackers over the sugar mixture, then pour remaining sugar mixture over the crackers.

Add a third ( final) layer of crackers. Set aside and make topping.

In a microwave safe bowl, combine the chocolate chips and peanut butter. Heat on 50% power, stirring at 30 or 50 second intervals until smooth and creamy. Alternatively, you may do this in the top of a double boiler.

Pour the chocolate mixture over the bars, spreading evenly. Sprinkle peanuts on top if desired.

Let cool room temperature for another half hour, then transfer it to the refrigerator and chill until the top is set.

When chocolate has set, lift from the pan and cut into bars.
Notes
When you pour the hot sugar mixture over the first layer of crackers, they may move about. You can anchor them by melting a little extra chocolate, spreading it thinly across the lined pan and pressing the crackers into the melted chocolate. Alternatively, can just anchor them by propping broken crackers on the side.