Most of the brownies I make are fudge-like, but KitchenAid Mixer brownies are different. They are neither fudge-y nor cakey, but rather dense and very chewy brownies.
Jump to Recipe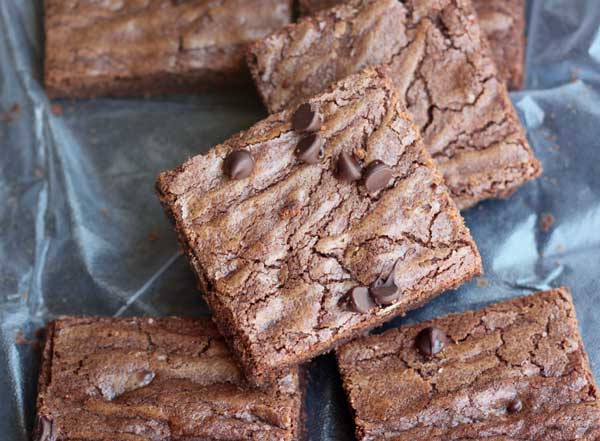 Old Recipe From the Manual
As you might guess from the name, the recipe is from the KitchenAid mixer manual. When I first saw it I thought it was one of my favorite kind of brownie recipes -- the kind that has you whip the eggs to ribbon stage and mix with melted chocolate (like the Julia Child Brownies). Those types of brownies are always really light textured and rich tasting. But this is not that kind of brownie recipe at all. It's more of a chewy brownie recipe showcasing the versatility of KitchenAid's mixing speeds. People on Food.com gave it the highest ratings, and one person said it was her secret recipe, so I couldn't resist trying it even though it wasn't my "usual style".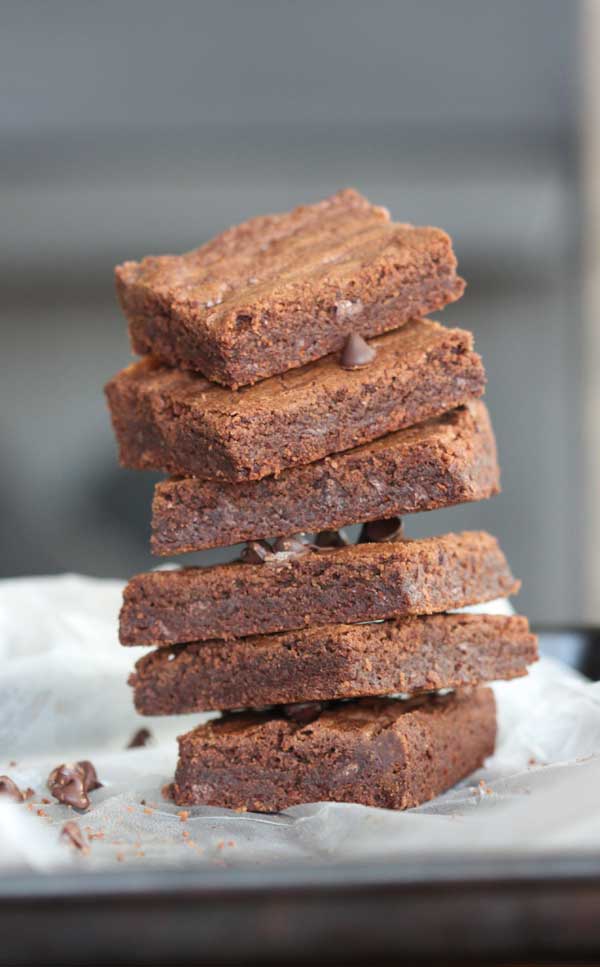 Despite being different than expected, these were good. They had really crispy edges (which my family likes) and were stackable and easy to wrap, which are always positive attributes for bake sale treats.  Keep an eye on the bake time.  The original recipe calls for a 45 minute bake time, but my brownies were done in 30 minutes.
⅛ Sheet Pan Size Batch
I recently made a batch of the KitchenAid Brownies in a ⅛ sheet pan measuring 9.4 x 6.3 inches. I halved the recipe and the brownies, which came out pretty thin, were done in 23 minutes. Like the full version, they were chewy, but were a little fudgier probably because I pulled them earlier. The internal temperature topped out around 210 degrees F. Here's a photo of the batter in the pan. It rose all the way to the top of the pan and sank back down as the brownies cooled.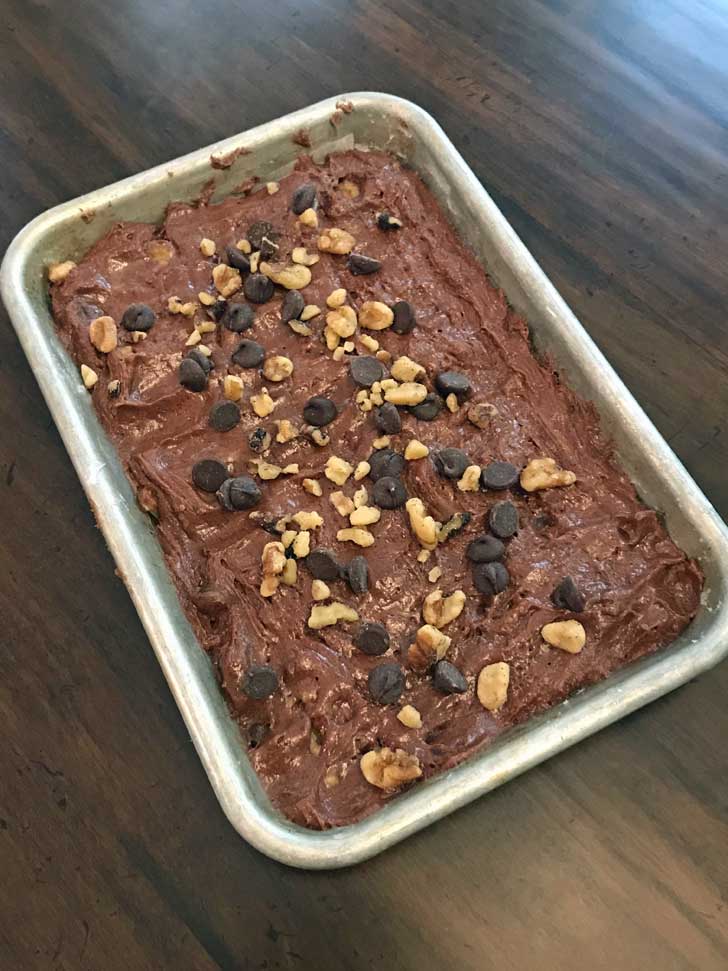 If you make the KitchenAid Mixer Brownies, let me know what you think.
Recipe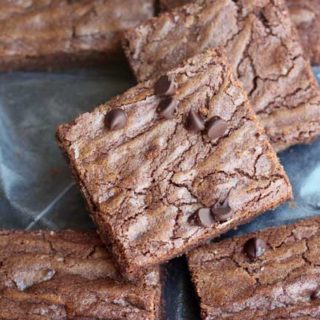 KitchenAid Mixer Brownies
KitchenAid Mixer Brownies are adapted from a recipe in the KitchenAid mixer manual. They are chewy, dense and sweet and have very crispy edges.
Ingredients 
8

oz/2 sticks salted butter divided use

4

oz/114 grams unsweetened chocolate

best quality, chopped

2

cups

sugar

14 oz/390 grams weight

1

teaspoon

vanilla

3

large eggs

1

cup

all-purpose flour

4.5 oz/126 grams

½

teaspoon

salt

increase to 1 if using unsalted butter

1

cup

chopped walnuts or pecans
Instructions 
Preheat oven to 350 degrees F. Line a 9x13 inch pan with nonstick foil.

Melt 1 stick (4 oz) of the butter and chocolate in small saucepan over low heat or in the top of a double boiler; set aside to cool.

Place remaining (4 oz) stick of butter, sugar and vanilla in mixer bowl.

Using the the flat blade, beat on mixer speed 2 for about 30 seconds. Scrape side of bowl and increase speed to 6 and beat for 2 minutes. If the butter was still pretty cold, you might want to mix for another 2 minutes.

Decrease to mixer speed 4 and add eggs, one at a time, beating for 15 seconds after each egg, scraping bowl often.

Add cooled chocolate mixture and mix on Speed 2 for 30 seconds.

Stop and scrape bowl, then add salt and flour and stir on a low speed until blended. Stir in nuts, then pour into the pan an bake for 30 minutes (not 45, which is what the book says).

Let cool completely, then remove from the pan and cut into squares.
Notes
The original recipe gives a baking time of 45 minutes, but the correct time is more like 30 minutes. If you are unsure, check with a meat probe, but at 30 minutes I usually get over 212 degrees F.