I've been expanding my baking horizons as of late, and while chocolate cake is definitely not "horizon expanding", Sourdough Chocolate Cake certainly is. Or at least for me, as the care and feeding of sourdough is a new endeavor. But boy, is it a pain! If my family didn't love sourdough so much and if I didn't get that endorphin rush every time I cut into a good loaf, I would just buy sourdough at one of the gazillion bakeries around here. But nope, I'm tending to the starter and will continue to do so until I get tired of looking at it. This cake should prolong the effort.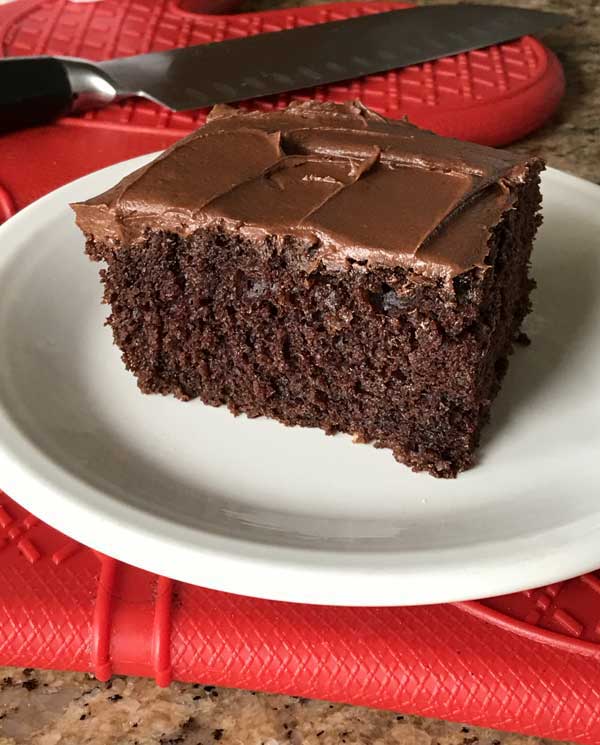 An 8 Inch Square Sourdough Chocolate Cake
The recipe comes from the same source as my current favorite sourdough bread recipe, King Arthur. King Arthur makes a 9×13 inch chocolate sourdough cake with coffee frosting, but my version is an 8 inch square serve-out-of-the-dish cake frosted with a reliable and very good cocoa powder icing.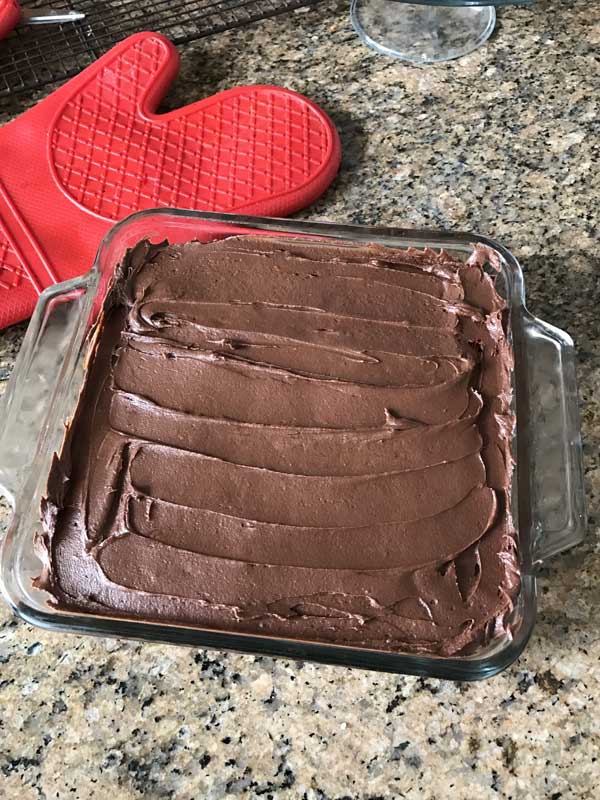 It's a deep/tall cake and the texture has a little give to it. Where the sourdough really comes through is the flavor. Along with the chocolate, you get a little bread-like flavor. Argh, that's a terrible description. It's hard to describe and it's subtle, but there's more flavor there — and it's not too sweet! One of the reviewers over on King Arthur cited it as too sweet, but I didn't find that to be the case.
Sorry for rattling on. Try the cake! I wouldn't say it's so great that you should start your own starter ASAP, but if you have starter you need to use, it's a very good cake. I'll update you if anyone says it's an amazing or life changing cake or if I can come up with some better descriptors for flavor. In my opinion, it's a make-again cake and a great way to use up sourdough starter discard.
Update:  I have a new favorite sourdough starter recipe.  It's the one on Serious Eats, and it's great because you only need to feed it about an ounce of flour and water a day.  
Recipe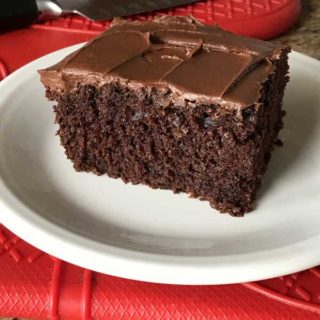 Sourdough Chocolate Cake
Sourdough Chocolate Cake is an 8 inch square chocolate cake made with sourdough starter.
Ingredients 
1/2

cup

active

bubbly sourdough starter (120 grams)

1/2

cup

whole milk

120 grams

1

cup

all-purpose flour

120 grams

3/4

cup

granulated sugar

150 grams

1/2

cup

vegetable oil

1

teaspoon

vanilla extract

1/2

teaspoon

salt

3/4

teaspoon

baking soda

1/4

cup

plus 2 tablespoons unsweetened natural type cocoa powder

32 grams

1/2

teaspoon

espresso powder

optional

1

large egg
Frosting
4

tablespoons

of unsalted butter

softened

1

tablespoon

of sour cream

room temperature

1 1/2

cups

confectioners' sugar

sift or aerate before using

1/4

cup

plus 2 tablespoons natural style cocoa powder

1

pinch

of salt

1/2

teaspoon

vanilla extract

2 to 3

tablespoons

of half and half or a mixture of cream and whole milk
Instructions 
Combine the starter, milk, and flour in a mixing bowl. Cover and let rest at room temperature for 2 to 3 hours. It should expand slightly, but won't appear bubbly or active at this point.

Preheat the oven to 350°F. Grease an 8 inch square pan. If using a glass pan, preheat to 325 degrees F.

In a mixing bowl, beat together the sugar, oil, vanilla, salt, baking soda, cocoa powder and espresso powder. Add the egg and beat until well blended. You can do all the beating with a spoon or scraper – no electric mixer necessary.

Scrape the starter mixture into the chocolate mixture and stir until well-blended.

Pour the batter into the prepared pan and bake for 30 minutes (40 minutes if using 325) or until cake springs back lightly when touched and a skewer inserted in the center comes out clean.

Frosting: Mix the butter, sour cream, sugar, cocoa, salt and 2 tablespoons of the half and half until it all starts to come together as a thick sludge.

When everything is sticking together, add the vanilla. Increase mixer speed and beat until smooth, scraping bowl and adding more half and half (or milk and cream) as needed until you get your desired texture consistency. Spread over the cake.