The gluten free baking blends I use the most are Bob's Red Mill and King Arthur, and I have a new one to add to the list -- Pillsbury's Best Gluten Free Flour Blend. I tried it yesterday in these Gluten Free Banana Chocolate Chip Cappuccino Muffins.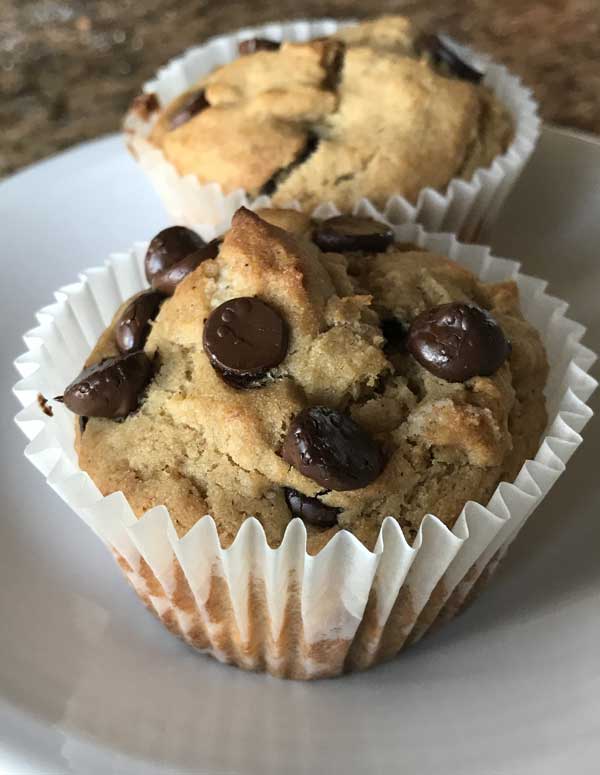 First, a little about the baking blend. Pillsbury's Best (which I found on the baking aisle at Jewel) contains xanthan gum, an ingredient that acts as a thickener and binding agent in gluten free recipes. Some gluten free recipes require it (like these Gluten Free Chocolate Chip Cookies), while some seem to do okay without it. As far as flavor, the Pillsbury's Best is a little more neutral than my usual Bob's, but so far it seems like Bob's has a slightly less gritty texture. I'll have to try more recipes and see how they work.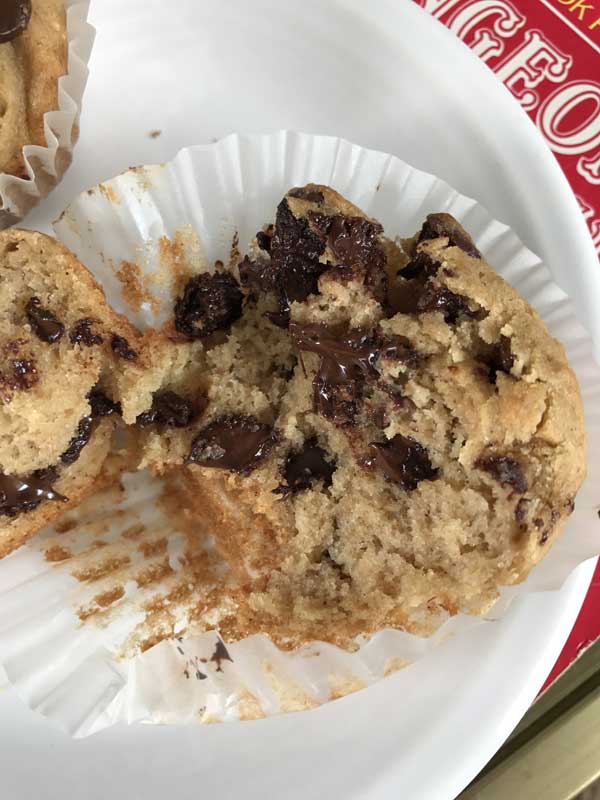 The gluten free banana muffins were inspired by Nicole's Coffee Chocolate Chip Banana Bread, which I also tried. It had an amazing flavor but didn't do so well with the baking blend for some reason. Not ready to give up on the great flavor, I revisited my old (and questionably titled) recipe for William Shatner's Cappuccino Muffins, but changed it by reducing the sugar, adding some banana and using the gluten free flour blend. All in all a good results! If you try the muffins, let me know.
Recipe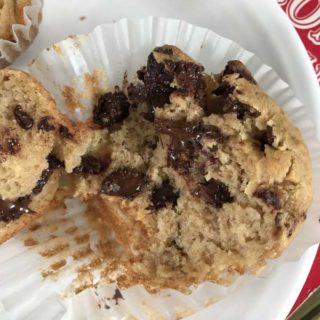 Gluten Free Banana Chocolate Chip Cappuccino Muffins
Gluten Free Banana Chocolate Chip Cappuccino Muffins
Ingredients 
2

cups

280 grams gluten-free flour blend, the kind with xanthan gum added

6

tablespoons

granulated sugar

2 ½

teaspoons

baking powder

2

teaspoons

instant espresso powder

½

teaspoon

plus an extra pinch cinnamon

½

scant teaspoon salt

1

large egg

½

cup

regular milk or almond milk

½

cup

4 oz mashed banana (large very ripe banana)

1

stick

112 grams regular or non-dairy butter, melted and cooled (salted type)

1

teaspoon

vanilla extract

¾

cup

semisweet chocolate chips
Instructions 
Preheat oven to 400 degrees F. Line 12 muffin cups with paper liners.

In a large bowl, whisk together the gluten free flour blend, sugar, baking powder, espresso powder, cinnamon and salt.

In a medium bowl, whisk together the egg, mashed banana and vanilla. Add the melted butter and whisk until smooth. Add the dry mixture and stir until blended, then stir in the milk, about a tablespoon at a time, until the mixture is thick and smooth. I used all the milk, but if the battert seems to liquid you may not need all of it.

Fold in the chocolate chips.

Divide batter between the muffin cups. Bake 15 to 18 minutes, or until a cake tester inserted in center of muffin comes out clean.