I don't have one favorite type of cocoa powder and tend to use different brands for different recipes. Overall I prefer "natural" over Dutch processed in things like frosting and brownies, but I like Dutch processed cocoa in certain cupcakes and cookies.  It really depends on the recipe and what brand of cocoa we have in the house. In this case, I had some Valrhona cocoa from Paris. Super fancy! And while I don't believe that the most expensive is always the best, these Valrhona Chocolate Cupcakes were pretty awesome!
The recipe is from Valrhona and calls for Valrhona cocoa powder in the cupcake and their Valrhona 70% Caraibe in the ganache frosting.  I've used the Noir Caraibe in the past (pictured below), but for this batch I used Dove Dark from Walgreen's.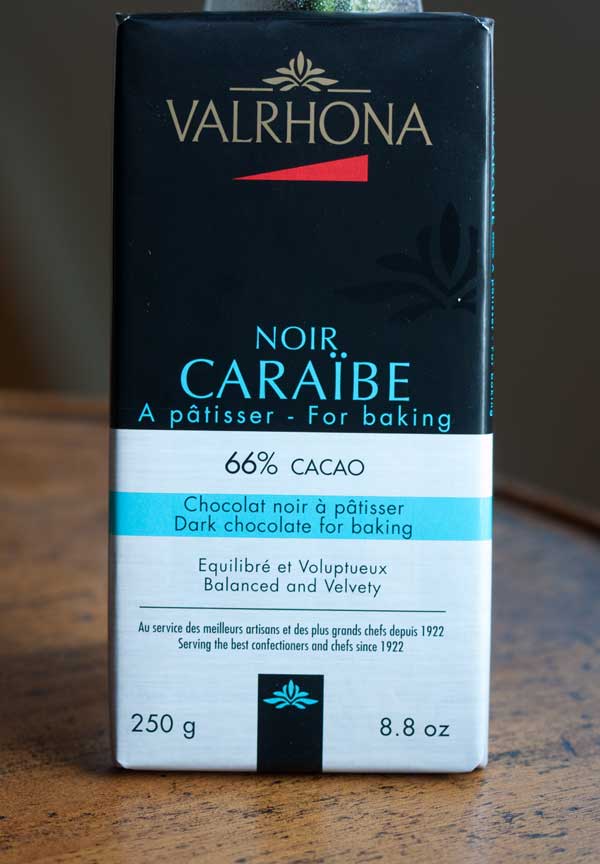 The recipe is actually very simple and neither the cupcake batter nor the ganache requires an electric mixer. If you have the Valrhona powder you should use it, but I'm pretty certain any Dutch chocolate (or Hershey's Dark) would work just fine. And the ganache is fantastic! I generally prefer more traditional chocolate frosting than ganache, but this one reminded me of a rich buttercream.   As simple as it is, you still have to be patient because it takes a few hours to thicken and requires occasional stirring.  This was taken after about 2 hours.  It was still a little too thin to pipe, so I chilled it for a few minutes and whisked it again.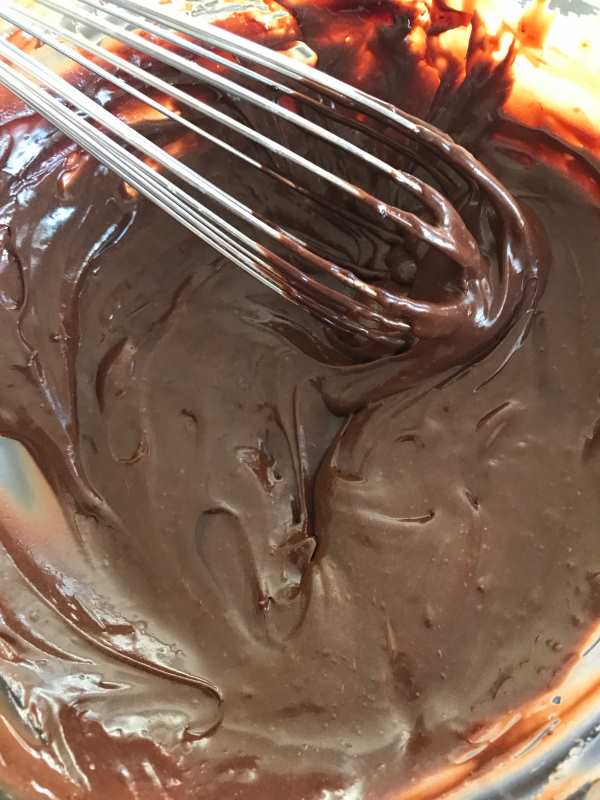 By the way, if you are looking for some cheap but good disposable decorating bags, I found some Cake Boss branded ones that are very good.  They come in a roll, and you just tear off a bag at the perforation.  For $7 you get 50 bags, and they are strong enough to be used a couple of times.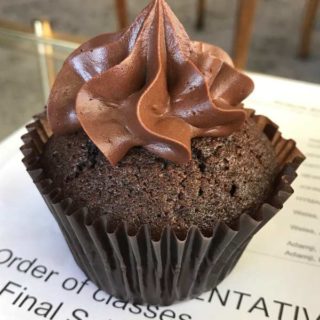 Valrhona Chocolate Cupcakes
These dark chocolate cupcakes are made with Valrhona cocoa powder and frosted with a spreadable ganache. The ganache needs plenty of time to set, so I recommend making the ganache first or just planning accordingly. I didn't have any problems with the ganache, but if you are new to making ganache you may want to make a half batch just to get the hang of it without wasting 7 oz of good chocolate.
Ingredients 
2 1/4

cup

all purpose flour

10.1 oz/285 grams

1 1/2

cup

+ 1 Tbsp. granulated sugar

300 grams

1

teaspoon

baking powder

1 1/2

teaspoon

baking soda

1

teaspoon

salt

1

cup

whole milk

1

cup

vegetable oil

1

cup

hot brewed coffee

1/4

cup

plus 2 tablespoons

60 grams good quality Dutch process cocoa powder (Valrhona)

2

large eggs

1

teaspoon

vanilla
Ganache Frosting
7

ounces

chopped Valrhona Baking Dark Chocolate

I just used Dove Dark

1 1/4

cup

cream

10 oz/280 grams

2 1/2

tbsp

honey
Instructions 
Preheat oven to 350 degrees F. Line 18 to 24 cupcake cups with paper liners.

Put the flour, sugar, baking powder, baking soda and salt in a large bowl and whisk for about 3 minutes or until very well blended.

In a mixing bowl, combine the milk and oil.

In a 2 cup measure (such as a Pyrex) whisk together the coffee and cocoa powder, then pour the cocoa mixture into the milk mixture.

Whisk in the eggs and vanilla until well blended, then add the flour mixture and stir until blended.

Divide cupcake batter among cupcake cups filling about 2/3 of the way full.

Bake at 350°F for 18 minutes or until cupcakes appear set (time will vary depending on the size of the cupcakes). Let cool completely.

To make the ganache, melt the chocolate in a microwave-safe bowl stirring every 30 seconds until melted.

In a saucepan, heat cream and honey until very hot.

Gradually add warm cream mixture in at least three stages, stirring chocolate stirring until smooth.

Ganache will be fairly thin at this point and will need to cool for about 2 hours. Leave at room temperature and whisk occasionally. If your ganache is not thick enough to pipe after two hours, refrigerate for 20 minutes, then whisk. Repeat, whisking the cold ganache until it is thick enough.

Spread on cupcakes or use a piping bag and decorating tip.
Notes
The yield is for standard size cupcake holders. If you use the larger bakery style ones (available on Amazon), you'll get around 20 cupcakes.