Chocolate chip cookies are basically all I want to bake right now, but luckily there are some new flavored chips on the market.   So today, instead of saying I'm making chocolate chip cookies again, I can say I'm making Jumbo Macadamia Chocolate Caramel Chip Cookies. Yahoo!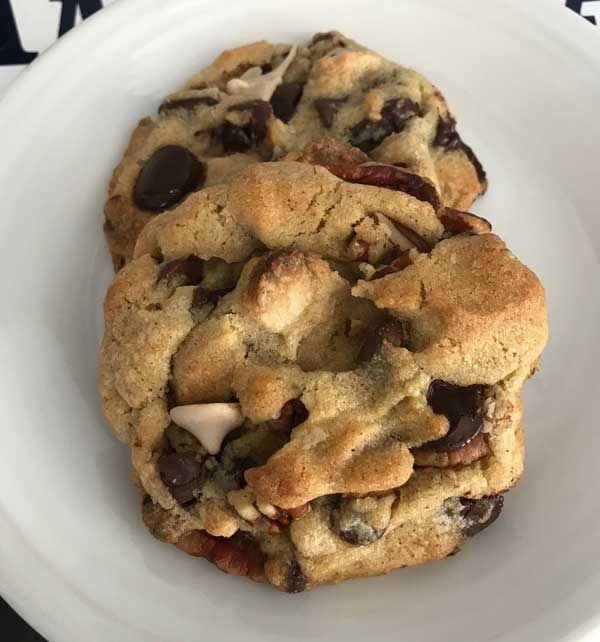 Actually, these really are good. I dug up an old recipe for large cookies and added caramel chips and macadamia nuts. The recipe calls for slightly less butter and eggs, but with all the chips and nuts the cookies are still plenty rich. I guess the worst thing you could do with this recipe would be to scoop the flour with a heavy hand. It calls for 4 whole cups, so 4 cups of heavily scooped flour would make the dough too try. Another thing I've been doing lately with chocolate chip cookies is just putting all of the ingredients in the bowl (minus the flour mixture) and mixing until blended - no creaming of the butter and sugar or whipping of the eggs. It seems like just throwing everything in the bowl and mixing makes for a denser, heavier, softer, cookie.
Recipe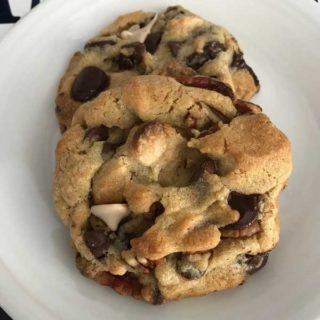 Jumbo Macadamia Chocolate Caramel Chip Cookies
Jumbo Macadamia Chocolate Caramel Chip Cookies made with salted macadamia nuts, caramel flavored chips and chocolate chips.
Ingredients 
12

oz

3 sticks unsalted butter, room temperature (345 grams), cut into chunks

1 ¼

cups

granulated sugar

240 grams

1 ¼

cups

packed brown sugar

240 grams

2

large eggs

1

tablespoon

vanilla extract

4

cups

all-purpose flour

530 grams **

1

teaspoon

baking powder

1

teaspoon

baking soda

1 ½

teaspoons

salt

1

cup

semisweet chocolate chips

1 ⅓

cup

bittersweet chocolate chips

1

cup

Ghirardelli caramel flavored chips

1

cup

salted macadamia nuts

coarsely chopped
Instructions 
Do not preheat yet, as the dough requires chilling.

Put the room temperature butter, granulated sugar, brown sugar, eggs and vanilla in the bowl of a stand mixer. Using the paddle attachment, mix on medium speed until everything is blended. Make sure to scrape sides of the bowl.

In a second bowl, stir together flour, baking powder, and baking soda and salt. Gradually stir the flour mixture into the butter mixture until blended and smooth.

Stir in all the chips and nuts.

Line a couple of plates with plastic wrap and scoop out large mounds (about ¼ cup size) of dough. You should get around 30 or so. Cover dough mounds and chill for several hours.

When ready to bake, preheat the oven to 350 degrees F and line rimmed baking sheets with parchment paper or foil.

Arrange mounds on lined sheets and bake for about 14 minutes (time will vary) or until cookies appear nicely browned. Allow them to cool until they are firm enough to lift, then transfer to a wire rack to finish cooling.

If using a convection oven, check at 12 minutes.
Notes
Make sure to weigh your flour. If you don't have a scale, stir the flour well and aerate it before measuring so that you won't accidentally put too much flour in each cup.