Crumbl Cookies are popping up right and left! If your town doesn't have Crumbl yet, just wait. The franchise cookie & ice cream shops have a loyal following. Their cookies are served warm, the ordering process is simple, and the selection is slim but well curated. My favorite of the cookies are the Crumbl Milk Chocolate Chip.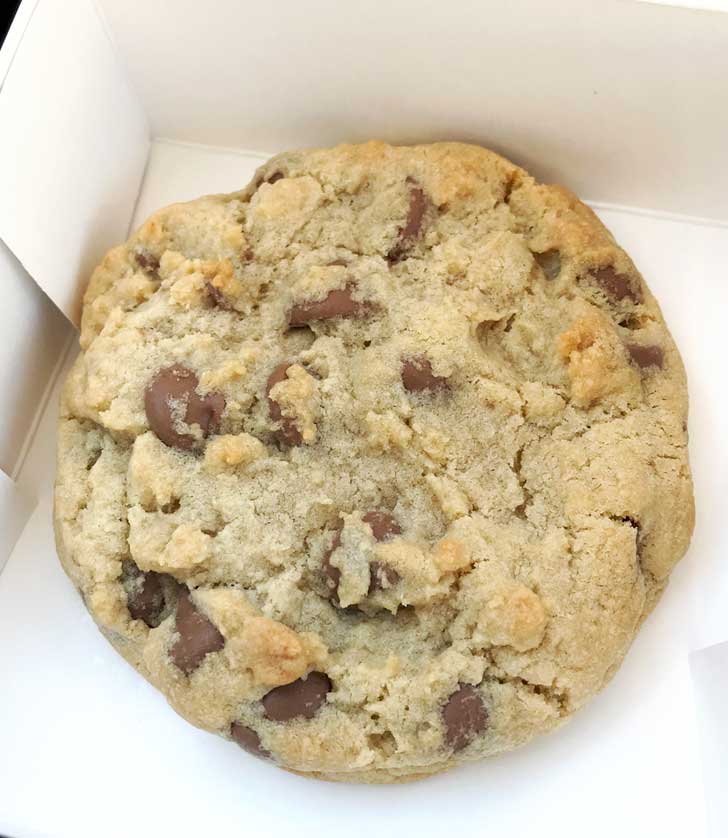 Oh, and here's another! Interestingly, the Milk Chocolate Chip Cookies don't always look the same from day to day or store to store. This may be why all the Crumbl copycats are a little different. Some bloggers claim their copycats are exactly like Crumbl's, so maybe they are more like their local store's version? I don't know. It's confusing, but it made my own attempt at replicating the cookies a little more fun.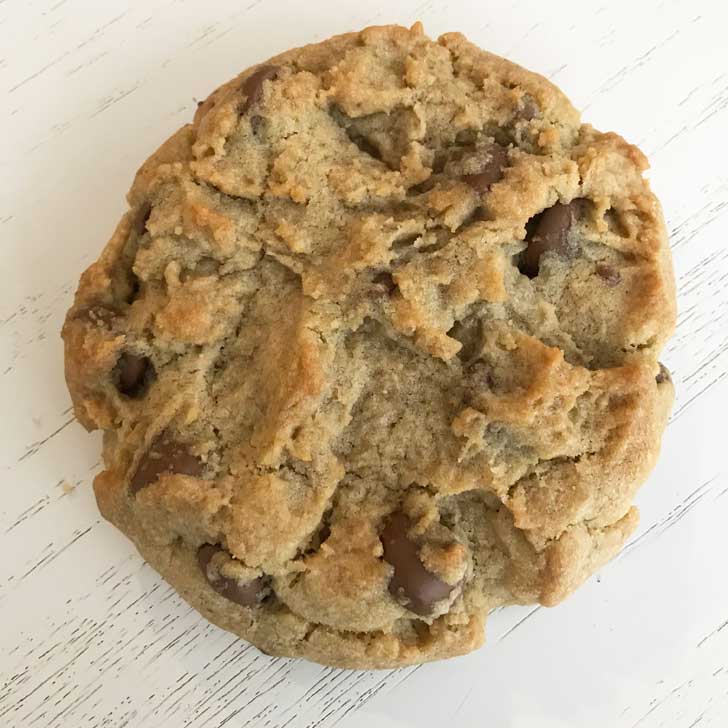 What's Good About Crumbl
Before we get to the recipe, I'll tell you what I like about Crumbl's cookies -- or at least their chocolate chip. The dough is not too sweet and partners perfectly with the milk chocolate.  Also, the chocolate chips are creamy and soft and stay that way when the cookies reach room temperature.   They also have a pretty simple ingredient list, so making them at home is possible. You don't have to seek special commercial bakery fats or preservatives.
Anyhow, to start my replicating project, I looked to my Small Batch Super Large Chocolate Chunk Cookies and the Jumbo 3 Chip Cookies and used those recipes as a springboard.
Copycat vs. Real Deal
So after buying and eating Crumbl cookies side by side with my own giant milk chocolate chip cookies, I think these are similar. They don't look exactly the same, but the flavor and texture is close. And just like Crumbl, sometimes the appearance varies depending on how I shaped the dough balls, what baking method (convection vs. non) I used, and how long I'd chilled the dough. Chilling the dough for longer seems to result in a browner dough.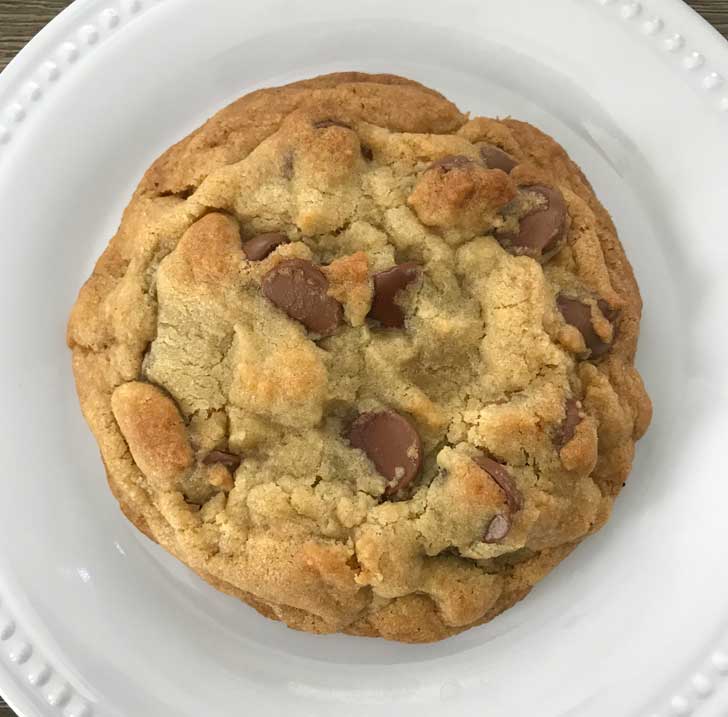 Crumbl's cookies weigh about 5.5 oz and are soft while warm. Mine also weigh 5.5 oz. When baked with chilled dough they have about the same level of spread, but when baked immediately they come out a little thinner.
Guittard Milk Chocolate Chips
The key takeaway from my Crumbl copycatting was that Guittard milk chocolate chips are awesome. They are creamier than other brands and stay soft when cool. Normally I'd use semisweet chips, but this dough is perfect with milk chocolate. I'm just so impressed with the chips. Can't wait to try them in these Malted Milk Chocolate Cookies as well.
Small Batch Copycat Crumbl Milk Chocolate
Recipe is below. The printable version is for six cookies, but in the notes I've put measurements for a very small batch of two cookies. The small batch of two cookies might be all you need. Or maybe you think my version's not close enough and want to play around with it a little. Method is the same, you just make two cookies instead of six, and of course you'll have to beat your egg separately so that you can weigh out 17 grams.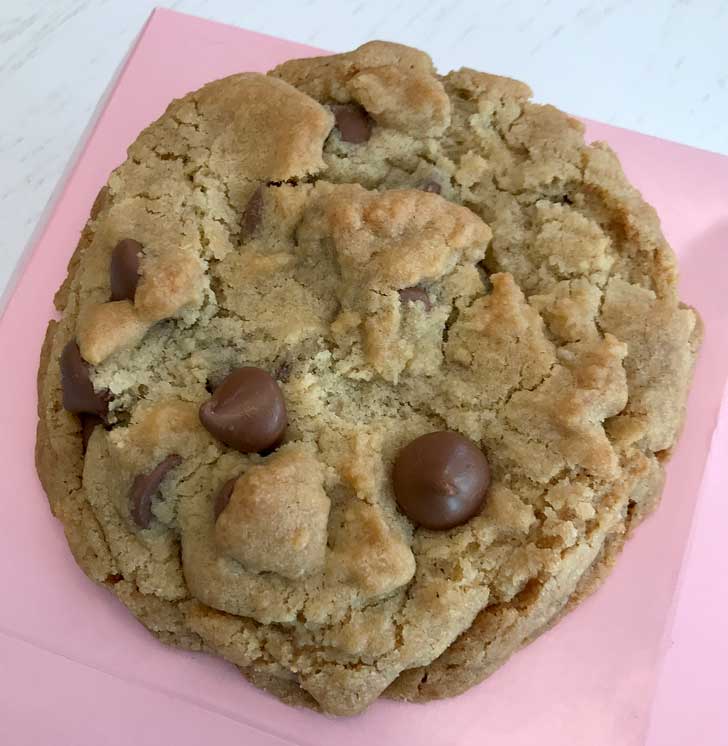 Not Quite Crumbl Ingredient Notes
Bleached AP Flour -- Bleached flour with less protein usually makes softer and more tender cookies. I weigh out 270 grams for the full batch of six or 90 grams for a two cookie batch. Unbleached is fine too. I think a lot of bakeries use bleached, plus it makes cookies a little more tender. But these are still excellent with unbleached.
Baking Soda & Salt -- A lot of the other copycats call for baking powder, but Crumbl doesn't list it in their ingredients so I use baking soda only for browner, slightly less fluffy cookies. For a paler and lighter texture, use ½ teaspoon baking powder and ⅛ teaspoon of soda. The baking powder makes them less like Crumbl's, but lighter and still very delicious.
Eggs -- My North Carolina eggs weigh 50 to 52 grams, so for the full batch I use 1 egg and for the small batch I use 17 grams of beaten egg.
Vanilla -- Normal amount, any brands. You could probably get away with leaving it out, as it's not a predominate flavor.
Butter -- This recipe has a slightly higher ratio of butter and works well with just about any brand, so long as it's not diet butter or margarine with extra water added. I think the higher ratio of butter is what makes these so good, but I'm a little biased.
Equal ratios of brown and white worked well, but slightly higher on the brown seems to work a tiny bit better. I've mostly made these with light brown sugar, but they also taste great with dark brown.
Milk Chocolate Chips -- Guittard, for sure!
New Tip! I just read that Crumbl recommends adding the chocolate chips a few seconds after you add the flour. So begin adding flour, then stir in the chips.
Update: Check out the Cosmic Double Chocolate Cookie too!
Recipe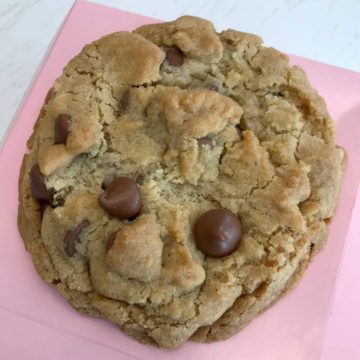 Giant Milk Chocolate Chip Cookies
This recipe makes six giant cookies. I only make them using gram measurements so volume measurements (at least for the major ingredients) are just estimates.
Ingredients 
2

cups

bleached AP flour (unbleached okay too)

(260 grams)

¾

teaspoon

baking soda

¾

teaspoon

salt

1

large

egg

(52 grams)

¾

teaspoon

vanilla extract

15

tablespoons

unsalted butter, cold and cut into chunks

(210 grams)

½

cup

light brown sugar packed

(100 grams)

6

tablespoons

granulated sugar

(80 grams)

2

cups

milk chocolate chips (1 bag)

Guittard
Instructions 
Mix flour, baking soda, and salt and set aside.

With an electric mixer, beat the butter until it starts to become creamy, then add sugars and continue beating until well blended. Add the egg and beat just until blended, scraping sides of bowl often.

Add flour mixture gradually and stir with a heavy duty scraper until blended. If using a stand mixer, you can stir the flour on low with the paddle. If using a hand held mixer, it's probably best to do this part by hand as the hand held can be a little tough on the gluten.

Add the chips and stir them in the best you can, then empty onto a pastry mat and gently knead in any stray ones. Update: Start adding the chips before the flour is fully dissolved. I'm not sure if this will change much, but it is a tip from Crumbl.

Squeeze dough together into one compact log. Cut or just break into 6 equal pieces and squeeze them as tightly as possible, then press down slightly so you have 1 ½ thick disks instead of balls. Chill for at least an hour or until the dough is very firm.

There are several ways you can bake these. I recommend baking one cookie first to nail down the correct time in your oven. The most basic way is 375 degrees F for about 18 minutes (check at 16, though it may take 20.). If your oven runs hot, bake at 350 for 18-20 minutes. And finally, if you have convection you can bake at 350 for 18 to 22 minutes. Time will vary depending on how cold your dough is.

Let the cookies cool completely on the baking sheet.
Notes
Small Batch -- Makes Two, Use Weight Rather Than Volume If Possible
90 grams bleached all-purpose flour (⅔ cup)
¼ scant teaspoon baking soda
¼ teaspoon salt
17 grams beaten egg (about 1 ½ tablespoons)
¼ teaspoon vanilla extract
70 grams unsalted butter (5 tablespoons)
36 grams light brown sugar (3 tablespoons) 
25 grams granulated sugar (2 tablespoons grams)
114 grams milk chocolate chips, Guittard (⅔ cup)
Note about baking.  I use one of the bake times listed above or I bake at

400 for 10 minutes then turn down the heat to 330 for 3 to 5 minutes.  Sue tested the recipe and 400 got the cookies too brown around the edges in her oven, so try 375 first or 350 convection.