My daughter brought Oreo Cookies 'n Creme Pudding Mix Cookies home from a cookie exchange two years ago, and I've been thinking of them ever since! They're a variation on chocolate chip cookies with pudding mix, but made with the Oreo pudding. But that's not all! In addition to the Oreo Cookies 'n Creme flavored pudding mix, they have broken Hershey's Cookies 'n Creme candy bar or the Cookies 'n Creme Drops.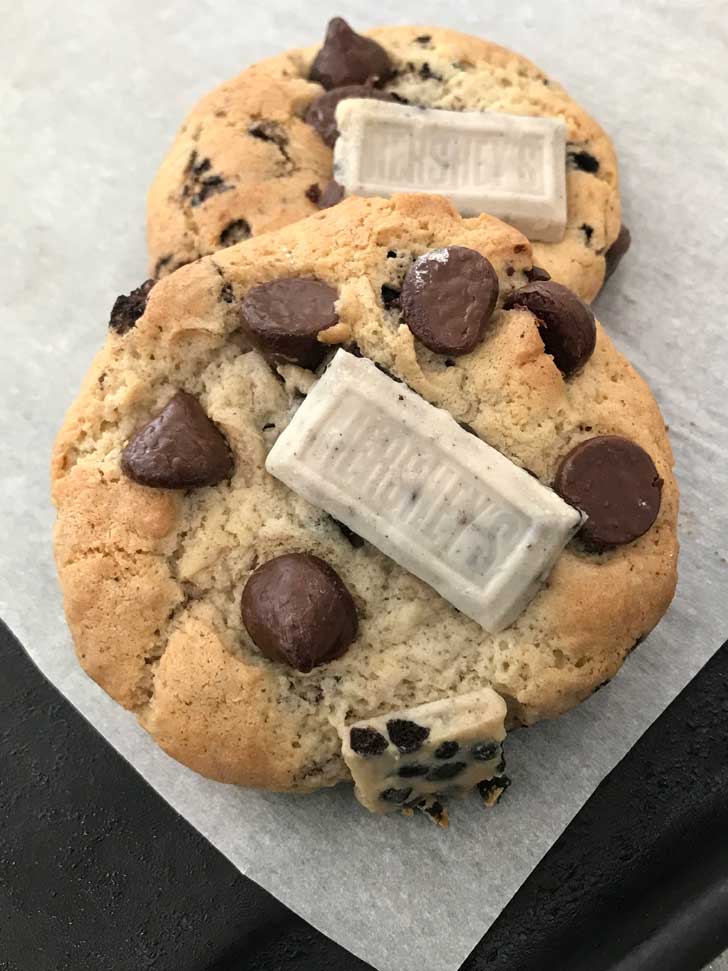 So after two years I finally got around to making them. Why the wait? Mostly because I could never find the Oreo pudding mix, which seem to be elusive around here.
The pudding mix helps keeps these thick and soft. And because the pudding mix already has lots of Oreo chunks in it, you don't have to buy extra Oreos. But you can! Oreos are a staple at our house, so I wrapped the dough around very large chunks of (Gluten-Free) Oreos and I think that made them better.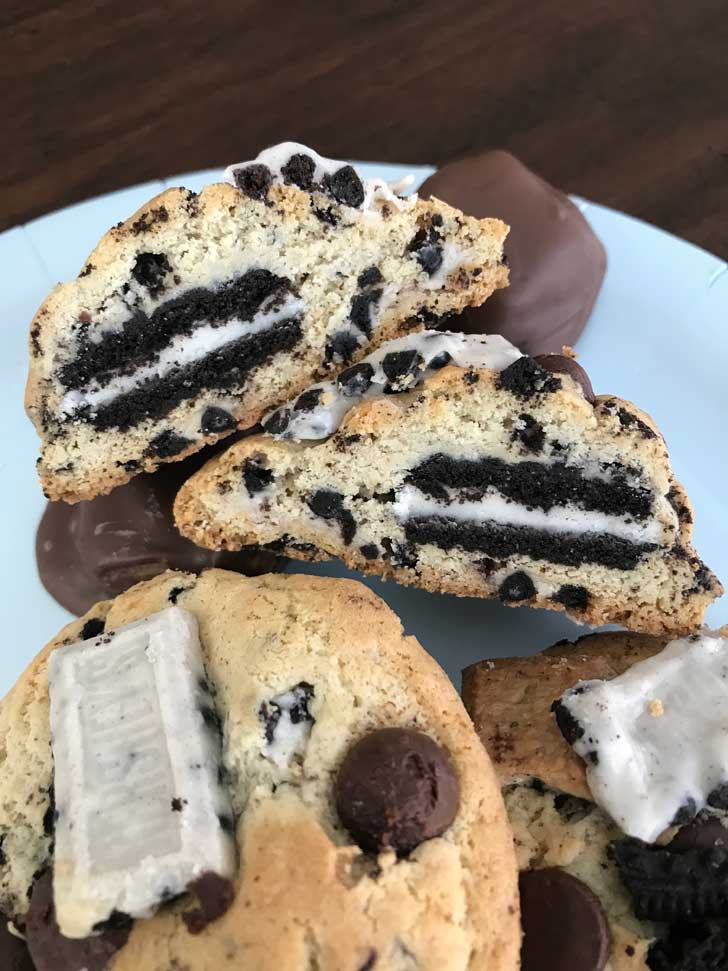 Gluten-Free Cookies 'n Creme Pudding Mix Cookies
The Oreo pudding mix is not gluten-free, but you can still make the cookies gluten-free. Just use equal weights of King Arthur Measure-for-Measure in place of the flour, vanilla flavored instant pudding mix in place of the Oreo flavored and add tiny chunks of gluten-free Oreos to the batter. You'll have to omit the Hershey's Cookies 'n Cream bar, but you can use some white chips in its place. This is also a good work-around if you can't happen to find the Cookies 'n' Creme pudding mix.
Recipe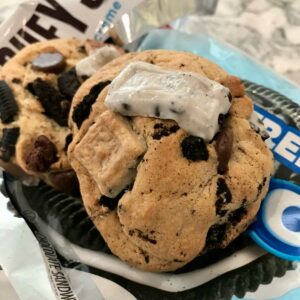 Cookies 'n Cream Pudding Mix Cookies
Cookies 'n Cream Pudding Mix Cookies are soft, chewy, thick chocolate chip cookies made with a full box of Oreo Cookies 'n Cream flavored pudding mix.
Ingredients 
2 ¼

cups

all-purpose flour

(300 grams)

1

teaspoon

baking soda

¾

teaspoon

salt plus a pinch (omit if using salted butter)

8

ounces

unsalted butter, room temperature

(230 grams)

½

cup

light brown sugar, lightly packed

(100 grams)

½

cup

granulated sugar, use a scant cup

(90 grams)

2

large

eggs

1

box

instant pudding mix, Cookies n'Cream (4.2 oz)

2

teaspoons

vanilla extract

1 ½

cups

dark chocolate chips

3

broken

Hershey's Cookies 'n' Cream Bars

17-20

Oreos, broken (optional)
Instructions 
Mix the flour, baking soda and salt and set aside.

In a large mixing bowl, beat the butter and both sugars just until creamy. Beat in the eggs and beat just until blended, then beat in the pudding mix. For this recipe, don't try to make the batter light and fluffy.

By hand or using lowest speed of stand mixer, stir in the flour mixture until blended. Stir in the chocolate chips and maybe half of the broken candy. You can put all of the candy in if you want, but I like leaving half of it and sticking it on the sides of the cookies as soon as they come out of the oven.

Spoon about a quarter cup of dough up and wrap it around a broken (not quite whole) Oreo. Keep doing this until you have about 20 to 22 cookies. Put the dough balls on a plate, cover with plastic wrap and chill overnight or for several hours. If you don't mind thinner cookies, you can skip the chill time, but chilling will help with thickness.

When ready to bake, preheat the oven to 360 and bake the cookies on parchment lined baking sheets for 12 to 15 minutes or until edges just start to brown. You could also bake at 350F. I've just been baking a lot of things lately in my Breville toaster oven and for these I used 360. Just bake until nicely browned.

As soon as they come out of the oven, lay remaining candy bar pieces on the cookies and let them melt from the heat of the cookies.

Let cool for about 5 minutes on cookie trays, then transfer to wire racks and let cool completely. I think these are better when completely cool rather than warm.