You've heard of Ranger Cookies, but how about Rocky Mountain Cookies? Or in this case Rocky Mountain Oatmeal Chip Cookies. They seem to be a subspecies of oatmeal chocolate chip cookies. Most are exactly like Rangers and include rice cereal, but an exception is this one. It's from The Silver Palate Good Times Book, which is getting some action at our house and is worth more than I paid for at Cause for Paws Thrift. I just love reading about aspirational entertaining, but as a bonus the recipes are solid!
Jump to Recipe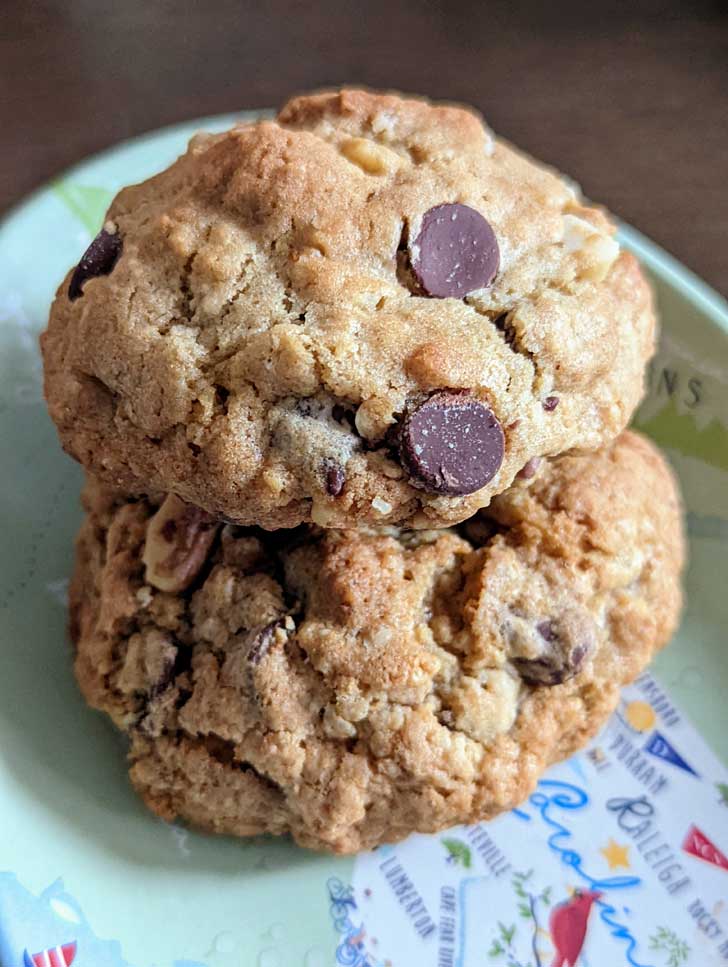 Rocky Mountain Oatmeal Chip Cookies
So a few weeks ago I made the Silver Palate Rocky Mountain Oatmeal Chip Cookies and declared them my new favorite oatmeal chocolate chip cookie. Yay! But then I looked back on an old post and noticed I'd done the same thing for The Frog Commissary Oatmeal Chocolate Chip Cookies. The Frog recipe is almost identical on paper. Both recipes have 2 cups flour, 2 cups sugar, and 2 cups oats, and the amount of baking soda and baking powder are the same too. But Rocky Mountain Cookies are thick, while Frog's have always baked up slightly flat. How could this be when the recipes are so similar? Well, it was another reminder of all the little subtleties of baking.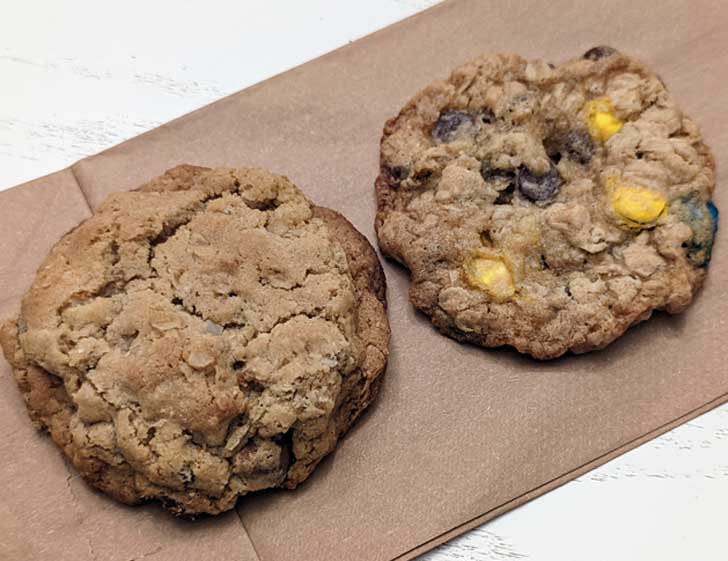 Thick vs Flat
When I made these I had mountains on my mind and took some extra steps to make the cookies thick and rounded. Those steps included mixing ingredients on low to medium rather than high, using bread flour, dialing back the baking soda, using loads of nuts, and most importantly, starting the cookies at 400 for the first 5 minutes then dropping the heat to 350 for the rest of the bake time. Those changes plus a few more mentioned in the ingredient list made such a huge difference in the cookies' appearance. These Rocky Mountain Oatmeal Chip Cookies are thick, crunchy on the outside, chewy on the inside, and loaded with goodies.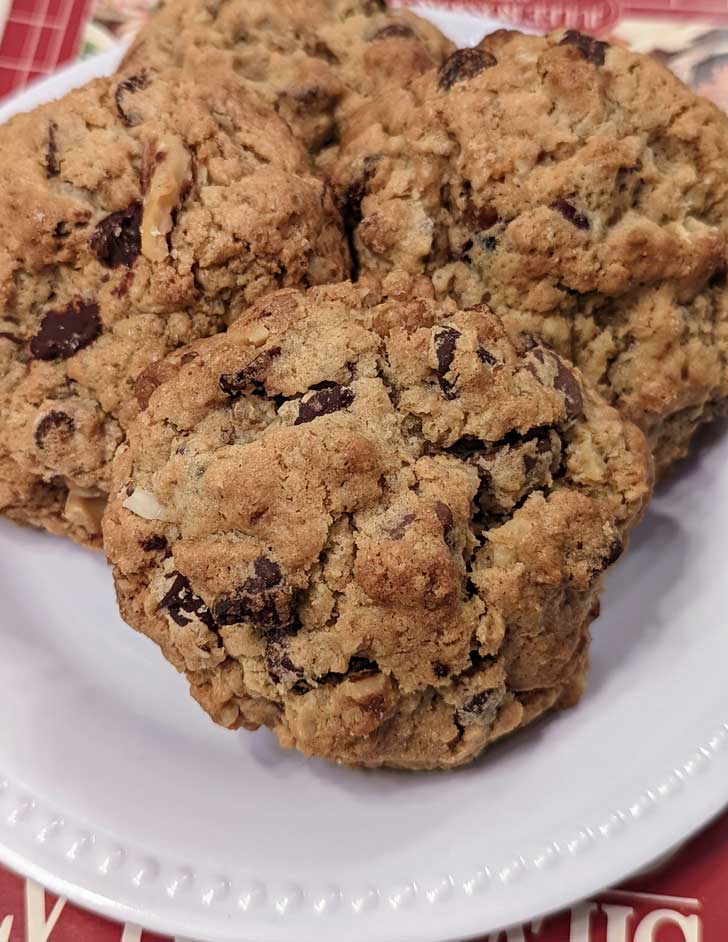 Rocky Mountain Oatmeal Chip Ingredients Notes
Butter and Margarine -- The Silver Palate version calls for ½ cup butter and ½ cup margarine. In this case, margarine is not an economical or health-oriented substitute for butter, but rather a way to keep the cookies soft. Using margarine also helps curb the spread. Margarine gets a bum rap, but there are lots of good "plant butters" these days with their own set of virtues. My go-to plant butters right now are Earth Balance Soy Free and Country Crock plant butter. For this batch, I used a Country Crock plant butter stick.
Dark Brown Sugar -- This Makes the cookies a little darker in color. I used 200 grams. By volume, that's a light to medium packed cup.
Granulated Sugar -- Sugar causes cookies to spread, so even though I measured 1 cup of granulated I kept it scant, and the gram amount is more like 180 to 185. It's easier to just say "scant" instead of "1 cup minus a teaspoon".
Eggs -- My eggs are large, but on the smaller side of large, so about 48 grams without the shell. To keep the cookies thick, I blended in each egg one at a time being careful not to beat in extra air. Beating too much air into the dough sometimes causes cookies with baking powder to rise too quickly and fall.
Whole Milk -- The extra fat in the milk plus the dairy keeps the cookies tender. Lower fat milk or plant milk might cause slightly cakiness and more spreading.
Vanilla -- I used pure vanilla for these, though I'm not sure if pure vanilla makes a huge difference in baked goods such as cookies. There's some debate.
Flour -- This is where things get interesting. You can use 2 cups of any flour, but it needs to weigh 280 grams. Flatter versions of these cookies such as Frog Commissary or Rangers are often made with 2 cups flour or 2 cups of sifted flour which is more like 250 grams. So as always, use the scale for best results. That, and use bread flour or a higher protein flour.
Baking Powder, Baking Soda, and Salt -- Easy to remember, one teaspoon of each. Since baking soda encourages spreading, I knocked ¼ teaspoon off the baking soda, which is why I have ¾ to 1 teaspoon as the measurement.
Oats -- Cookies seem to come out thicker with quick oats and spread more with old-fashioned.
Chocolate Chips -- A mix of dark and semisweet with some milk thrown in.
Nuts -- The nuts are the powerhouse behind big, fat, thick Rocky Mountains. Or at least in this case. I kept the nut pieces rather large. For a few of the cookies I used Brazil nuts and wrapped dough around a whole nut. There are no rules when it comes to the nuts, but if you leave them out the cookies will be thinner.
Gluten-Free Rocky Mountain Oatmeal Chip
I have a new gluten-free friend, so I've been more diligent in testing recipes with gluten-free flour. This one works very well, so the gluten-free version is in the notes. In short, just use 280 grams Bob's 1-1. I also used 2 tablespoons of cream cheese in place of the 2 tablespoons of milk. Ever since I learned cream cheese cuts the grittiness in gluten-free cookies, I've been adding it along with the gluten-free flour. The little bit of extra fat, so far, hasn't messed up any recipes.
A Few More Silver Palate Favorites
Recipe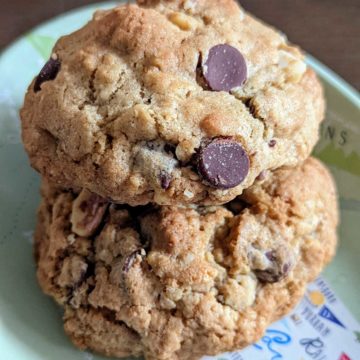 Rocky Mountain Oatmeal Chip Cookies
This version of the recipe makes very large, thick cookies. I usually get between 22 and 24. You can definitely make them smaller if you need to.
Ingredients 
8

tablespoons

stick margarine, cut into chunks.

Country Crock Plant Butter

8

tablespoons

unsalted butter, softened

8 tablespoons (114 grams)

1

cup

light packed dark brown sugar

(200 grams)

1

cup

granulated sugar (scant)

(185 grams)

2

large

eggs, bring to room temperature

2

Tbsp.

whole milk or 2 tablespoons cream cheese if making gluten-free version

(30 grams)

2

tsp.

vanilla extract

2

cups

AP or bread flour (I like bread flour)

280 grams or equivalent Bob's 1-1 Gluten-Free**

1

tsp.

baking powder

¾

tsp.

baking soda

Silver Palate version called for 1 teaspoon.

1

tsp.

salt

2

cups

quick cooking oats

2

cups

semisweet or dark chocolate chips

1

cup

coarsely chopped Brazil nuts, walnuts or pecans

Can use slightly more, even!
Instructions 
Put the margarine, softened butter, and both sugars in a mixing bowl or the bowl of a stand mixer (which is what I use). With the paddle attachment, beat on medium speed just until blended. Just mix, don't try to whip or beat in a lot of air. Add eggs one at a time, beating on medium after each egg is added, just until blended. Beat in milk and vanilla.

Mix together the flour, baking powder, baking soda and salt and add to bowl. Beat on low until blended, then beat in oats, chocolate chips and nuts.

Shape into 20 to 24 large balls (you can make them slightly smaller if you want to) and put on dinner plates. Cover with plastic wrap and chill the formed balls for several hours or overnight.

Preheat oven to 350 degrees F. For taller cookies, preheat to 400 degrees.

Arrange the dough balls 3 inches apart on parchment lined baking sheets. I recommend 6 to a sheet.

Bake at 350 for about 15 to 18 minutes or until they are nicely browned all over. If using the high heat method, bake at 400 for the first 5 minutes, then drop the heat to 350 and continue baking for another 10 minutes or however long it takes for them to look brown and set. For smaller cookies (yielding 50), bake at 350 for 8 to 10 minutes or until outsides are browned (center will still be pale).

Remove from the oven and let cool on the sheets for 5 minutes. Remove to wire racks to cool completely.
Notes
280 grams is 2 cups of scooped flour.  Sometimes cups of flour weigh 127 grams each, sometimes up to 140.  In this case I went with 140 gram cups.  If you generally measure very carefully by volume and stir your flour , you may need to use 2 ¼ cups flour.