Truvia Banana Bread is my favorite recipe using Truvia Brown Sugar blend. I bought it a while back with good intentions, but haven't used it much.  Thinking I'd give it another try and take care of some over-ripe bananas, I made this very easy banana bread. It calls for about 3 ½ bananas and is baked in an 8 ½ by 4 ½ inch loaf pan.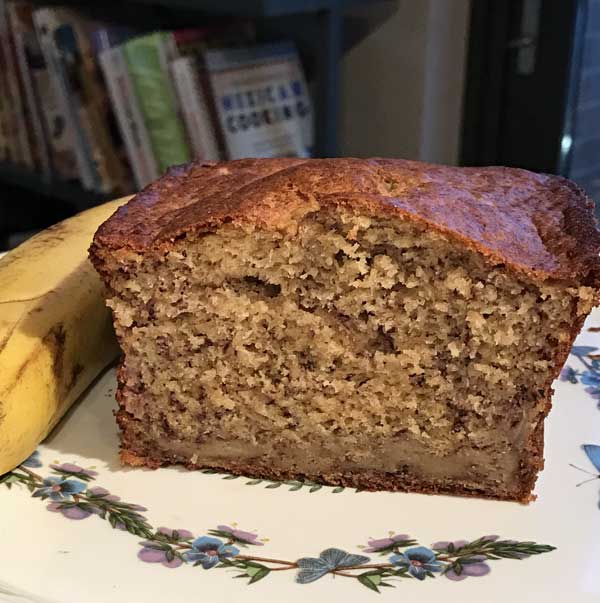 Truvia Banana Bread Flavor
It's very good!  Truvia does leave kind of an aftertaste, but in this case it's not necessarily unpleasant.  Knowing it's lower in sugar makes it worth it.  As for the texture, it's soft, very moist and packed with banana.  It has so much banana that you can see the dense banana collecting at the bottom of the loaf.  At first I didn't like this, but the banana flavor is so good I don't really mind. I like this almost as much as my usual favorite banana bread, which is probably the Starbuck's Banana Bread Copycat.
Update: I can't use artificial sweeteners anymore, but if you have some Truvia this is a really good recipe. I'm trying to recreate it with sugar, but it's still not the same as it was with the special sweetener. Weird!
Recipe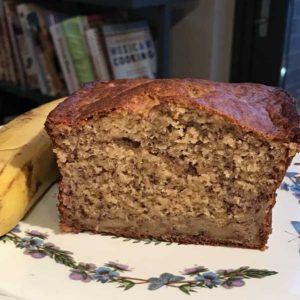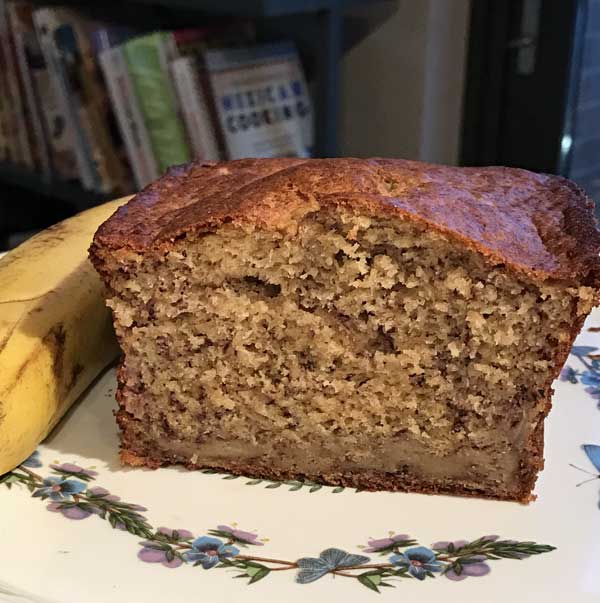 Truvia Banana Bread
A reduced sugar banana bread made with Truvia brown sugar blend.
Ingredients 
1 ¼

cups

all-purpose flour

180 grams

1

teaspoon

baking powder

1

teaspoon

baking soda

½

teaspoon

salt

½

cup

Truvía® Brown Sugar Blend

82 grams

⅓

cup

unsalted butter

75 grams

2

large

eggs

1

teaspoon

vanilla extract

⅓

cup

buttermilk

1 ½

cups

very ripe bananas

mashed (330 grams)
Instructions 
Preheat oven to 350° F. Grease an 8 ½ by 4 ½ inch loaf pan.

Whisk the flour, baking powder, baking soda, and salt together in a mixing bowl and set aside.

In another bowl, beat the Truvia and the softened butter together, then beat in the eggs and vanilla. Scrape bowl and stir in the buttermilk.

Pour the liquid mixture into the flour mixture and stir until mixed, then stir in the bananas. Do not overmix.

Pour batter into the loaf pan and bake until golden brown and a toothpick inserted into the center of the loaf comes out clean (about 55 minutes).

Let cool in pan for 10 minutes. Remove loaf from pan and transfer to a wire rack.
Notes
I measure bananas after they are mashed, since bananas come in different sizes. For this bread I used 1 ½ cups, which turned out to be 3 ⅓ large bananas.