Sam Houston White Cake is based on a recipe I found in a Texas cookbook. I did a little more digging and found it again on a Sam Houston Memorial page that included the recipe along with something about this being his favorite cake. That seemed dubious at best because of the ingredient list. Baking powder and vanilla extract weren't exactly common ingredients back then.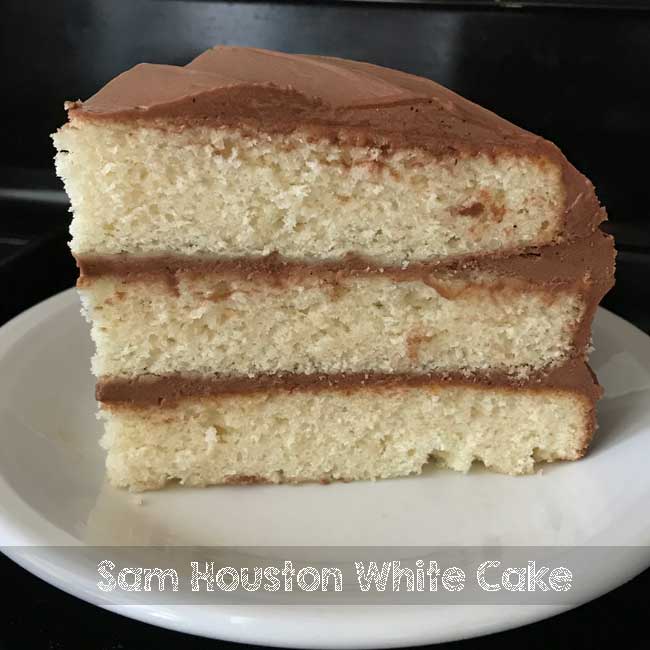 Shortly thereafter I found the recipe again on the Houston based Imperial Sugar website. It has also disappeared. However, it's definitely an Imperial recipe because they used it in their old ads.
Old Imperial Sugar Ads
The Sam Houston White Cake has a place in advertising history.  Imperial Sugar used to print the recipe on the back of their boxes, and they even used it in one of their old  TV commercials. If you don't have time to bake the cake, at least watch this commercial. Update: I'm having problems with the link, but if you copy and paste this (https://texasarchive.org/2018_00581) it should take you to the commercial.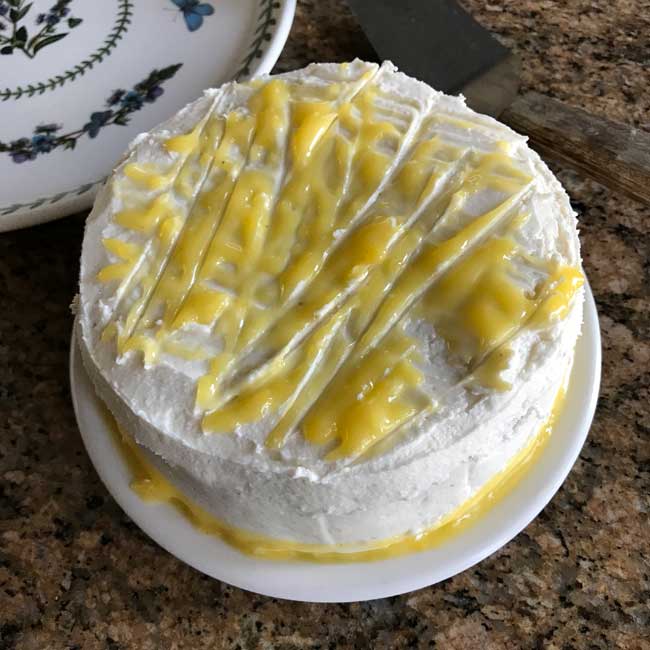 So How's The Cake?
After reading all about the cake, I finally made it and was happy with the results. It's soft, light, just a little bit crumbly and has a distinct flavor thanks to the mix of almond extract and vanilla. You can pair Sam Houston White Cake with a chocolate frosting, but if you are anxious to use those leftover egg yolks you might make a quick batch of lemon curd for the filling, then frost with a basic white icing. I made both flavors (our freezer is about to explode with cake, so I made the second version as a small cake) and liked the chocolate version best.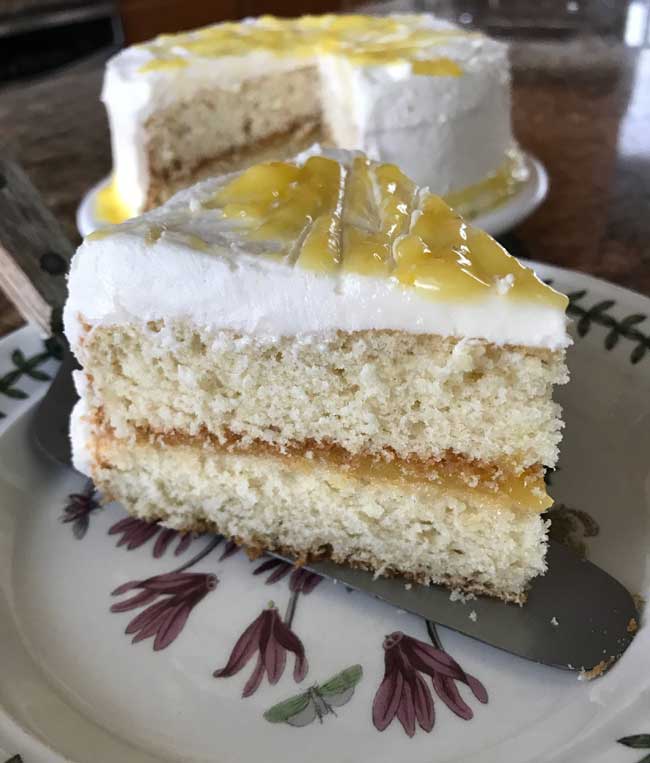 Chocolate Frosting Recipe
You can use any frosting recipe on this one. Since the cake recipe is from Imperial Sugar, I recently tested it with one of their chocolate frostings. It's a pretty good recipe and may come in handy if you need to make a frosting with unsweetened dark chocolate only. The key with the frosting is to let the melted chocolate and milk/cream mixture cool, otherwise its warmth will melt the sugar and make the frosting a bit runny. Here's a new photo. The cake in this photograph was made with ⅙ of the recipe, baked in a 4-inch pan and sliced into two layers.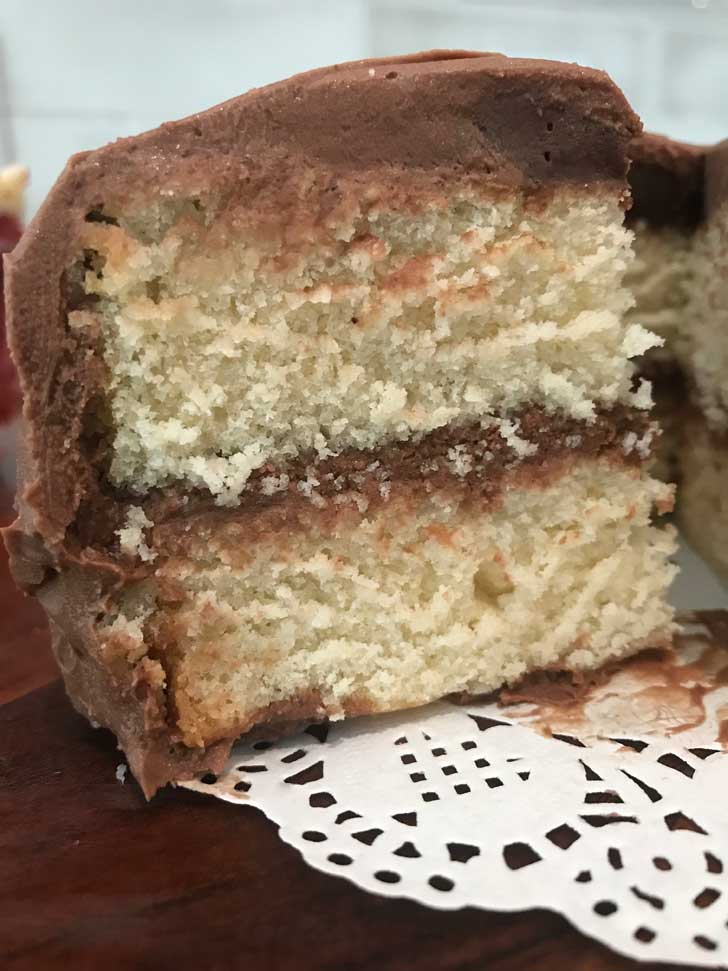 Original Sam Houston White Cake Frosting
I shared the Sam Houston White Cake a while back, but for some reason I never mentioned the frosting it came with. That's probably because it calls for raw egg yolks. The original frosting calls for 3 oz of unsweetened chocolate, 4 cups sifted powdered sugar, ⅛ teaspoon of salt, ¼ cup hot water, 3 egg yolks, ¼ cup salted butter and 1 teaspoon of vanilla. You melt the chocolate in the top of a double boiler, then remove from heat and add powdered sugar, salt and hot water. You then beat on medium speed (presumably right in the top of your double boiler), then beat in the egg yolks one by one, followed by melted butter and vanilla. I suspect this makes a fudge frosting, and am willing to risk the raw egg yolks to find out!
Update: We tried it and it was very good. I'm not sure the 3 oz chocolate and 3 egg yolk recipe that came with the cake would actually cover a 3 layer 9-inch cake, but it was fun to try.
Recipe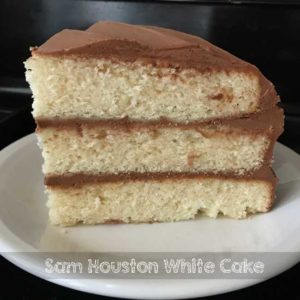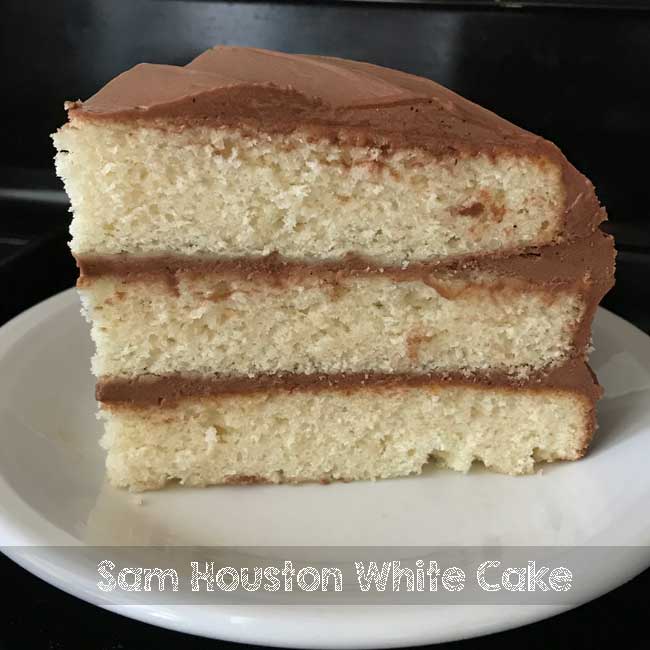 Sam Houston White Cake
Sam Houston White Cake is a three layer cake made with almond and vanilla extract. It can be filled with lemon curd and frosted with vanilla icing or frosted and filled with chocolate icing. For a small cake, make ⅓ of the recipe and divide between two 6 inch round cake pans.
Ingredients 
¾

cup

unsalted butter

softened and room temperature (170 grams)

2

cups

granulated sugar

390 grams

3

cups

all-purpose flour

stir and aerate or weigh (370 grams)

1

tablespoon

baking powder

½

teaspoon

salt

½

cup

whole milk, room temperature

(120 grams)

½

cup

water

1

teaspoon

vanilla extract

½

teaspoon

almond extract

6

large

egg whites
Chocolate Frosting
¼

cup

heavy cream

(56 grams)

¼

cup

whole milk plus more as needed

(56 grams)

2.5

oz

unsweetened chocolate, chopped

(70 grams)

⅓

cup

butter, softened unsatled best, then add salt

(75 grams)

3

cups

powdered sugar

(300 to 330 grams)

2

teaspoons

vanilla extract

pinch of salt to taste
Instructions 
Preheat oven to 350 degrees F. Grease and flour three 9x2 inch round baking pans.

In a large bowl, stir together the flour, baking powder and salt.

In a mixing bowl, using an electric mixer, beat the butter and sugar until light and creamy. Beat in the extract. Combine the milk and the water, then add the milk mixture and flour alternately in three parts, stirring by hand until flour is well blended.

With an electric mixer, beat the egg whites until stiff peaks just start to form, then fold them into the batter. It will be fairly thick.

Divide batter among the pans and bake for 25-28 minutes or until cakes spring back when touched. Let cool in pans for 10 minutes, then carefully invert onto rack and let cool completely.
Frosting
In a small saucepan, heat the cream and ¼ cup of whole milk until simmering, then add the chopped chocolate. You can also do this step in the microwave. Just heat the cream and milk together in a microwave-safe measure until mixture just starts to boil.

Remove from heat and let stand for 2 minutes, then stir until chocolate melts. Set aside and let cool to room temperature. This might take 30 minutes or so. It's best to let it cool completely.

With an electric mixer, beat the butter until light and creamy. Add 1 cup of the powdered sugar and beat until blended.

Add remaining powdered sugar and cooled chocolate mixture alternately to the butter mixture, beating and scraping the sides of the bowl. Add the reserved ¼ cup of milk as needed.

Beat in the vanilla. Taste test and add a pinch or two of salt as needed.

This is a soft and smooth frosting that might seem runny at first, but should stiffen up a bit as you beat it. If for some reason it's runny, chill the bowl and then beat some more.