I found this recipe while flipping through one of my old Texas cookbooks. I'd skipped over it many times before, but I was in the mood to make a white cake and "Sam Houston White Cake" seemed like a fun project. Plus I was taken with the name, because in my past life as a Texas Capitol tour guide I spent a lot of time talking about Sam Houston. Little did I know he had a favorite cake!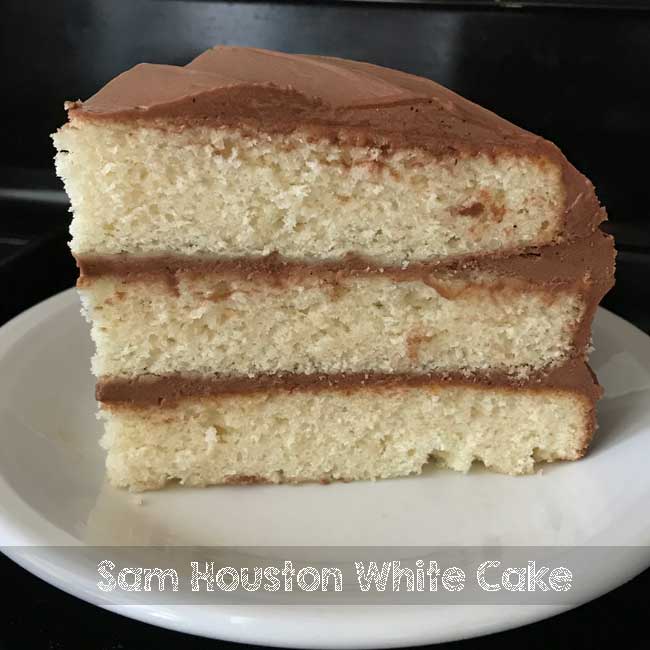 Once I settled on the recipe, I did a little more research and found that Sam Houston White Cake has a place in advertising history.  Imperial Sugar used to print the recipe on the back of their boxes, and they even used it in one of their old  TV commercials. If you don't have time to bake the cake, at least watch this commercial.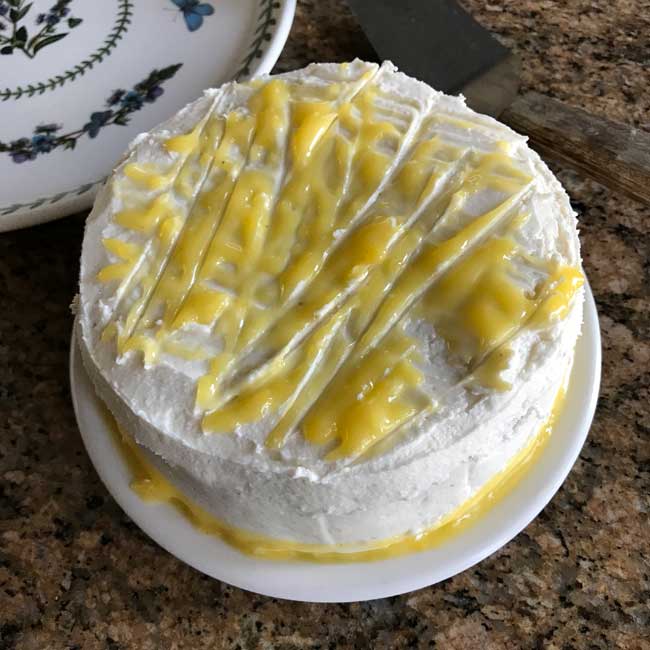 After reading all about the cake(and watching the commercial 100 times or so), I finally made it and was happy with the results. It's soft, light, just a little bit crumbly and has a distinct flavor thanks to the mix of almond extract and vanilla.   You can pair Sam Houston White Cake with a chocolate frosting, but if you are anxious to use those leftover egg yolks you might make a quick batch of lemon curd for the filling, then frost with a basic white icing. I made both flavors (our freezer is about to explode with cake, so I made the second version as a small cake) and liked the chocolate version best.
I typed up the recipe the way I made it, but you can also find it on the Imperial Sugar web site.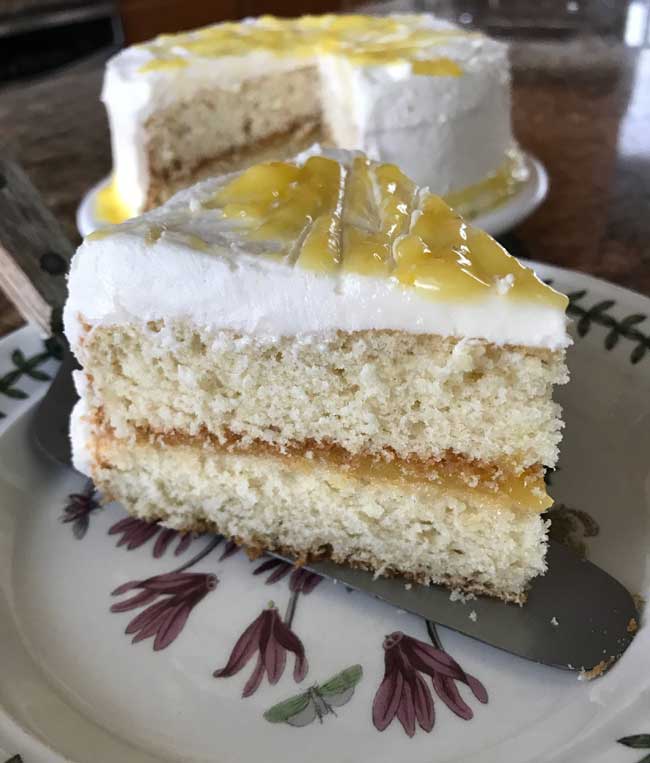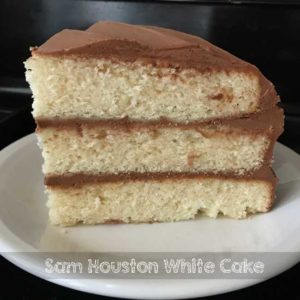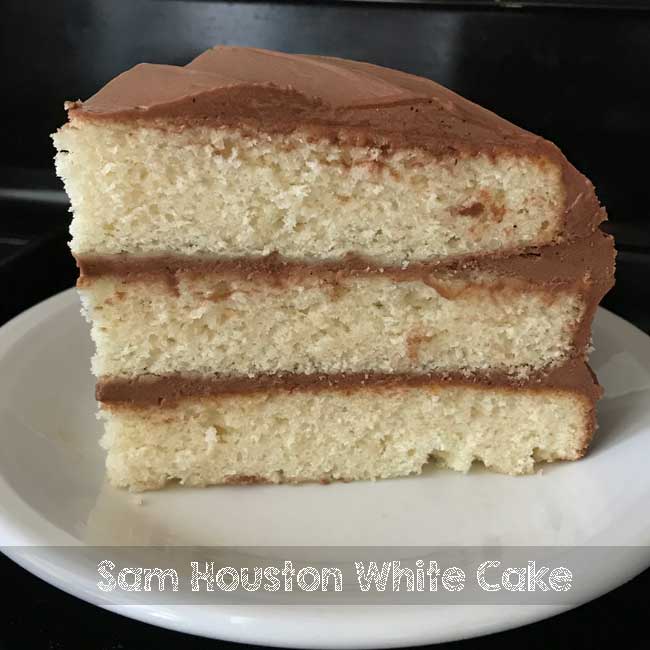 Sam Houston White Cake
Sam Houston White Cake is a three layer cake made with almond and vanilla extract. It can be filled with lemon curd and frosted with vanilla icing or frosted and filled with chocolate icing. For a small cake, make 1/3 of the recipe and divide between two 6 inch round cake pans.
Ingredients 
3/4

cup

unsalted butter

softened and room temperature (170 grams)

2

cups

granulated sugar

390 grams

3

cups

all-purpose flour

stir and aerate or weigh (370 grams)

1

tablespoon

baking powder

1/2

teaspoon

salt

1/2

cup

whole milk

room temperature

1/2

cup

water

1

teaspoon

vanilla extract

1/2

teaspoon

almond extract

6

large egg whites
Frosting
2

sticks

8 ounces unsalted or salted butter warm room temp***

1/4

cup

unsweetened cocoa powder

4

cups

sifted powdered sugar

1 pound

2

oz

semi-sweet chocolate

melted (chips not recommended)

2

oz

unsweetened chocolate

melted

1/4

cup

milk

warm room temperature

2

teaspoons

vanilla
Instructions 
Preheat oven to 350 degrees F. Grease and flour three 9x2 inch round baking pans.

In a large bowl, stir together the flour, baking powder and salt.

In a mixing bowl, using an electric mixer, beat the butter and sugar until light and creamy. Beat in the extract. Combine the milk and the water, then add the milk mixture and flour alternately in three parts, stirring by hand until flour is well blended.

With an electric mixer, beat the egg whites until stiff peaks just start to form, then fold them into the batter. It will be fairly thick. .

Divide batter among the pans and bake for 25-28 minutes or until cakes spring back when touched. Let cool in pans for 10 minutes, then carefully invert onto rack and let cool completely.

Frosting: MAKE SURE ALL INGREDIENTS ARE AT WARM ROOM TEMP. Using cold milk or cool butter sometimes causes the chocolate to lump up in little bits.

Beat together softened butter and cocoa powder. Stir in about half the sugar and both of the melted chocolates. Gradually added remaining powdered sugar, stirring or beating on low speed. Increase speed of mixer and continue beating and scraping sides of bowl, adding milk and vanilla.