After making yesterday's cookies with rye flour, I wanted to try another experiment. These are Giant Walnut Rye Flour Chocolate Chip Cookies. In this recipe only a small fraction of the flour is rye, but the rye does two important things for the cookies. It absorbs moisture in the dough causing the cookies to spread less and it adds just a touch of flavor. When I first made the cookies I used over a cup of rye flour and felt it was overwhelming in both texture and flavor. Reducing the rye flour to a little over half cup did the trick.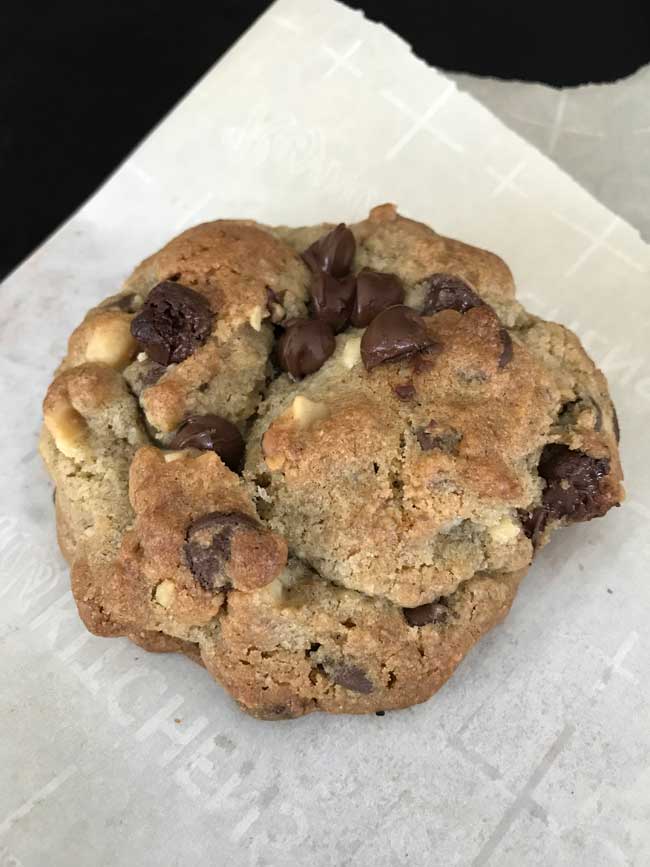 For this recipe it's best to use a stand mixer because the dough is very thick. I mix the ingredients with the paddle attachment (being careful not to overwork the dough), dump everything onto a pastry mat and shape into balls of dough. I then chill the pre-formed dough balls for a few hours or overnight, then bake them in a regular oven or convection oven.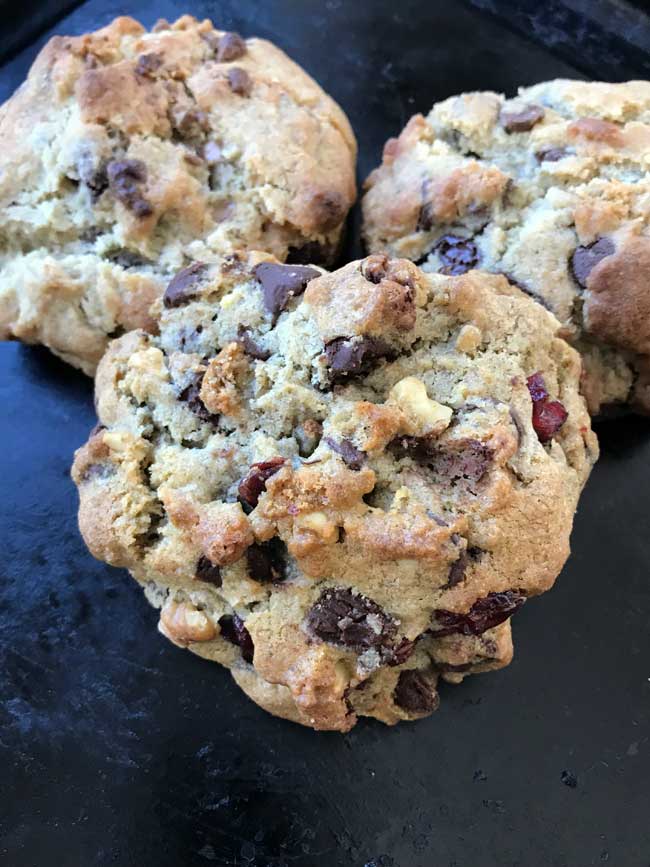 These cookies are unreasonably large, but they're fun to give as gifts. A friend calls them "All Day Cookies" because you can break off little pieces throughout the day. They don't keep very well for more than a day, so I recommend freezing any leftover cookies or turning them into biscotti. Just slice the cookies as in the photo below and dry them out for about 20 minutes in a 250 degree oven.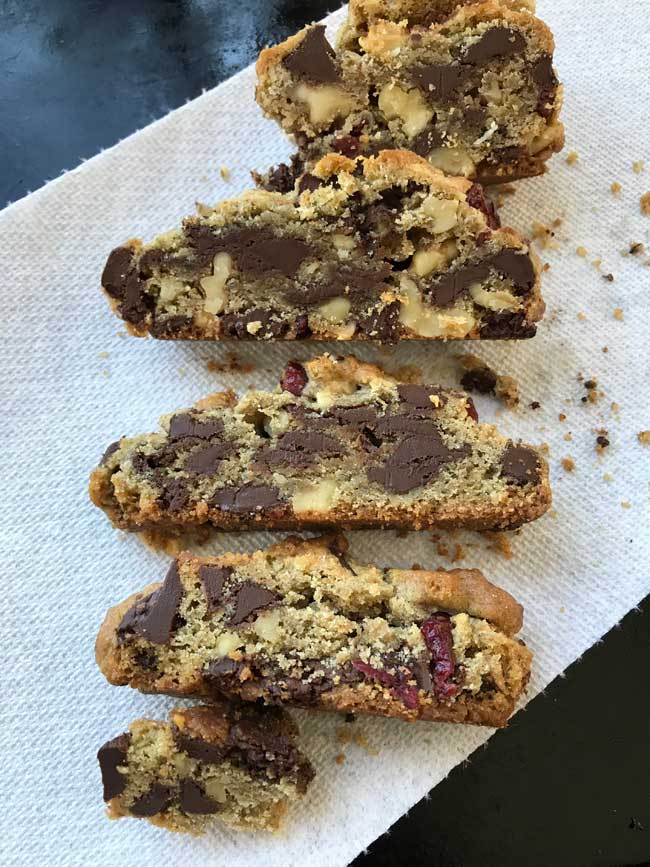 And finally, if all you really want are regular giant chocolate chip cookies just use the equivalent bread flour in place of the rye. Do keep the walnuts, though.  Like the rye, they also help keep the cookies thick.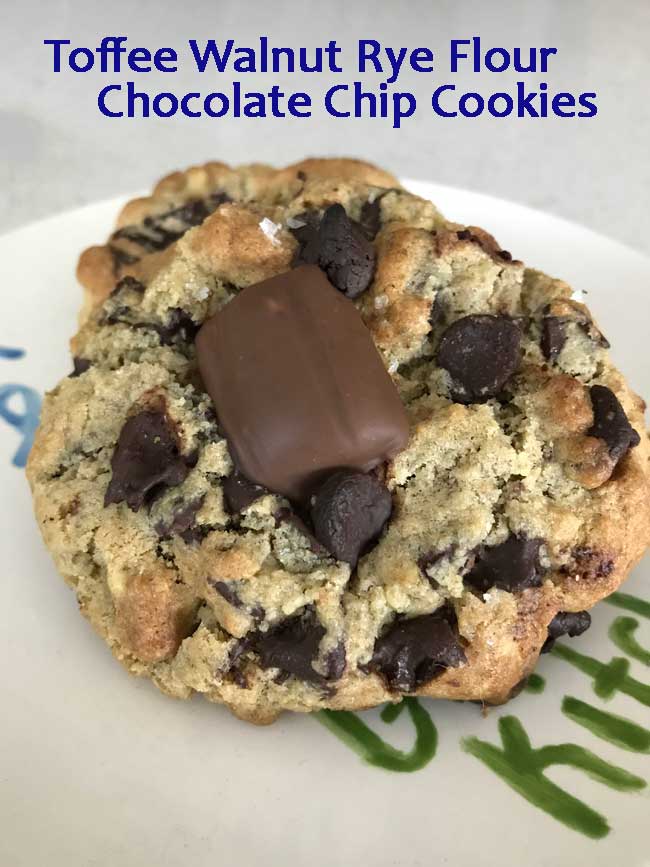 Update: Made another batch and put a Heath toffee bar on the top right after pulling from oven.
Recipe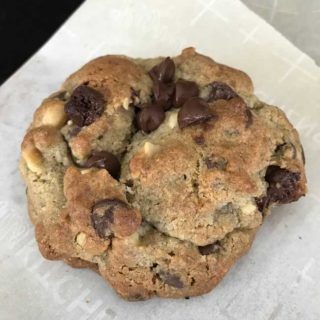 Giant Walnut Rye Flour Chocolate Chip Cookies
Giant Walnut Rye Flour Chocolate Chip Cookies! Yay! Please weigh for best results.
Ingredients 
2

cups

260 grams bread flour

½

cup

plus 1 tablespoon dark rye flour

70 grams

¾ to 1

teaspoon

salt

use ¾ if sprinkling with sea salt

1

teaspoon

baking soda

2

sticks

230 grams cold unsalted butter, cut into small chunks

½

cup

granulated sugar

100 grams

¾

cup

packed light brown sugar

150 grams

1

large egg

52 grams

1

egg yolk

16 grams

1

teaspoon

vanilla extract

2

cups

dark or bittersweet chocolate chips

1

cup

chopped walnuts

untoasted

Optional: Maldon Sea Salt
Instructions 
Weigh both flours and combine them in a large bowl. Add the salt and baking soda and stir until very thoroughly blended. Set aside.

In the bowl of a stand mixer, beat the butter and sugar until blended, then continue creaming for (at least) 4 minutes. While the mixer is creaming, beat in the vanilla. Make sure you scrape sides of bowl once or twice.

Add the egg and egg yolk and stir with a large scraper or spoon just until incorporated, then beat with the paddle attachment for another minute or until fully blended. Scrape sides of bowl and add flour mixture, stirring with a heavy duty scraper just until moistened and using the paddle attachment in small spurts to mix -- you don't want to overbeat the dough at this point.

Using paddle on low speed, stir (scraping sides of bowl) until mixture is almost fully blended but still kind of flour-y. Add the chocolate chips and nuts and stir on low.

Empty mixture onto a large pastry mat or clean surface and knead gently into one solid mass, taking in any floury bits, chips and nuts. Divide the mass into 10 equal balls. Put the individual pieces in a large zipper bag and chill for about 2 hours.

When ready to bake, line a baking sheet with parchment.

Put oven rack in upper third of the oven and preheat to 375 degrees F.

Set about 5 cookies on one sheet. If you feel like it, sprinkle a little Maldon sea salt on top.

Bake for 18 to 20 minutes or until cookies appear set and slightly cracked on top. Allow cookies to cool for at least 30 minutes before serving.

Alternatively, you can bake these in a convection oven. I like to bake them at 400 for 10 minutes, then reduce the heat to 330 and bake for another 6 to 8 minutes or so. They come out a little rounder baked with convection.

Let the cookies cool before serving. They're okay warm, but better after they've really set.
Notes
Variations: Add ½ cup finely chopped cranberries or Heath Toffee Bits. If you take out the walnuts the cookies will spread, so I recommend leaving them in for this recipe.