I'm mad at myself for not coming up with the idea to put pudding mix in banana bread, but thankfully someone did and Chrissy Teigen was smart enough to include a recipe for it in her second book, Cravings: Hungry for More. I haven't bought her second book because I'm still reading her first, but Chrissy Teigen's banana bread recipe is making its rounds on the Internet if you need the original. This version is a little different, hence the name Not Quite Chrissy Teigen's Banana Bread. I scaled it down by 1/4, used the same technique as the Almond Crunch Brown Butter Banana Bread, baked it in a large loaf pan and adjusted the time.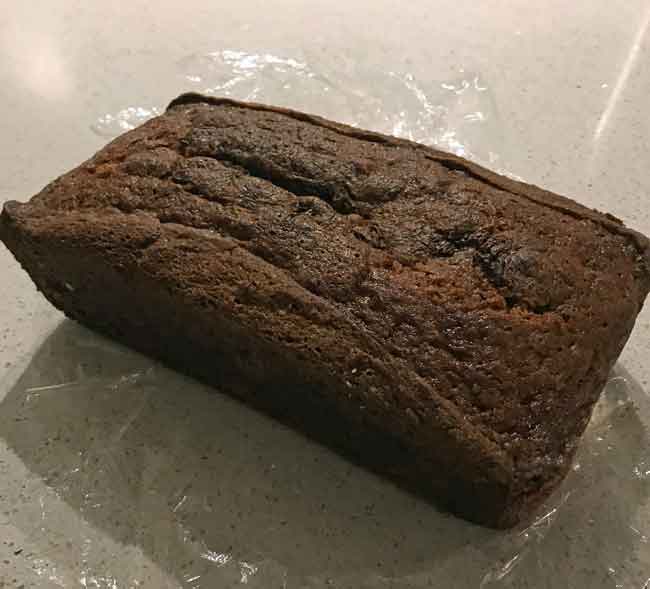 Looking at this loaf it's easy to see why Chrissy uses the Bundt pan. But looks aside it's a really good banana bread recipe that people who are into dense, chocolate filled banana breads will love. It's on the sweet side, so definitely add the unsweetened coconut (it is not overpowering at all) to help cut the sweetness a bit. If you just cut the sugar you'll most likely change the texture.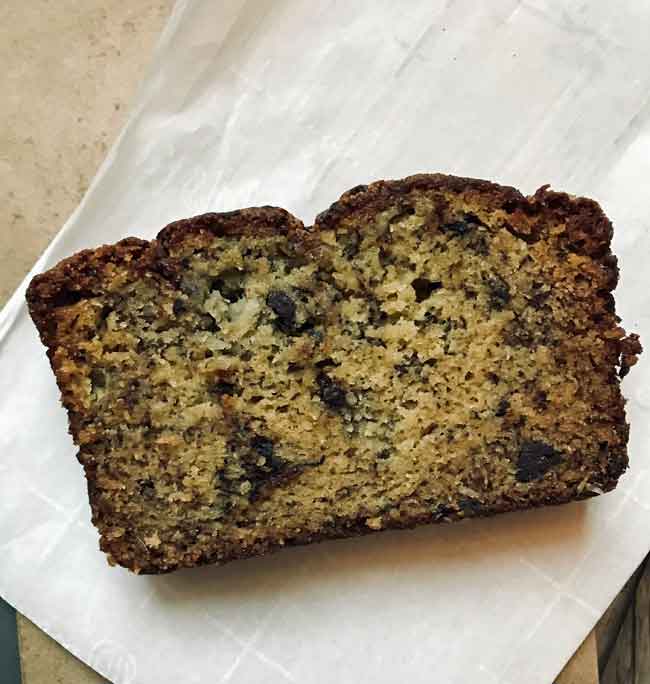 One Bundt or Two Loaves
If you want to make it as loaves but don't want to scale it down, you can make Chrissy Teigen's original recipe as two 8×4 inch loaves. In the book she notes that making it as small loaves works, but they aren't as moist as one big Bundt.  Based on how moist this one is, I don't think that will be a problem.
Recipe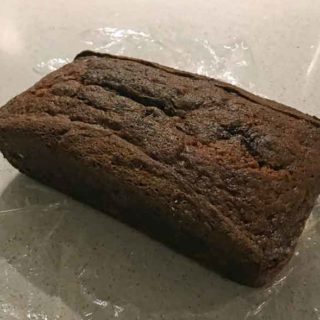 Not Quite Chrissy Teigen's Banana Bread
Chrissy Teigen's Banana Bread scaled down a little and baked in a loaf pan.
Ingredients 
1 1/2

cups

mashed ripe bananas

12 oz

3

large eggs

1 1/2

cups

flour

200 grams

1 1/2

cups

sugar

140 grams

6

tablespoons

vanilla instant pudding

70 grams

3/4

teaspoon

baking soda

3/4

teaspoon

salt

1/2

cup

canola oil

3/4

cup

unsweetened shredded coconut

2

oz

bar of dark chocolate

chopped
Instructions 
Preheat oven to 325 degrees F. Grease and flour a 9 ½ x 5 ½ inch loaf pan. If you are worried about the bread sticking, grease the pan and line with a strip of parchment. Flour sides.

Combine the mashed bananas and the eggs in a large bowl and set aside.

In a second large mixing bowl, mix together the flour, sugar, instant pudding mix, baking soda,and salt. Make sure to mix it very, very well.

Add the mashed banana mixture to the dry mixture and stir until thoroughly blended.

Pour the oil over the batter and mix with a heavy duty scraper until blended.

Stir in the coconut and chocolate

Empty batter into the loaf pan and bake at 325 for about an hour and 15 minutes (check at an hour).

Let cool for an hour or so.