This recipe was inspired by the new "improved recipe" Butterfinger bar that had been sitting on my counter since January.  I picked it up at the grocery store thinking it would be fun to try, but never got around to it.  As it happened, today I found an old recipe in my archives for Butterfinger Cookies and decided to put the improved recipe Butterfinger into new improved Butterfinger Cookies.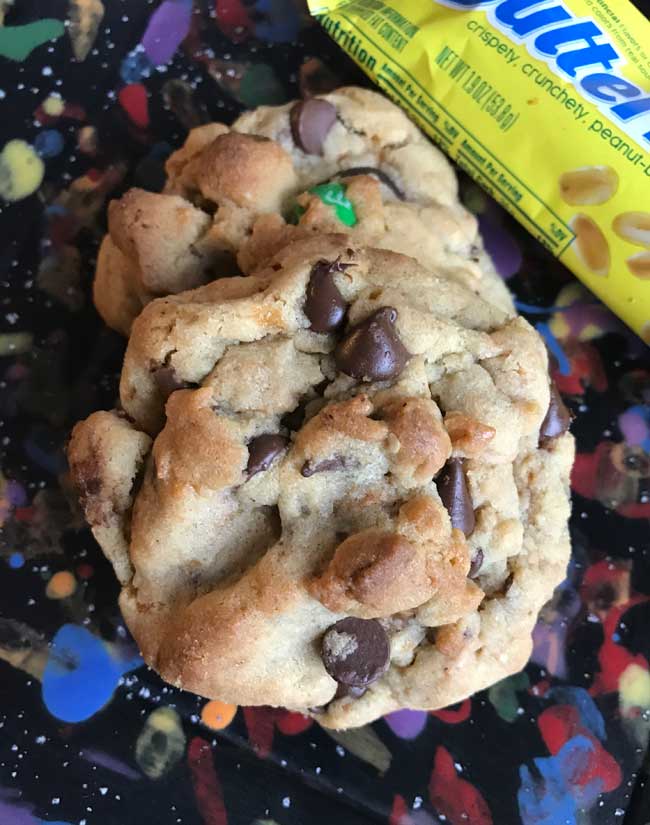 This is a small batch recipe that calls for 1 (2 oz) Butterfinger.  The cookies are thick with a very light peanut butter flavor and a hint of butter flavoring.  For the chips I used a hodgepodge of semisweet chocolate chips, peanut butter chips and M&Ms.  I like these because they are thick and full of candy.  The Butterfinger adds flakiness, but not much flavor.  Speaking of which, I didn't feel like the new Butterfinger flavor was as strong as the old flavor.  I only took a few small tastes, but I guess I'd have to try the new and old side-by-side to really note an improvement. Everyone else seems to love the new recipe so I guess it's better.  Only Bart Simpson can say for sure.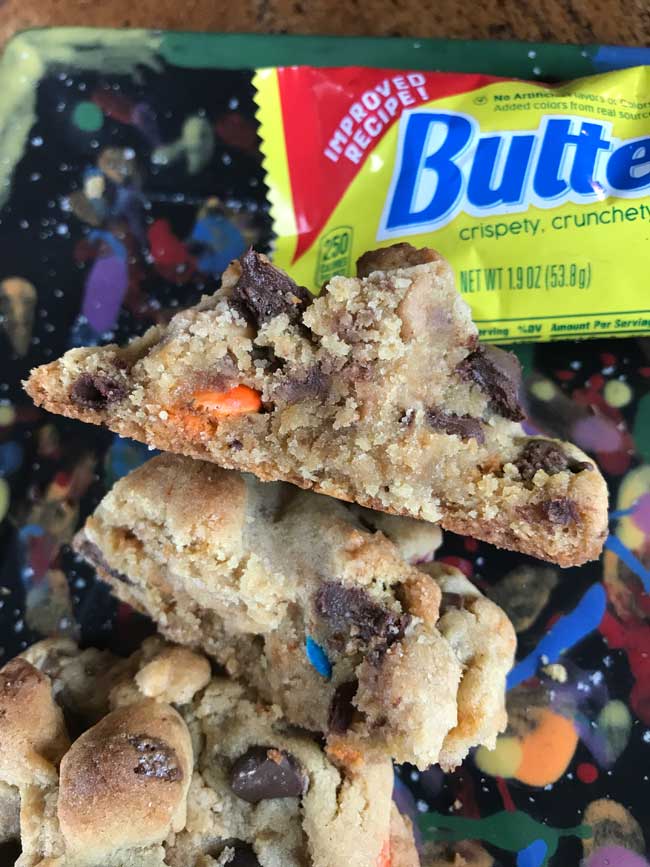 One last note.  These are stirred together in a bowl and don't require an electric mixer.  For the butter, you want it to be very soft but not melted -- that is, just soft enough to where you can mash it with a scraper or spoon.  In my opinion, the best way to soften butter is to use one of the low settings on the microwave (like 2 or 3 depending on your microwave) and heat in 30 second increments. If you don't have a microwave you can let it sit out, but a microwave is great for softening butter if you use the low settings.
Recipe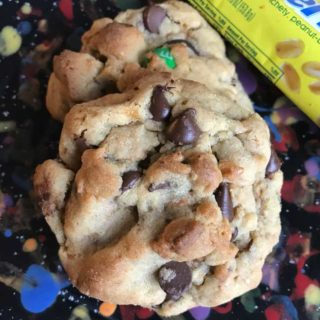 New Improved Butterfinger Cookies
New Improved Butterfinger Cookies made with a Butterfinger candy bar.
Ingredients 
4

tablespoons

unsalted butter

very soft but not melted (57 grams)

1

tablespoon

peanut butter

18 grams

¼

cup

light brown sugar

50 grams

2

tablespoons

granulated sugar

25 grams

1

egg yolk

17 grams

½

teaspoon

vanilla

¼

teaspoon

butter extract

you can leave it out if you have to

½

teaspoon

water

¼

teaspoon

baking soda

¼

teaspoon

salt

¾

cup

all purpose flour

100 grams

½

heaping cup assorted chocolate chips

can also use peanut butter chips & M&Ms

1

2 oz Butterfinger bar, chopped
Instructions 
Preheat oven to 375 degrees F.

With a large spoon or a heavy duty silicone scraper, beat softened butter, peanut butter, sugars, egg yolk, vanilla, butter flavoring and water. Add salt and baking soda and stir until blended, then stir in the 100 grams of flour.

Add chips and Butterfinger Chunks.

Form into 6 equal size balls (they should be around 2 ½ oz each) and arrange on a cookie sheet.

Bake for about 10-12 minutes or until they are nicely browned and appear set. Allow them to cool on the tray for a few minutes, then transfer to a wire rack to finish cooling.