Today's recipe for Carrot Cake Cookies is from an "At the Market" feature in the May Bon Appetit. Along with some info about carrots (they're a super food, packed with vitamin A, etc. etc.) they discuss where carrots came from, how to pick good ones, and ways to use them. There was a soup that sounded good, a recipe for pickled carrots, and this cookie. Surprise! I made the cookies first.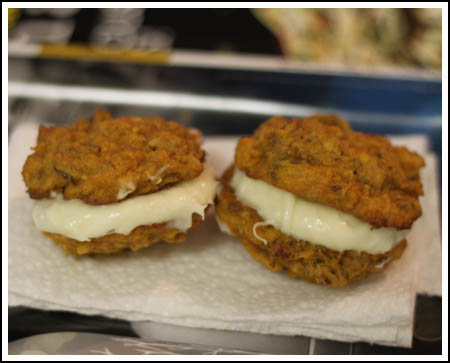 These cookies were good. They were puffy and cakey, though I suspect mine were a little puffier than most because I didn't pack my brown sugar very firmly and less sugar sometimes means less spread. Aside from halving it, I followed the recipe as written then sandwiched the cream between the cookies so they'd be easier for Todd to take to work. They're certainly easier to transport than a carrot cake. Are they as good? Hmmmm, no. But they're tasty and a good way to get a carrot cake fix when you don't need a whole cake.
For comparison's sake, I'd like to make a batch of these carrot cake cookies which were supposed to be a clone of the ones they sell at Disney World. It's been a while since I've made them, but they were very good and different from the BA recipe in that they were cakier, puffier, and less carrot-y.