I don't have a lot of peanut butter fudge recipes, but I came across what seemed to be the easiest peanut butter fudge ever and wanted to try the recipe. Originally from Taste of Home, it's made by melting a pound of white candy coating, stirring in a cup of peanut butter, then spreading it in a pan and chilling to set.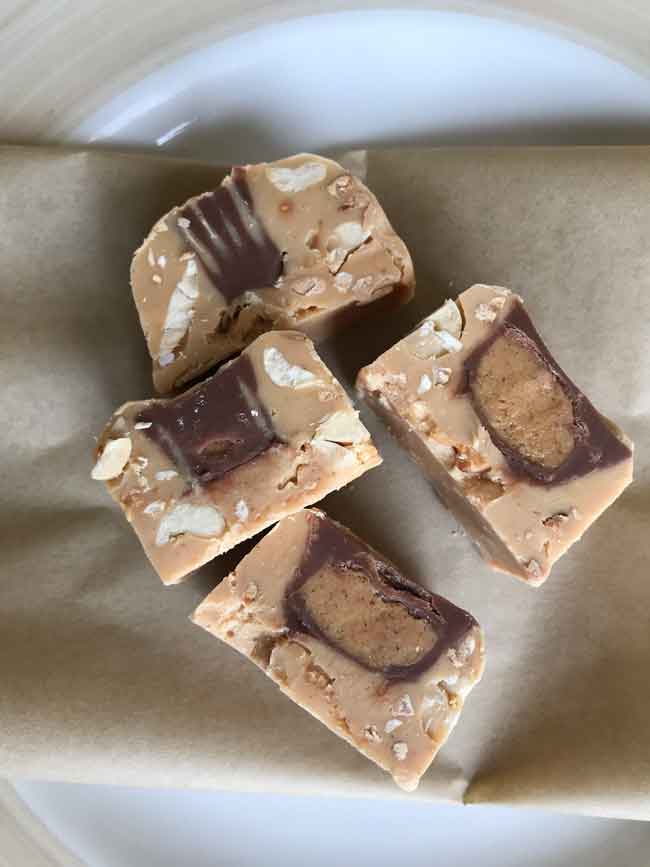 Since more than reviewer on Taste of Home said the fudge was too sweet, I knew I'd need to curb the sweetness a bit with some salted peanuts and miniature Reese's.  The two add-ins did the trick, and the candy was much better than expected.  It's not quite the same texture as fudge and really more just like peanut butter candy, but still very good.  For a more fudge-like texture, I suppose I'll have to try the one on Allrecipes.com that claims to be The World's Best. For now, this one is definitely good and has to be the easiest.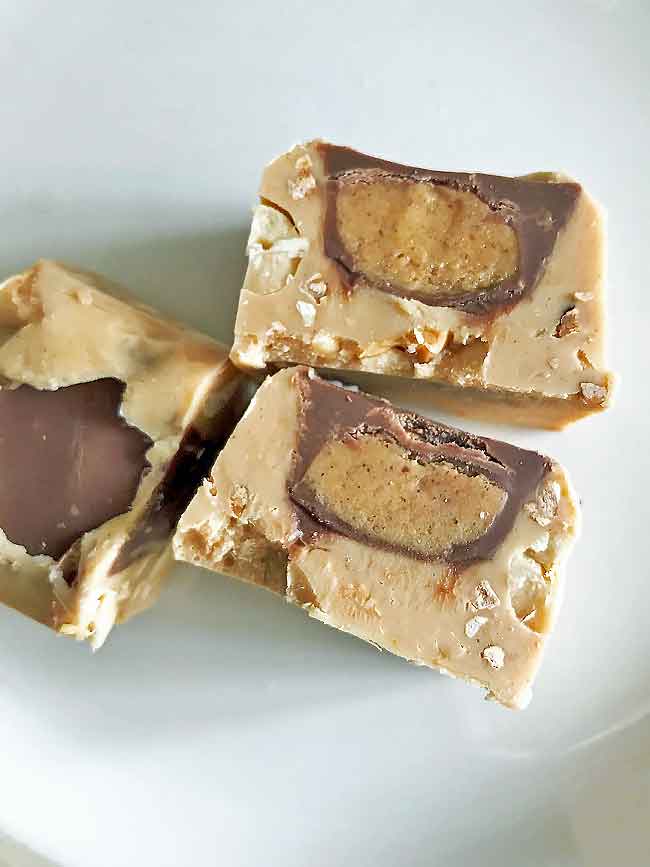 One thing that will surely affect the results and which I plan to experiment with a little is the brand of white coating.  I haven't used them in years, but I think Wilton Candy Melts might be a little too sweet, as would actual white chocolate.  A lot of people have recommended Merken's for flavor and texture but that might be too sweet as well.  So far I've had the best results with Signature Select (which comes in a brick — usually at Albertson's or Jewel). And then there's Log House and Wal Mart and Target brand which also come in bricks and are sometimes called almond bark, since people melt the coating the make almond bark.
Here's the recipe.  Next time I'm throwing in pretzels!
Recipe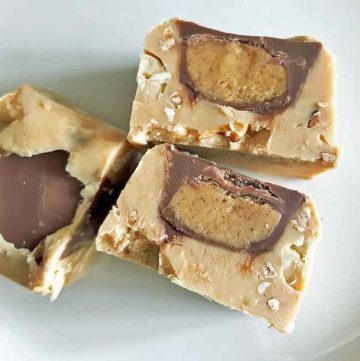 Easiest Peanut Butter Fudge
I haven't tried all of them, but this has to be the easiest peanut butter fudge recipe ever.
Ingredients 
1

pound

white candy coating or almond bark

1

cup

peanut butter

250 grams

1/2

cup

cocktail peanuts

salted

18

Miniature Reese's
Instructions 
Line an 8 inch or 9 inch square pan with parchment paper or nonstick foil.

Chop the white coating and put it in a large saucepan. Melt over medium low heat, stirring constantly.

Remove from heat and stir in the peanut butter and peanuts.

Spread a thin layer of peanut butter mixture over bottom of lined pan, then set about 18 miniature Reese's in the pan. Pour remaining peanut butter fudge mixture over and smooth top.

Chill for an hour or until firm. Lift from pan and cut into squares.