Last week a friend told me that the best thing about a certain hotel was the toast served in the dining room. It was a perfectly good hotel, but her memory was of the toast, and I could relate, because that's how I feel about hotel granola.   I always remember what type of granola is served at breakfast, be it from a box (not good), granola that seems like it was poured out of a box (usually served with yogurt), or a big bowl of granola with a note that it's the hotel's house blend.  That granola is always the best.
I'm telling you this because I recently acquired the Viceroy Hotel Anguilla granola recipe. If you travel frequently, you've probably heard of the Viceroy, or maybe you've heard of it via Top Chef. Chris Crary, the chef nicknamed "Malibu" by the other chefs, is executive chef of Viceroy Santa Monica's Whist restaurant. This recipe, however, does not come from Whisk, but rather the kitchen at the Viceroy Anguilla.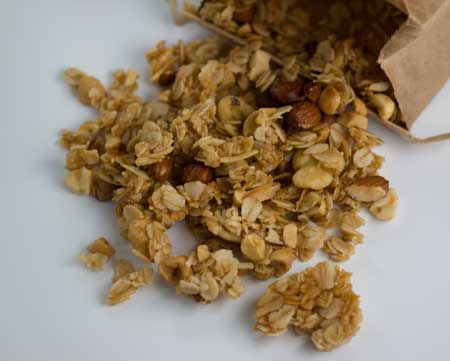 Viceroy Hotel Granola Recipe
The granola recipe pasted at the bottom is from The Viceroy, but because it would take us a year to eat all that, I whittled it down to about ⅛ of the recipe. Other than scaling down the measurements, I really didn't change much because I wanted to see how unsweetened coconut and peanuts (not something I'd normally add to granola) would taste. The result reminded me of the flavor of Cracker Jacks or oddly enough, a Snickers Bar, though Snickers has no coconut. If you like granola, give it a try. This one really is different.
Recipe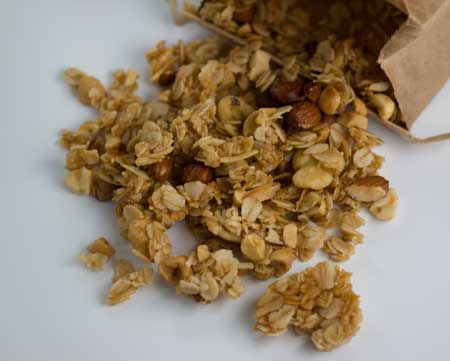 Viceroy Hotel Granola
Scaled down version of granola similar to granola at The Viceroy hotels
Ingredients 
2

cups

minus about 2 tablespoons oats

½

cup

chopped

lightly salted peanuts

½

cup

walnuts and almonds

roughly chopped

½

cup

shredded unsweetened coconut

2

tablespoons

tightly packed brown sugar

Pinch

of salt

¼

cup

maple syrup

¼

cup

coconut oil

I used the cheap kind this time, not extra virgin

½

teaspoon

vanilla extract
Instructions 
Combine oats, peanuts, nuts, coconut, brown sugar, and salt. Mix the maple syrup and coconut oil in a microwave-safe cup and microwave for about 30 seconds or until coconut oil is melted. Add the vanilla and pour over the dry ingredients. Spread it all on a large, nonstick foil lined baking sheet and bake at 250F for about an hour. For a lighter colored granola, cover loosely with foil for the first 45 minutes, then remove foil and bake uncovered for the last 15 to 20.

Granola will crisp as it cools. Let cool, leave in large chunks in airtight container. Mix with dry fruit before serving (I didn't)
Viceroy Hotel Granola (Chef Version)
1 container (15 cups) oats
16 ounces peanuts, chopped
8 ounces Pecans / Walnuts / or Cashews
8 ounces Brown Sugar
4 cups shredded unsweetened coconut
2 cups agave nectar or maple syrup
2 cups vegetable oil
2 teaspoons ground cinnamon
pinch of salt
Dried Fruits: Cranberries, Raisins, or Currants: 4 cups
Method:
Combine oats, nuts, coconut, brown sugar, cinnamon and salt. Whisk together the agave and vegetable oil. Mix dry and wet ingredients together. Spread evenly on sheet trays. Bake at 250' F for 45 minutes to an hour. Granola should be very firm to the touch and not damp. Let cool, leave in large chunks in airtight container. Mix with dry fruit before serving.