Today's recipe is Whole Wheat Maple Chocolate Chunk Scones. It was supposed to be Dorie Greenspan's version of Joanne Chang's Maple Scones, but I made changes..  Now it's my version of Dorie's version of Joanne's, so when you make them they'll be your version of Anna's version of Dorie's version of Joanne's version.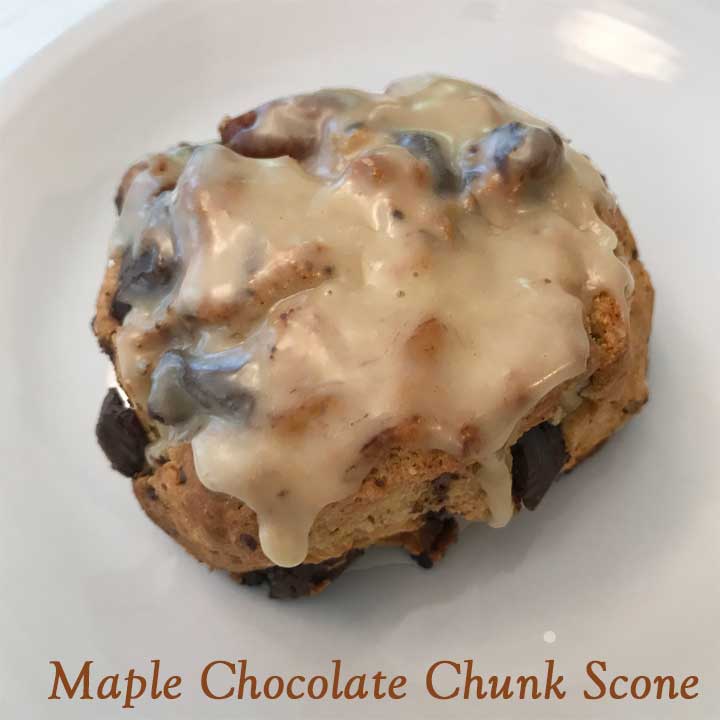 Here's a link to the original version in the NYT, but if you don't have a subscription to the New York Times recipe section you probably won't be able to see it. My recommendation is to just buy a subscription. I didn't want to pay for on-line recipes, but I justified it by telling myself I was paying for the comment section which is as interesting as the recipes.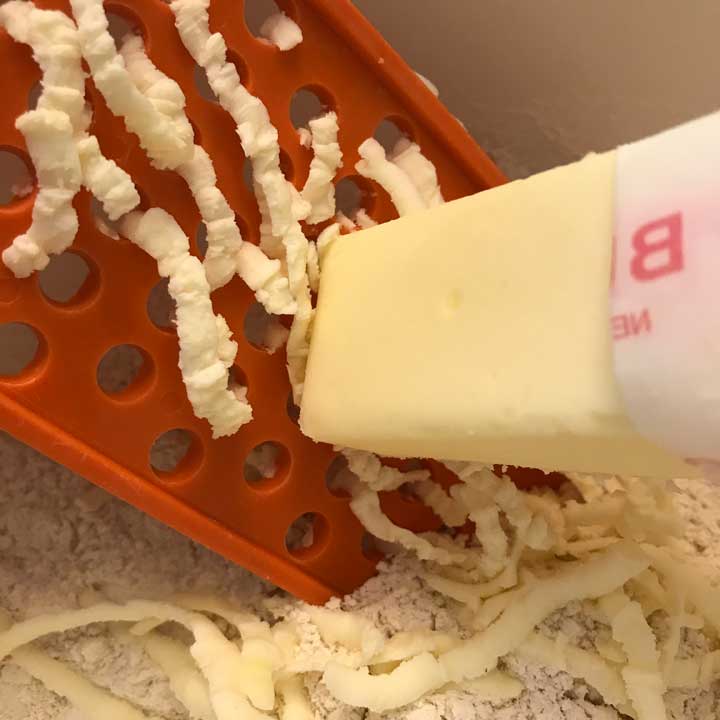 So here's my version of Whole Wheat Maple Chocolate Chunk Scones. It calls for white whole wheat flour which we keep in the freezer. The cold flour keeps the butter from melting too quickly.  Speaking of which, grating the butter into the flour mixture is the way to go for scones, biscuits and pie crusts.  Frozen butter is ideal, but if you forget to freeze it (like I do 90% of the time) cold butter works too -- especially if the flour is cold.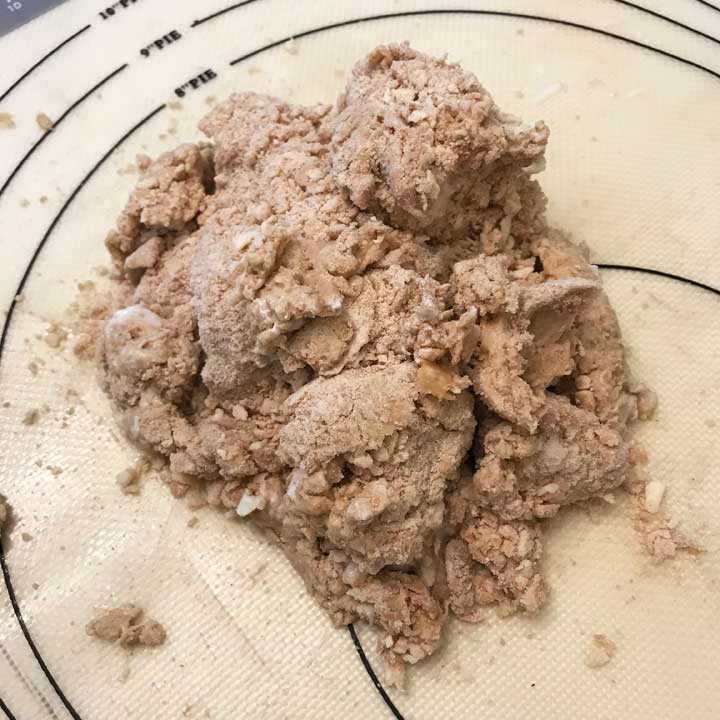 If you don't have white whole wheat flour, you can use a mix of whole wheat flour and all-purpose. You could even use just all-purpose, but with AP you may need less milk because the AP draws in less moisture than the whole wheat. The dough should be fairly dry when you turn it from the pan. Mine usually looks something like this before I pat it down and turn it a few times to blend in the dry parts. Don't be afraid to work the dough a little, but don't go crazy either.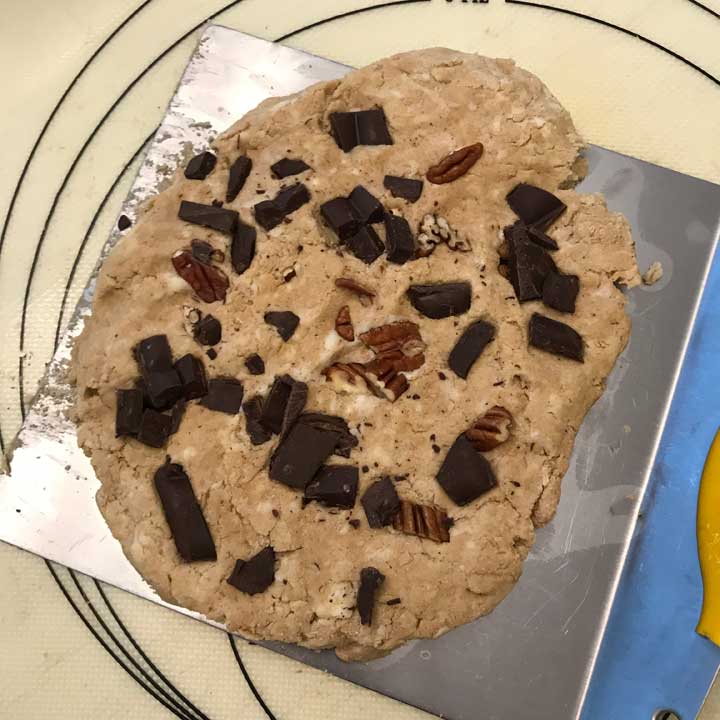 My scones are better these days because I'm less paranoid about overworking the dough and have a better feel for how it should be. It took a long time to trust my own judgement and not rely on exactly what the recipe says. I'd do things like add the liquid all at once and then wonder why my dough was too moist and why the scones spread. Seems like it's always best to just add the liquid gradually until the dough just holds together.  Working on a mat really helps too.
Whole Wheat Maple Chocolate Chunk Scone are made with a chopped up dark chocolate bar, but you can always change them to Whole Wheat Blueberry Scones and use blueberries. Frozen blueberries are the easiest to work with. I buy them fresh and then freeze them just for scone making. The "half an egg yolk" may be annoying, but all you do is crack an egg in a cup and measure out a teaspoon (or eyeball half) of the yolk. A little egg yolk goes a long way in scones and softens texture without making them cakey.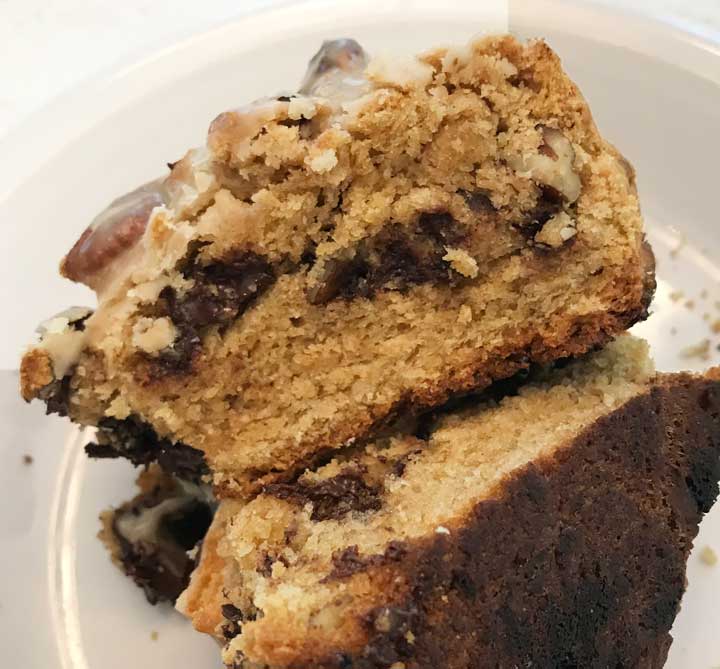 The texture is soft and dense and sort of flaky, though not as flaky as the Maple Walnut Scones I usually make.  The two recipes are very different, with these being round and moist and the others being triangular, flakier and with some oat flavor. Maybe try them both?
By the way, if you are just getting into biscuit and scone making, there are a few things that make the process a whole lot more fun. The same tools are ideal for pie crust making as well.
Pastry Mat -- Mine's beat up and I need a new one. Maybe the King Arthur mat?
Silicone Pastry Brush
Grater to grate butter
Bench Scraper aka Cake Lifter -- Love this one from Wilton (#ad)
Heavy Duty Silicone Scraper -- My favorite is the one from Pampered Chef
Set of round cutters – Totally not NECESSARY for scones, but fun. Lots on Amazon.
Recipe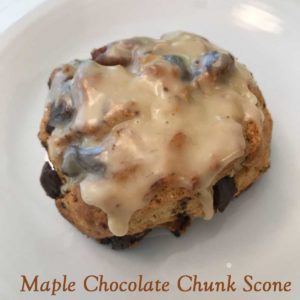 Whole Wheat Maple Chocolate Chunk Scones
Scones made with white whole wheat flour and chocolate chunks
Ingredients 
1 ⅓

cups

white whole wheat flour

190 grams

¾

teaspoon

baking powder

¼

teaspoon

baking soda

¼

teaspoon

salt plus a pinch

omit pinch if using salted butter

6

tablespoons

very cold unsalted butter

frozen if you have time

¼

cup

sour cream

¼

cup

pure maple syrup

half an egg yolk

Just crack egg in a cup and scoop a little out

3

tablespoons

buttermilk or milk with a squeeze of lemon juice

Handful of frozen blueberries OR chopped dark chocolate
Maple Glaze
2

tablespoons

maple syrup

¼

teaspoon

vanilla

⅓

cup

confectioners' sugar
Instructions 
In a mixing bowl, combine the flour, baking powder, baking soda and salt and mix thoroughly.

With a flat grater, shred the butter into the flour mixture, stopping occasionally to toss. You should have a coarse mixture with some larger chunks of butter scattered throughout.

Mix together the sour cream, maple syrup and half egg yolk (1 teaspoon of egg yolk). Add to the dry mixture and stir until blended. Add milk one tablespoon at a time just until mixture is moistened. You may not need all the milk. You don't want it to be too wet.

Empty mixture onto the work surface (pastry mat, hopefully). Use your hands to flatten it and gently knead in floury bits of dough Press into a slab and fold over on itself once or twice, adding more flour if needed to keep it from sticking. Sprinkle chocolate over the slab and fold over on itself again. Shape your slab into a log that's about 10 inches long and 1 ½ to 2 inches thick. Cut the log into 5 chunks

Put the chunks in the freeze while you preheat the oven.

Preheat the oven to 400 degrees F.

When oven is preheated, remove your scone chunks from the freeze and gently nudge them into rounds. Arrange them on a parchment lined baking sheet. If you are not planning on using the glaze, you may want to brush with some cream and sprinkle with sugar.

Bake at 400 for 10 minutes, then reduce heat to 350 and bake for another 18 to 20 minutes. They will brown considerably, but should not burn.

Let the scones cool for about 5 minutes while you make the glaze.

To make the glaze, put the 2 tablespoons of maple syrup and ¼ teaspoon of vanilla in a 2 cup glass measure or in a bowl. Add the confectioners' sugar 1 tablespoon at a time until glaze reaches desired consistency.

Spread a little maple glaze over the warm scones. If you want, you can sprinkle the tops with a little salt.