These Maple Oat Scones are a cross between two recipes – one by Ina Garten and the other by King Arthur.  They're the best of both worlds!  The recipe only makes six scones, so it's a relatively small batch.
The maple flavor is pretty subtle, so you may want to add maple flavoring.  I've left it out because it can be strong, but if you like artificial maple flavoring then you will want some here.  If you prefer lighter maple flavor you won't need it at all.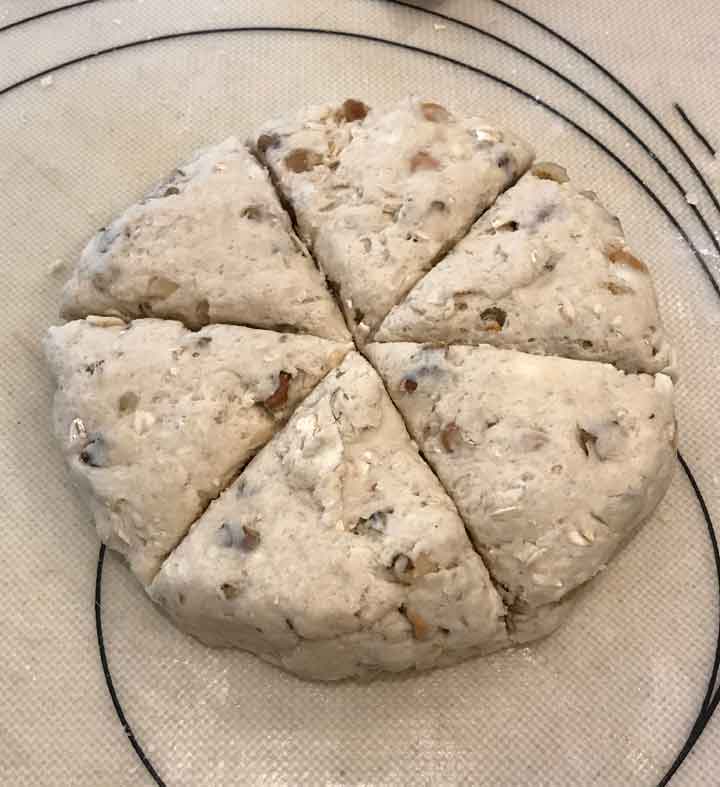 I wish there was such a thing as maple flavored chips or maple morsels because Maple Oat Scones aren't very sweet and maple flavored chips would really enhance the flavor and sweetness.  So unless you are lucky enough to have maple flavored chips, I recommend adding a small amount of butterscotch or white chips.  And definitely don't skip the glaze because it also adds to the sweetness. Luckily, it is very simple – just confectioners' sugar mixed with maple syrup and a little vanilla. 
As mentioned, this is a small batch recipe that makes six scones. I usually bake 3 right away and freeze the other three to be baked the next day.  I also like to bake the scones at 425 for the first 10 minutes and reduce the heat to 375 for the second half of baking. Starting scones at a high heat helps them puff up in the oven, and reducing the heat keeps them from over-browning.
We love these Maple Oat Scones, but if you don't have enough maple syrup to make the glaze or are just looking for something sweeter, I recommend the Maple Scones from Modern Maple which I posted years ago.
Recipe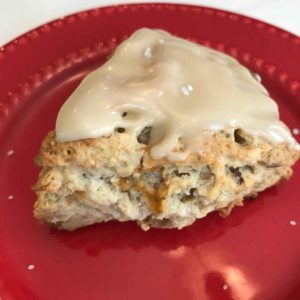 Maple Oat Scones
Tall, flaky and not-too-sweet. Don't skip the glaze.
Ingredients 
1 ½

cups

all-purpose flour

190 grams

2-3

tablespoons

whole wheat flour

25 grams

2

teaspoons

baking powder

½

teaspoon

salt

⅓

cup

oats

⅓

cup

cold unsalted butter

70 grams, cut into small pieces

⅓

cup

chopped walnuts

toasted if you have time

½

cup

whole milk

cold

3

tablespoons

pure maple syrup

¼

teaspoon

vanilla and or ⅛ to ¼ maple flavoring if you like it

¼

cup

butterscotch or mini chocolate or white chips

optional
Maple Glaze
½

cup

confectioners' sugar

2

tablespoons

maple syrup

¼

teaspoon

vanilla extract

Sea Salt or Kosher Salt

optional
Instructions 
Preheat the oven to 425 degrees F.

In a mixing bowl, combine the flour, baking powder, salt and oats and mix thoroughly.

Add the cold butter and work with a pastry cutter or your fingers to make a coarse mixture with pea size pieces. Stir in the walnuts.

Mix together the milk, maple syrup and vanilla. Add to the flour mixture all at once and stir until blended. Dough should not be too sticky. If it is too dry, add a little more milk. If it is sticky, add a tiny bit more flour.

Dump the dough onto a floured surface and knead gently into a rectangle large enough that you can fold into thirds. Fold into thirds, smash down lightly and repeat. Gently shape into a 6 inch circle.

Cut the circle into 6 pieces.

Place the pieces on a parchment lined baking sheet spacing about 2 inches apart.

Bake at 425 for 10 minutes, then reduce heat to 375 and bake for another 10 to 12 minutes.

Let the scones cool for about 5 minutes while you make the glaze.

Combine the confectioners' sugar, maple syrup, and vanilla. The mixture should be thick and smooth.

Spread a little less than a tablespoon (or however much you like) over the warm scones. The glaze should kind of melt onto the scone. If you want, you can spinkle the tops with a little salt.
Notes
Notes: I think the small bit of whole wheat flour adds some depth of flavor, but you can leave it out and just substitute more all-purpose flour.