I don't have one favorite biscotti recipe, but Melted Caramel Chips Dipped Biscotti is now up there with the best!  As you may have guessed by the name, it's biscotti that is dipped in melted Hershey's Salted Caramel Chips. If you don't have those you can always use melted chocolate, but the double almond flavor pairs really with the salted caramel flavor.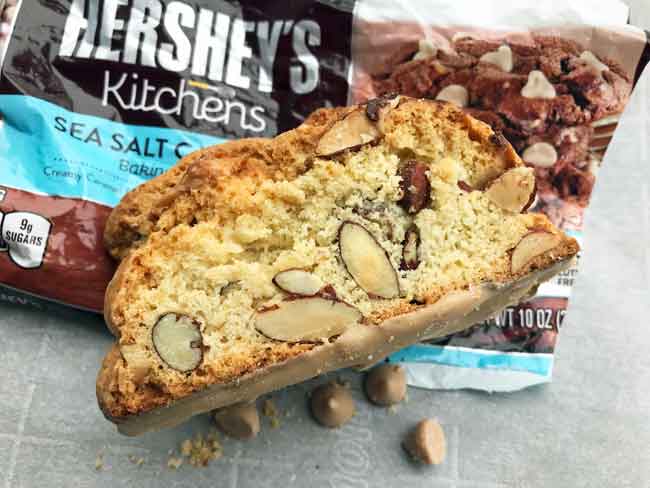 This biscotti doesn't spread much as it bakes, so you get logs that are slightly high and not very wide. Minus the melted caramel chips, they remind me of the biscotti we ate in Florence which had a similar shape, texture and sweetness level. Unlike the harder biscotti that doesn't have any oil and is good for dunking in Vin Santo, this one is made with butter.  It's a little easier to bite into.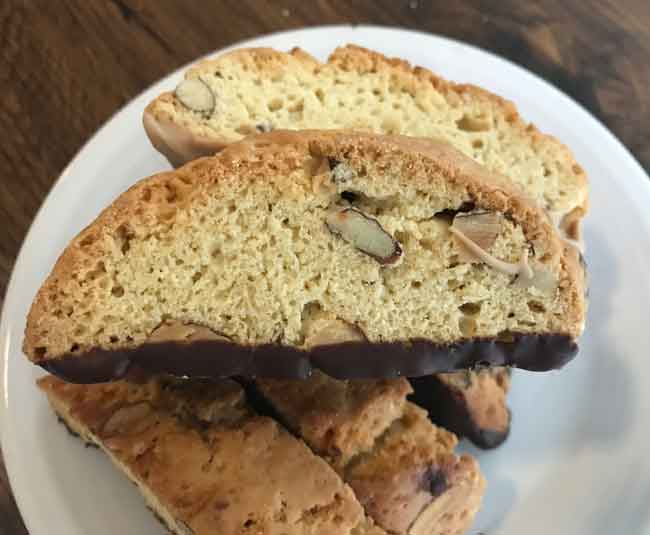 As mentioned, these are not long and slim but rather kind of stubby compared to other biscotti. With the almond extract, the almond flavor is pretty strong, which in my opinion is a good thing.  If you don't like almond extract you can swap it out for more vanilla.
For us, this recipe size is perfect, but if you need more biscotti you can just use the original version -- Nonna's Biscotti.  You might notice the original calls for Brandy, but if you read the reviews you'll notice people have used all kinds of substitutes.  I've had great success using Amarula Cream, so apparently anything goes.
Update: I made a version using macadamia nuts and drizzled it the cookies with white chocolate.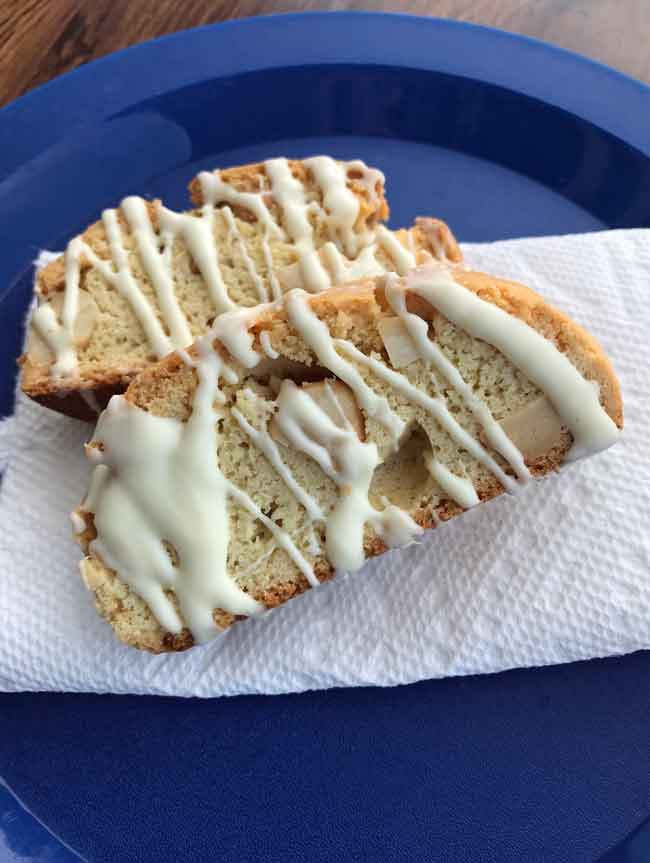 I think for the next batch I'll use Bailey's Irish Cream and dip them in melted Bailey's Irish Cream Baking Chips.  They're on Amazon, but I've also spotted them at Fiesta Mart, which seems to be the only store in my area that carries them for some reason.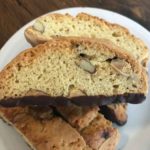 Print Recipe
Melted Caramel Chips Biscotti
Biscotti made with whole almonds and almond extract. For the liqueur, use whatever type you have. I've been making these with Amarula Cream from South Africa so I suppose anything goes.
Ingredients
2

cups

minus 2 tablespoons all-purpose flour

240 grams

1

teaspoon

baking powder

¼

teaspoon

salt

plus a pinch

⅔

cup

sugar

135 grams

6

tablespoons

unsalted butter

melted (84 grams)

2

large

eggs

2

tablespoons

brandy or other type of alcohol

1 ½

teaspoons

almond extract

¾

teaspoon

vanilla extract

⅓

cup

whole almonds

toasted and chopped

1

cup

Hershey's caramel chips
Instructions
Stir together flour, baking powder, and salt. Set aside.

In a mixing bowl, stir together sugar, melted butter, eggs, alcohol and extracts.

Add flour mixture to egg mixture and stir, then stir in almonds to make a soft dough.

Cover bowl and chill for 30 minutes.

Preheat oven to 350°F with rack in middle.

Dampen hands and shape into two logs each about 8 inches long and 2 inches wide. The logs will not spread much.

Bake for 30 minutes. Transfer loaves to a rack and let cool for 30 minutes ( I usually just do this for 15).

Cut loaves into ¾-inch slices with a serrated knife ( the thinner the blade, the better).

Reduce heat to 300 degrees F.

Stand the biscotti on a clean baking sheet and bake for about 30 minutes. Transfer to rack to cool completely.

Melt the caramel chips in the microwave using 50% power and stirring every 30 to 45 seconds. Spread melted caramel over bottom of biscotti, then stand them on a cutting board or small tray lined with parchment. Chill until the caramel chips set, then lift from parchment. Alternatively, you can just drizzle the melted chips over the biscotti.