Italian Rock Cookies are my 2020 recreation of Pane del Pescatore, a type of cookie I discovered while visiting Florence. Pane del Pescatore, which translates to Fishermen's Cookies, are giant cookies meant for sharing or eating throughout the day at home or on the go. The ones I tried in Italy were not too sweet, included nuts or raisins, and were sometimes topped with chocolate. Pictures of the original are here. The one below is my Italian Rock Cookie twist.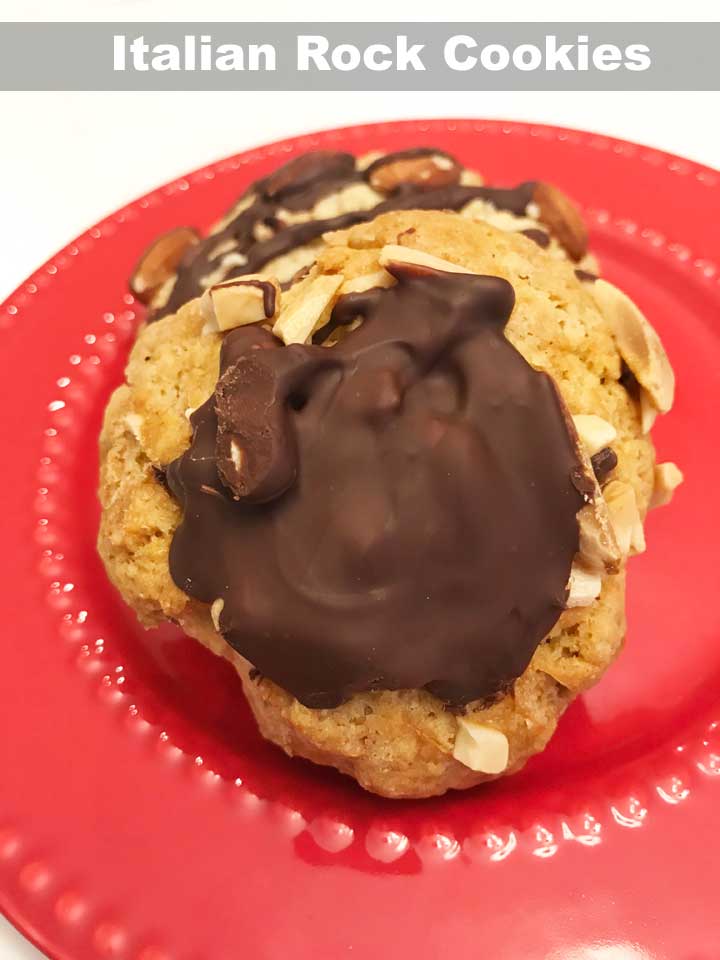 I could have called these Pane del Pescatore again, but I already have a recipe for those and needed to distinguish the two. These are a little different. Like Pane del Pescatore, the cookies are big, thick, and have a crunchy shell with a soft and crumbly inside. This version calls for baking soda rather than baking powder and uses egg yolk instead of whole egg, so the cookies have darker insides. The catch is the dough is dryer and requires more effort to shape. Too much liquid makes the cookies cakier.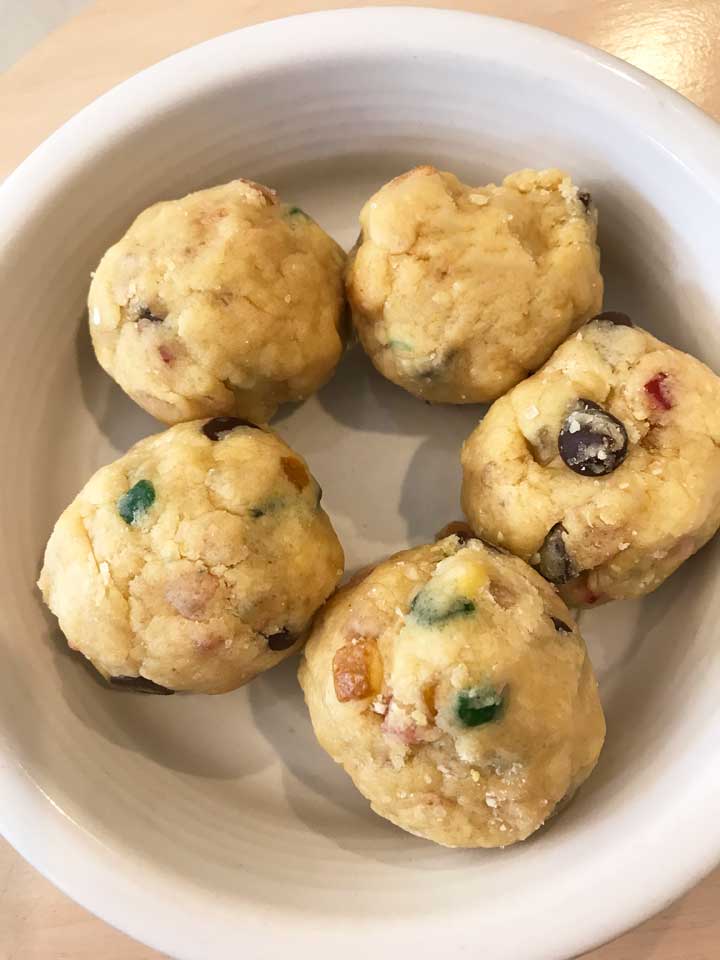 Since Italian Rock Cookies are made with such a dry dough, you'll need to weigh the flour or measure it carefully.
Candied Fruit
I made these in November so the candied fruit was easy to find at the grocery store. If you are stumbling upon this post outside of fruitcake season, you can order the candied fruit or just use golden raisins. I made one batch of Italian Rocks using golden raisins soaked in bourbon, pecans and chocolate on top. I guess they are more like Kentucky Rocks. At any rate, you can get pretty creative mixing and matching add-ins and flavors.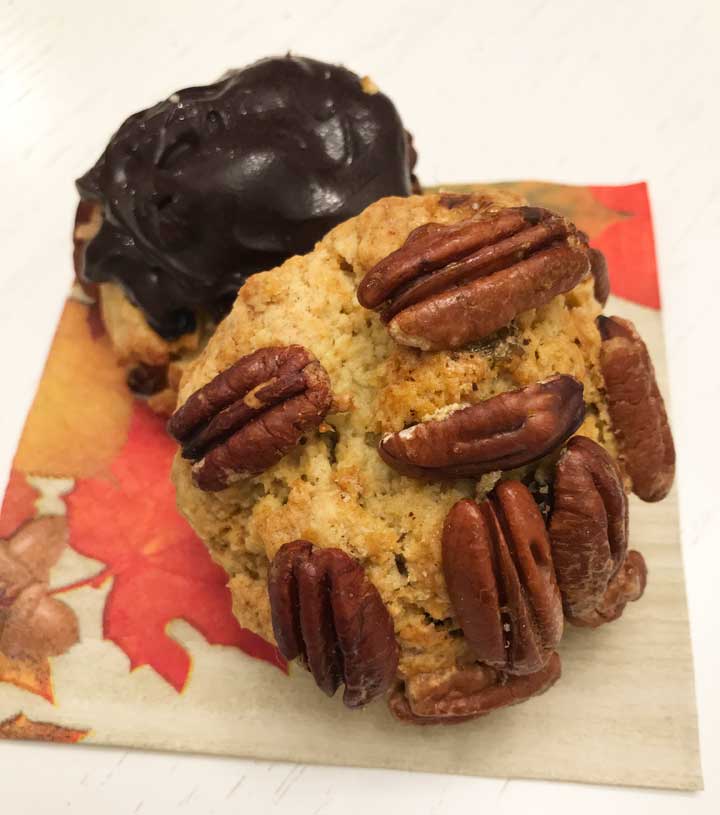 The recipe makes 5 Italian Rock Cookies. I do not recommend doubling until you've tried the original version. And even then, it might be easier to just make multiple small batches so that that the dough will be easier to work with.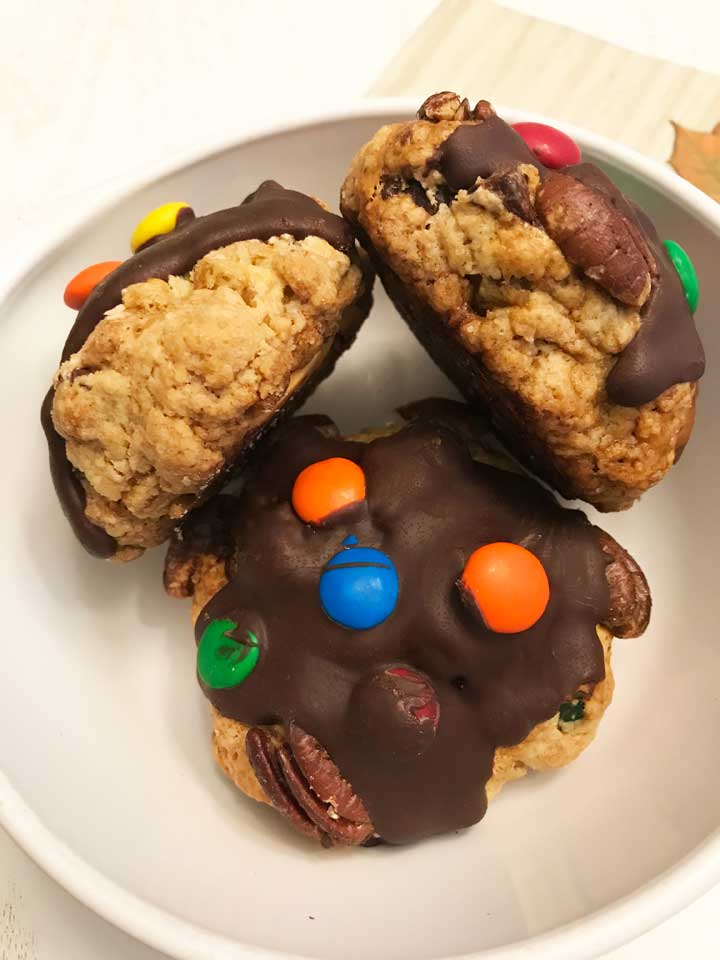 Recipe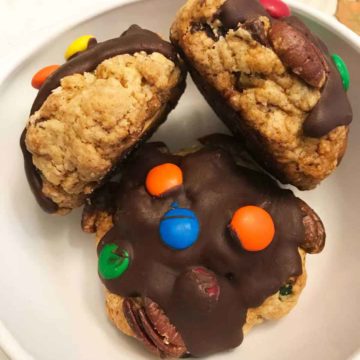 Italian Rock Cookies
Big fat cookies with crumbly centers and thick shells.
Ingredients 
1

cup

plus 1 tablespoon all-purpose flour

160 grams

¼

cup

plus 2 teaspoons granulated sugar

60 grams

½

teaspoon

baking soda

3.5 grams

¼

teaspoon

salt

3

tablespoons

plus 2 teaspoons unsalted butter

softened to the point of being almost but not quite melted (50 grams)

¼

teaspoon

vanilla extract

½

teaspoon

grated lemon zest or a mixture of orange and lemon zest

1

tablespoon

plus 1 teaspoon of milk plus more if needed

room temperature

1

large egg yolk

room temperature

¼

cup

golden raisins or candied fruit

such as the kind you buy for fruitcake

Slivered Almonds

1

lightly beaten egg for brushing

1

large bar

around 3 oz of high quality chocolate (like Lindt or Dove), chopped

1

teaspoon

coconut oil

optional
Instructions 
Preheat oven to 375 degrees F.

In a large mixing bowl, combine the flour, sugar, baking soda and salt and stir until evenly mixed.

Make a well in the flour mixture and add the very soft butter, vanilla, lemon or orange zest, milk, and egg yolk. Give it a stir, then add the chocolate and fruit. Stir until it all holds together, then empty onto a pastry mat or a clean surface and knead into a smooth dough.

Shape into 5 large balls. Roll in slivered almonds and brush with beaten egg.

Evenly space the cookies on a baking sheet lined with parchment paper and bake at 375 for about 25 minutes. Remove from the oven and let cool completely.

When cool, melt the chocolate (and coconut oil if you want the chocolate to be softer) in a microwave using 50% power and stirring every minute or so. Spoon over the cookies. Put in the freezer just to set the chocolate, then remove.