I haven't posted anything in a while because our freezer is at maximum capacity with cookies, frozen cheesecake, persimmon bread and more. I don't know if we'll ever eat our way out of it. So for now here's a recipe for one of the many desserts currently in the freezer -- Scratch Chocolate Lasagna.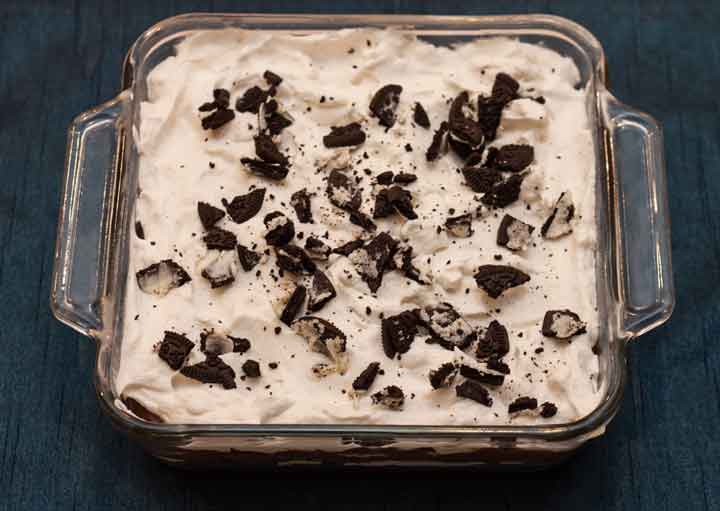 If you aren't familiar with the whimsically titled Chocolate Lasagna or the more boringly titled Layered Chocolate Dessert, it's a convenience dessert made with Oreos, whipped topping, cream cheese and instant pudding mix. Scratch Chocolate Lasagna is my less convenient version made with fresh whipped cream and an easy homemade chocolate pie filling. The packaged Oreos stay. And honestly, it's still really easy especially if you get a head start on the chocolate filling. Make it first, forget about it for a while as it cools, then come back later and assemble.
Freezing Scratch Chocolate Lasagna
As mentioned, you can freeze Chocolate Lasagna. After cutting a few servings, just put the rest of the uncut dessert in the freezer. Once solid, cut the solid mass into squares and freeze them individually. Each individual serving, when thawed, looks like this.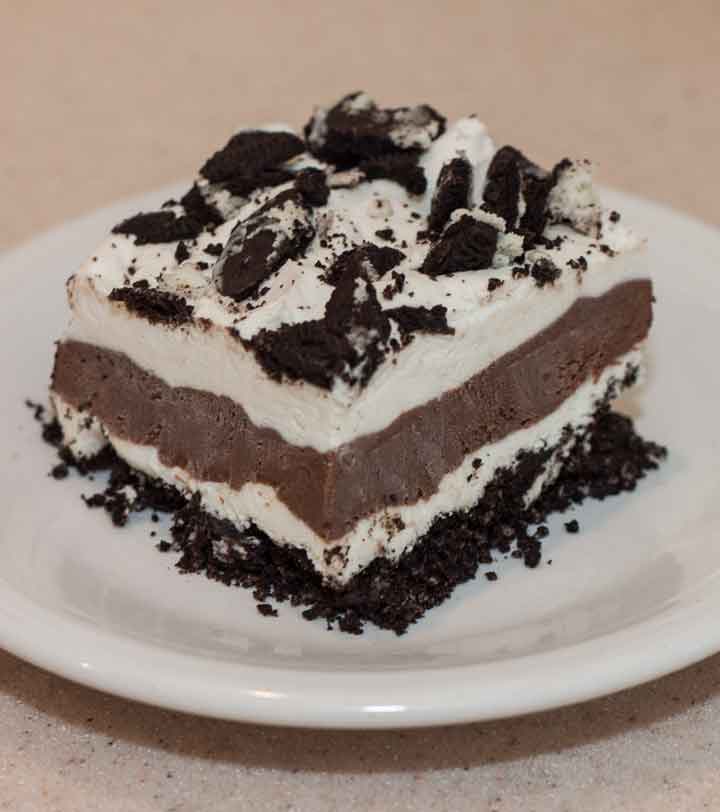 So if you are scrambling for a dessert that involves Oreos, whipping cream and chocolate filling and aren't in the mood to just make a chocolate pie, this one's fun.
Recipe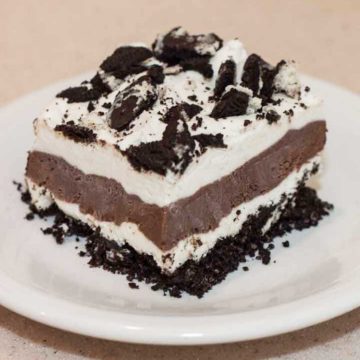 Scratch Chocolate Lasagna
An Oreo crust topped with cream cheese, whipped cream, chocolate and more whipped cream!
Ingredients 
Chocolate Layer
¼

cup

plus 2 tablespoons granulated sugar

1 ¾

tablespoons

cornstarch

⅛

teaspoon

salt

1 ¼

cups

whole milk plus a tablespoon

divided use

2

large egg yolks

1

tablespoon

unsalted butter at room temperature

1 ½

oz

unsweetened chocolate chopped

½

teaspoon

vanilla
Oreo Crust
20

regular or gluten-free

Oreos

plus a few extra for garnishing

3

tablespoon

melted butter
Whipped Cream Topping
1 ½

cups

heavy whipping cream

⅓

cup

powdered sugar

1

teaspoon

vanilla extract

4

oz

softened cream cheese

2

tablespoons

sugar
Instructions 
Make the chocolate layer first so that it has plenty of time to cool.

Chocolate Layer: In a medium size saucepan, whisk the sugar, cornstarch, and salt together. Gradually whisk in 1 ¼ cups of the milk (reserve the 1 tablespoon), then whisk in the egg yolk. Place the mixture over medium heat, constantly whisking and scraping the sides of the pan until the mixture begins to bubble and thicken.

After the filling has thickened, continue whisking for one minute, then whisk in the 1 tablespoon of butter and the unsweetened chocolate. Remove from heat and whisk until smooth. Whisk in the vanilla. Cover with wax paper or parchment to prevent a skin from forming and let cool at room temperature. This should take an hour or so.

Crush Oreos in a food processor. Mix with melted butter and press into the bottom of a greased 8 inch square pan. Put in the freezer while you make the filling.

Whip 1 ½ cups of cream until stiff peaks start to form, then add the confectioners' sugar and vanilla. Set aside.

In another bowl, beat the softened cream cheese and sugar together. Beat in the reserved tablespoon of milk, then fold in about ⅔ cup of the sweetened whipped cream. Spread this over the Oreo crust.

Spread the cooled chocolate mixture over the cream cheese mixture, then spread sweetened whipped cream over the chocolate mixture. Crumble some Oreos and sprinkle over the top.

Chill for at least 3 hours.
Notes
To make this last longer in a small household, you can freeze it.  Serve the first two or three servings on Day 1, then cover and put the whole pan in the freezer overnight.
On day 2, set the frozen dessert in a roasting pan or rimmed baking sheet and the surrounding pan with hot water so that it comes about an inch up around the dish.  This helps loosen the frozen dessert from the dish.  Using a knife or a spatula, pry the frozen dessert from the dish and set on a cutting board.  Cut into small or large squares, wrap individually and store in a freezer bag.