Oreo Irish Cream Pie is a new and very much improved version of my old Irish Cream Brownie Pie. The brownie version was good, but the Oreo pie is more convenient and looks better when cut. Plus it's an excuse to buy Oreos! Speaking of which, you may be wondering why my Oreo crust is red. It's because I used Red Velvet Oreos. You can make Oreo Irish Cream Pie with any flavor Oreos, I just happened to have some Red Velvet ones.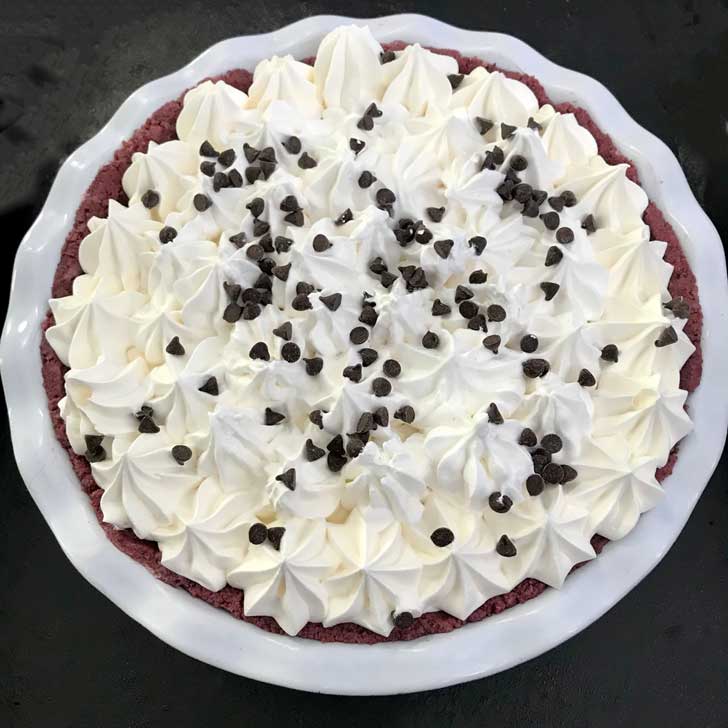 Oreo Crust
An Oreo crust is so easy, but I always forget my favorite ratio of Oreos to butter. So "Note to self for future reference: It's 25 Oreos to 4 tablespoons butter". You just process 25 Oreos, mix them with melted butter and press into a pie dish. And thankfully, you don't have to scrape off the cream. I used to think it was funny that people asked that question about Oreo crusts, but scraping off the cream will give you a slightly crisper crust. In this case it's just not that big of a deal, and the Oreo filling takes place of what would have been butter. Also, this Oreo crust requires no baking.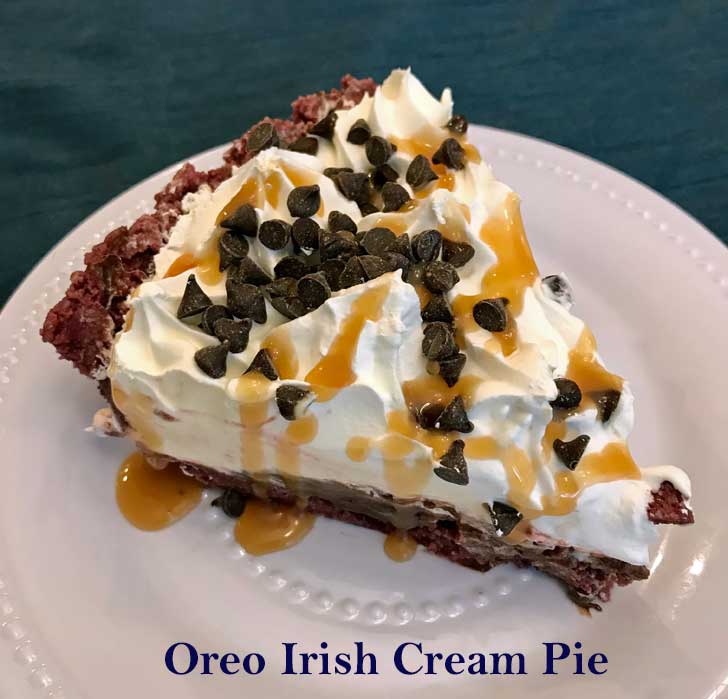 Oreo Irish Cream Pie Layers
Okay, so what's in this pie? A lot of Irish Cream! There's a bottom layer of chocolate flavored Irish Cream pudding, a second layer of Irish Cream pudding and a third layer of whipped cream. You can use whipped topping or whipped cream, depending on your mood. I didn't want another bowl to clean, so I went with Cool whip for this one. You can certainly use freshly whipped cream in its place though the texture might be a little richer. Directions for how to substitute are in the notes.
Recipe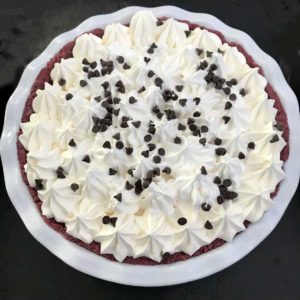 Oreo Irish Cream Pie
A pretty easy cream pie flavored with Bailey's Irish Cream.
Ingredients 
25

Oreos or your favorite chocolate sandwich cookies

4

tablespoons

butter, melted

⅛

teaspoon

salt, only if you used unsalted butter

1

package

Jell-O Cook & Serve vanilla pudding mix (3 oz)

1

teaspoon

unflavored gelatin

½

cup

Bailey's Irish Cream

1 ½

cups

milk, whole

4

oz

chopped dark chocolate

(such as Trader Joe's Dark)

2

cups

whipped topping plus another 2-3 cups for topping

Purchase a 12 oz tub and you'll have plenty.

1

tablespoon

unsweetened cocoa powder or mini chips

garnish
Instructions 
Process Oreos into fine crumbs. Transfer to a large bowl, then stir in the butter and salt (if using). Transfer Oreo mixture in a buttered 9 inch pie dish. Press down firmly using the back of a spoon or tamp down with a mixing cup. Put the crust n the freezer while you make the filling.

In a saucepan, whisk together pudding mix, gelatin, milk, and Bailey's. Set over medium heat and cook, whisking constantly, until mixture thickens and just starts to boil. Remove from heat.

Measure out a little over a cup of the hot vanilla pudding mixture and put it in a large bowl. Set aside.

Add the chopped chocolate to the hot pudding left in the saucepan, stirring until it is fully melted. Let it cool slightly, then scrape the chocolate mixture into the frozen pie crust.

Lay a small sheet of waxed paper over both chocolate mixture in pie dish and Irish Cream mixture in bowl; let both cool to room temperature. This should take about hour. The goal is to cool it to a point where it won't melt the whipped topping.

When cool enough so that it won't melt the whipped topping, fold about 2 cups of whipped topping (or freshly whipped cream) into the bowl with your reserved vanilla flavored Irish Cream mixture. Spread over chocolate mixture.

Chill for about 4 hours. Spread or pipe remaining whipped topping (or cream) over the top of the pie before serving. Garnish with cocoa power and/or miniature chocolate chips.
Notes
Homemade whipped cream is denser and heavier than Cool Whip, so you'll need to use less than 2 cups in the filling.  Cool Whip weighs about 2.7 oz/75 grams per cup so two generous cups weighs 150 grams.  Homemade whipped cream is much heavier cup for cup, so to get the equivalent you'll want to weigh out 150 grams and fold it into the filling in place of the Cool Whip.  You can whip up more for topping.