These Mini Sheet Pan Coconut Flour Brownies were yet another excuse to use my new ⅛ sheet pan.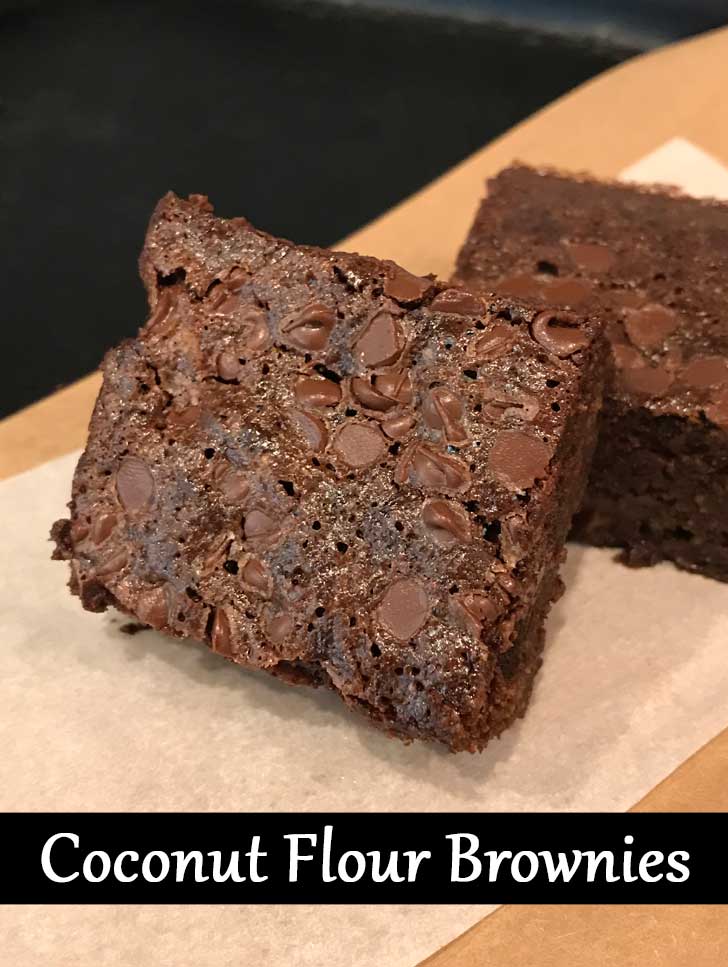 I'd had my eye on this size pan for a while, but wasn't sure how much I'd use it and didn't want to spend the money. But then last week I stopped into Walmart for a rain poncho and some almond flour, and there it was for $5.99. At that price it was worth the gamble.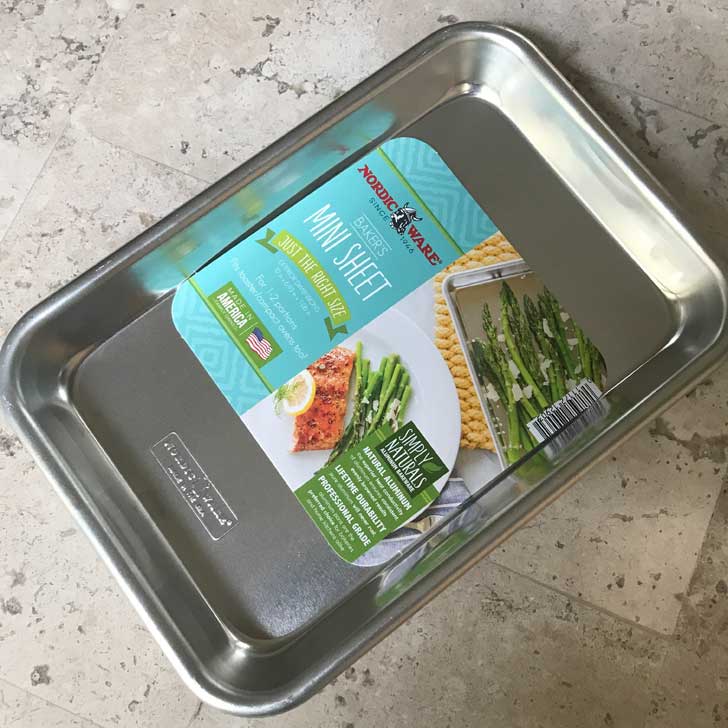 Mini Sheet Pan Dimensions
My pan is the Nordic Ware Bakers Mini Pan, and it's dimensions are 10"x 6.93". It's probably the cheapest one since it doesn't have a nonstick coating and is best washed by hand, according to those in the know. Now that I've used it for a few things and like it, I'll probably upgrade to the Prism model. For now this pan is perfect for toaster oven baking and bar cookies, and hopefully mini slab pies and small rectangular quiches. I have so many plans for this pan.
Moving On To Coconut Flour Brownies
But back to the brownies. The recipe is from the back of the Let's Do Organic Coconut Flour bag. I've used coconut flour in lots of things, but I don't recall having used it by itself in brownies. Then again, I don't recall a lot of things lately, so if you find a Cookie Madness recipe for Coconut Flour Brownies I wouldn't be surprised. I do have the Coconut Flour Chocolate Cake recipe, which we loved, and the brownie recipe is similar. Like the cake, it calls for six eggs, a half cup of each of cocoa powder and coconut flour. But similarities end there because the brownies are shallower, denser and packed with chocolate chips.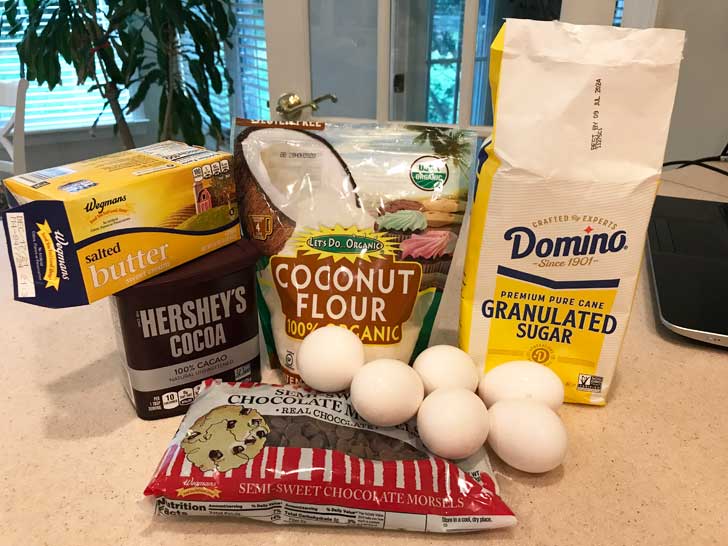 So What Are Coconut Flour Brownies Like?
The texture is different, but if you use coconut flour then you are probably not surprised to hear that. Coconut flour soaks up a ton of moisture, so the brownies really do need all those eggs. They have a light coconut flavor, kind of a rougher texture from the coconut flour and are "in-between" brownies in that they are not super fudgy nor super cakey. For the cocoa powder, I used natural because I usually like it better in brownies. Dutch would be great too. I'll probably try this again with different cocoa powders and brands of chips because the recipe is very convenient and I always have coconut flour around.
Gluten Free or Wheat Free
Let's Do Organic classifies these as wheat free, and if you are sure your other ingredients haven't touched gluten (like the chocolate chips), then they are most likely gluten-free, so that's a plus if you need some gluten-free options. Here's the recipe!
Recipe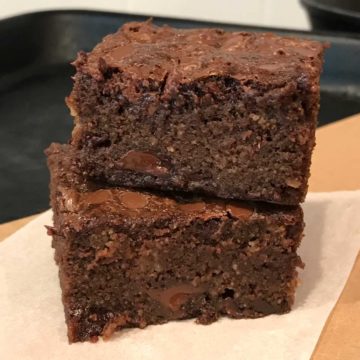 Mini Sheet Pan Coconut Flour Brownies
An easy recipe for Coconut Flour Brownies baked in a ⅛ sheet pan.
Ingredients 
½

cup

salted butter

(114 grams)

½

cup

unsweetened cocoa powder, I used Hershey's

(40 grams)

1

cup

sugar

(200 grams)

6

large

eggs

(300 grams)

1

teaspoon

vanilla extract

½

cup

coconut flour, sifted

(56 grams)

1

cup

semisweet chocolate chips
Instructions 
Preheat oven to 350 degrees F. Line a 7x10 inch mini sheet pan with parchment paper and grease parchment. I like to grease it with coconut oil and dot it with large flakes of salt.

In a 3 to 3 ½ quart saucepan, gently melt the butter. Add the cocoa powder and stir until smooth, then remove from heat and let cool slightly while you beat the eggs.

With an electric mixer, beat the eggs, sugar and vanilla until blended. Don't whip, just beat until well mixed.

Add the eggs to the saucepan with the cocoa mixture. Stir in the coconut flour. Make sure the batter is actually cool (which it should be if you used cold eggs!), then stir in the chips.

Spread in the pan and bake at 350F for about 30 minutes. If you are using an 8 inch square pan, it may take 35 minutes.

Let cool completely, then cut into squares.